Bulldogs are easily recognized as wrinkled faced, energetic, and well-muscled dog. But that won't stop them from getting into your lap and loving you harder.
However huge and hefty they seem, a bulldog can still put a smile on any dog lover's face. They are a very friendly and gentle breed.
They are known for being a fabulous family member and show dogs. They have strong, stubborn, and protective characteristic traits.
Therefore, it should come as no surprise that bulldogs love to chew and scrap stuff. So to keep them away from chewing on your household items and decor, dog play toys are a must.
No one bulldog is the same as another, some have more playful behavior while others can be more on the lazier side.
The 7 Best Dog Toys for Bulldogs Reviews of 2023
1. KONG Classic Dog Toy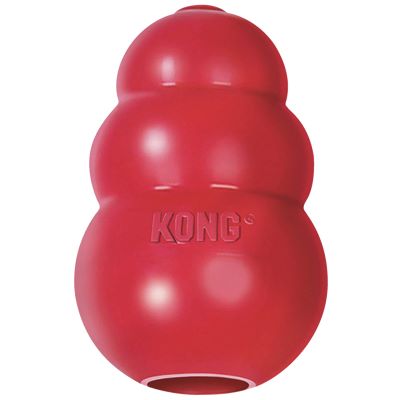 At the top of the toughness, the choice for the best dog toy for a bulldog is KONG's Classic dog toy. It is highly durable and strongly made of natural rubber.
It is the best overall pick because it suits the needs of every life stage of your bulldog. The KONG class dog toy stands up to extreme wear and tear.
An added advantage is that it comes in a variety of sizes and strengths. It is your bulldog's bounce buddy, keeping him occupied for well entertained hours.
To conclude, we think this is the overall best dog toys for Bulldogs.
Pros
Veterinarians and trainer's choice.
Extremely durable for long chewing.
Available in different sizes from X-Small to XX-Large.
A classic treat dispenser along with being a chew toy.
Unpredictable bounces make playtime engaging and longer.
Cons
Difficult to clean, because of the treat compartment.
Gets slimy during use by a dog.
2. Benebone Real Bacon Durable Wishbone Dog Chew Toy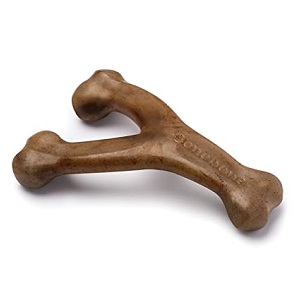 A perfect wishbone for super hard chewers is Benebone's Real Bacon Durable dog chew toy. This chew toy comes in three sizes and three flavors to suit your dog's play interest. It is made in the USA following strict quality control standards so trainers and vet recommend it.
It serves the best purpose for bulldogs that have the habit of chewing random stuff and things, to keep them focused on more fixated dog play. The ergonomic design, of the chew toy, makes gripping easy for dogs for long period.
Not just a best choice for a chew toy for your loving bulldog pet, for its feature but also a worth buy as part of your purchase, is donated to more novel paw- cause.
Pros
Cost-effective pricing for the durability and build quality chew toy.
Contains real flavor and scent.
Sizes options from Small to giant caters to all dogs need.
Cleans dog's teeth.
Cons
Needs to be replaced every month as it is made of real ingredient.
Might be too hard for younger dogs.
3. Bionic Bone Treat Dispensing Tough Dog Chew Toy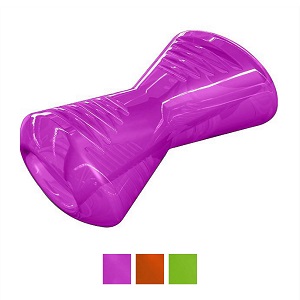 Our next choice for best Dog Toys for Bulldogs is Bionic Bone Treat Dispensing Tough Dog Chew Toy.
Dog and bone cant remain separated from each other! Like any other dog breeds, bulldogs also love grabbing and fetching bone.
The treat-dispensing design of the toy holds treats and provides a long-lasting mental challenge. It is so durable and tricky that, some non-bulldog owners found it too strong for their dog to be able to get to the treats.
It is a multipurpose toy. This fetch and chew toy is the perfect option for your dog who loves treats, chewing, and fetching all at the same time.
Pros
Best for indoor and outdoor play.
Strong Bionic Rubber design.
BPA and lead-free make it the best choice for being eco and dog friendly.
Dishwasher safe makes it easy to clean and maintain for a longer period.
Three different sizes allow the toy to be perfect for all life stages of the dog.
Cons
Material may not last long.
Not for bulldogs who are frequent aggressive chewer.
4. Outward Hound Hide-A-Squirrel Plush Dog Toy
Playing hide and seek is the best memory of your childhood. Playing the same game can be more joyful indoors with our dog companion.
Outward Hound Hide-A-seek-Squirrel plush dog toy is sure to make your's and your dog playtime extra fun. It is a plush toy with an engaging and durable plush tree trunk and squeaky squirrels plush toys.
For long and engaging play sessions keep stuffing the squirrels again and again in the plush tree. Your bulldog will immediately be curious about tugging the squirrels out.
Pros
Multiple play styles.
Squirrels squeak effectively engaging your dog.
Spare squirrels can be bought if the plush toy goes missing.
Great for an indoor play that keeps dogs busy for long hours.
Cons
Not suitable for hard chewers or rough play.
Not suitable for outdoor play.
Need careful supervision as toy squirrel's hairs might fall out in heavy chewing.
5. Wobble Wag Giggle Ball Interactive Dog Toy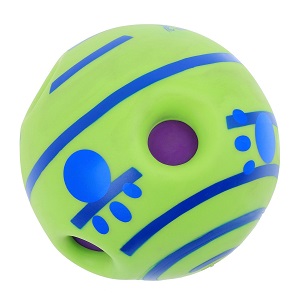 Bulldogs are easy-going and loving. They can however get stubborn and lazy when they just want to nap around.
Stubbornness and laziness need to be diverted in interactive playtime. The Wobble Wag Giggle Interactive ball is the answer for overcoming the dog's lazy mood.
The toy engages your dog's natural curiosity and instinct to play, with super fun sounds. The sounds keep your dog's attention and physical activity in check.
Give your bulldog his desired lazy day at home, keeping his boredom away by this wag giggle interactive ball.
Pros
No external batteries required for sound.
Easy for dog play because of 6 Clutch pockets, which allows easy holding.
Suitable for indoor and outdoor playtime.
It is pet safe and made of phthalate-free vinyl.
Easy to wipe clean.
Cons
Made of plastic so not an eco-friendly option.
Not for the younger bulldog pups.
Not for aggressive chewers that love hard chewing.
6. Multipet Duckworth Duck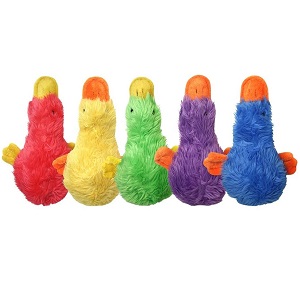 For the bulldogs who love cuddling and napping, a play toy that matches its's personality is important. After fun long walks or energy-demanding playtime, peaceful napping with a plush toy is every bulldog's dream.
Multipet 's Duckworth Duck Webster Squeaky Plush Dog Toy is bulldog's best super-soft cuddling up buddy. It is a large squeaky plush toy.
It suits the build of large dogs like your bulldog and has a squeaker in it, that keeps them engaged for quite a long time. The duck toy is worth playing a fetching game for and a favorite cuddling toy for a relaxing time.
Pros
Multiple color choices to choose from.
Ideal for large breeds.
Four color options apart from the classic yellow-colored duck.
Cons
For indoor use only.
Needs supervised play for rough tearers as snatching will lead to ripping off the stuffing and squeakers.
Not washing safe.
7. Trixie Activity Flip Board Activity Strategy Game
If you are a working pet owner and have a dog that gets stressed out when you leave then, Trixie's Activity Flip is a great option. Made from durable plastic with a rubber floor grip, it is ideal for dogs who enjoy puzzle games. This toy is a treat feeder and along with that, it stimulates their intellect.
It is a game with multiple compartments and drawers where an owner can hide treats, allowing a dog to sniff and find each treat out for a reward.
It is the best activity strategy gameboard dog toy, that challenges your dog and strengthens the bond between you and your dog companion.
Pros
Different training level options, that works for various difficulty level.
Three different color choices.
Easy cleaning.
Easy installation for the dog owners.
Cons
Suitable only for skillful dog problem solvers.
Buyer's Guide: How to Choose the Best Dog Toy for Bulldogs?
Now that we have considered the major health-related issues of your pet bulldog. There are still a few considerations to keep in mind.
Age
Age is a significantly important factor. Puppies that are teething and learning to chew, need a distinct dog toy from an adult dog.
Puppies need soft plush toys that are attractive and are made of bright colors that entice them to play. They are more likely to chew on home decor at this time, so a treat-dispensing chew toy is a must.
Conversely, in the adult stage, dogs have much stronger teeth, and, as a result, they need harder toys that they can chew for a long period without breaking.
Older and adult dogs also require their mental skills to be stimulated. So interactive chew toys that increase their playtime and make them curious will keep them busy for a longer time.
Size
It's best to avoid small chew toys, as they could be a choking hazard. At the same time, you should avoid getting something that's too big when they are pups, as they won't be able to chew on them comfortably.

Quality of the material
Chew-resistant and durable materials are best to survive hours of your dog's chewing. But, make sure you choose natural materials, so that they don't harm your pet's health.
Your dog could like cuddly toys, but if they want to chew, take another look at the material. You should pick one that your dog won't be able to chew through and shred.
Type of dog toys
Interactive puzzle toys: Bulldogs are best known for getting lazy and laying around the house. If chase and fetch toys are not their everyday choice, look for interactive fun puzzle toys.
These puzzle toys stimulate their mind and curiosity, killing their boredom. Certain puzzle toys also have compartments for hiding treats and their food, which will add to their fun time also reward them.
Plush toys: For nap-loving bulldog, nothing can be better than a company of a plush soft toy. These toys accompany them in crates or when they are left alone at home. These are less to be cautious about while playing as compare to dog toys that have multiple parts.
Chew toy: Bulldog's favorite past time is chewing. Chew toys are versatile. They have plenty of options in their size, shape, and colors.
Some serve multiple purposes of being a chew toy and treat dispenser. They keep anxiety at bay and in turn, keeps them away from chewing random stuff and things.
Durability
A lot of Bulldogs tend to lay around and chew their toys for a longer time. They also have very strong jaws that allow them hard and aggressive bitting.
So an ideal dog toy needs to withstand moderate to aggressive chewing without breaking down. When bulldogs are excited, they can tear up the toy in a matter of seconds.
Understanding why it's challenging to select Bulldogs Toys
Bulldog is a unique dog breed with peculiar facial structure, and this can make it difficult for owners to pick up a perfect play toy. They also various medical conditions associated with them.
Breathing Difficulty
With this breed, active play isn't usually recommended. Breathing can be a big problem for bulldogs. So, owners need to get them toys that they can lay around with for the most part, or play within short bursts of intensity.
It is best to choose a toy that engages the mental stimulation of the bulldog rather than heavy fetching and chasing exercise. Selecting the toys that are best suited for indoor play, will make for worry-free playtime under pet parent's supervision.
Crowded Teeth
This breed is prone to be developing crowded teeth as they grow. Crowded teeth develop because they have less space in their jaws. These crowded teeth can make it difficult for your dog to properly grasp treats or toys.
Overcrowding of teeth also leads to an underbite. So proper and slow chewing habit is essential for maintaining the overall well being of a bulldog.
As under chewing will lead to improper digestion. Look for dog toys that are not made of too tough material.
Short Muzzles
Another common characteristic of bulldogs is a shorter muzzle, and this short muzzle can cause breathing problems or chronic discomfort. In turn, toys may be uncomfortable to play with or pick up. So select the toys that are not heavy to play with and pick up.
FAQs About Dog Toy for Bulldogs
Q.How to play with a bulldog?
Try to keep playing low-key to avoid breathing difficulties. Encourage their curious nature by providing plenty of puzzle toys.
Bulldogs do not need as much exercise as most other medium-sized dog breeds do. But give a good dose of exercise regularly. Keep a good variety of toys on hand, especially if you keep them crated, when away.
Bulldogs are stubborn and can be possessive, be cautious about trying to take the toy away, such as when you need to clean it.
Q.Why are toys for bulldogs different than any other dog toy?
Know that not all toys are equal. You will need to pick toys that can last long hours of chewing. As bulldog chews a lot. Excess of chewing can be due to reasons like new teething, separation anxiety, boredom.
The toys for bulldogs are different because of their unique facial structures and overcrowded teeth. The toy also needs to be durable and soft at the same time.
Q.Do I need to supervise my bulldog while playing?

Yes, every dog playtime needs to supervise. More care and caution needs to be kept being a bulldog owner because of their higher health issues.
Avoid dog toys that can be easily swallowed and in turn, cause a choking hazard. Toys containing toxic chemicals, lead, and other harmful ingredients.
Q.Can dog toys reduce aggression in my bulldog?
Bulldog's aggression and dominance come instinctually to the breed, this aggression is sometimes shown in their behavior. Aggression results as a result of a sudden burst of energy, a tendency to chew. In bullies, aggression is also common due to long term separation anxiety.
Doy dogs are the best option to treat some aggressive behaviors along with proper training. So gather different dog toys to keep your bulldog occupied.

Q. Can chew toys clean my bulldog's teeth?
Bulldog puppies are more prone to dental issues. New teething, will increase their tendency of chewing stuff more. Chewing will keep food and treat less likely to stick on teeth due to salvation.
Chew toys help in cleaning up tartar and massaging your puppy's gums. But chew toys are not a perfect replacement for the regular teeth cleaning routine of your pet. It is better to follow up with regular Vet visits and maintain proper mouth hygiene for your dogs.
Conclusion
We hope that our review list of best dog toys for bulldogs, helps you choose the best toys to keep your bellies satisfied and happy! This review list is sure to bring you a cheerful playtime bond with your loving bully.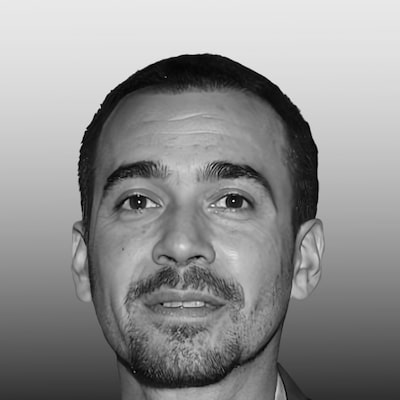 James Wilkinson joined DogLovesBest as a full-time writer with the objective of offering his insights on how to rear pets better. He shares the information through the experience he has gained over a span of 15 years working as a dog trainer. James also used to contribute regularly to several pet publications during his career as a trainer before joining this website. He also donates a portion of his own personal wealth to shelter abandoned animals in Gainesville, Florida and helps in finding a new home for them.