Our review list of 10 Best dog toys for Corgis, provides detailed information, keeping in mind every corgi dog parent's needs. It will help you narrow down your search for the best dog toy for your Corgi.
Fun Fact: The name corgi means "dwarf dog" in Welsh. Corgis are a playful high-energy breed with a thirst for fun and enrichment.
If you are a corgi parent and are reading our review, you already know that you are a proud parent of a cute little smart dog with good intellectual skills.
Corgis have great logistical and troubleshooting skills, as earlier, they were used to herd sheep. These high energy and curiosity demands can be met, providing them with the best of dog toys.
Being a cool, cute, and loving breed with a big personality in a compact size, they need the best of the dog toys to match their skills and demands.
The 10 Best Dog Toys for Corgis Reviews of 2023
1. ZippyPaws Interactive Squeaky Hide & Seek Plush Toy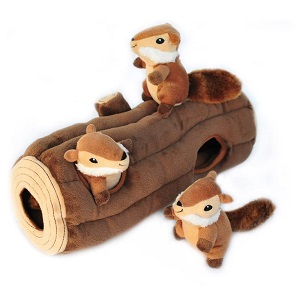 Hours of entertainment and happy corgi faces are a sure guarantee in our review list, starting from our first reviewed top product.
ZippyPaws Interactive Squeaky Hide & Seek Plush Toy is our review team's editor's top pick. This interactive toy choice is the best bet for your growing corgi puppy or your adult corgi dog.
The toy has a toy wood log and 3 chipmunks Squeaky Hide and Seek Plush Dog Toy. This interactive plush toy will challenge your dog as he works to dig them out.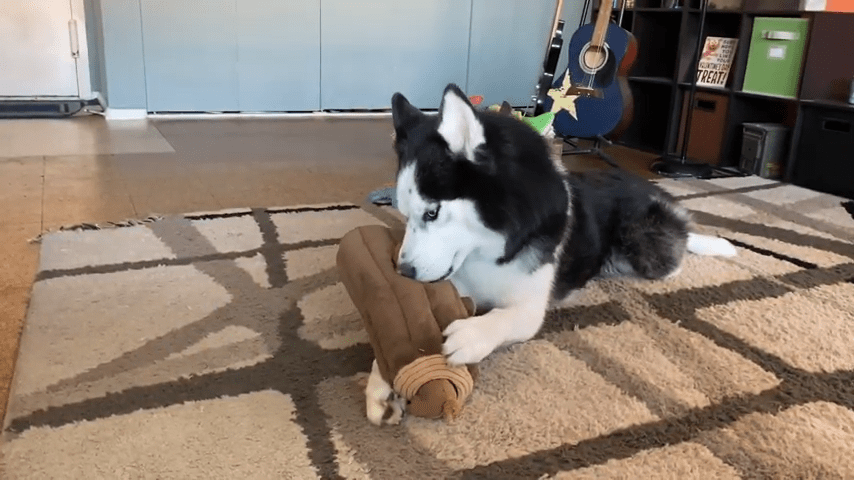 Continue the fun of hiding and seeking by burring the chipmunks into the plush wood log and your dog sniffing them out every time.
To conclude, we think this is the overall best dog toys for Corgis.
Pros
Machine washable and makes cleaning an easy job.
Fun and interactive puzzle toy that challenges your dog.
The plush toys have high-quality stitching and are not glued.
Keeps your dog entertained and occupied.
Has fun squeakers, that keep dogs entertained.
Chipmunks can be bought separately if they become lost or chewed to pieces.
Cons
Not suited for aggressive chewers.
2. Goughnuts Indestructible Ring Dog Toy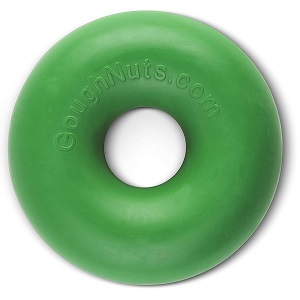 GoughNuts's Ring Dog Toy is our review list's premium choice for dog toys. Though being a premium dog toy, it speaks up for the features and unique design to bounce, and float.
Each GoughNuts toy has two layers. The outer color layer indicates strength, and the inner core is always red to serve as a safety indicator.
So it is when your dog chews down to the red layer, it is time to replace the dog toy. It is high in durability as it uses engineered carbon reinforcement.
It is the most popular choice for aggressive chewers.
Pros
Different options in outer color also indicate the level of toughness for different breeds.
Sizes from small to X-large.
Suitable for both indoor and outdoor play.
Easy to clean.
A great chew toy for tough, aggressive chewers.
Easy to use on both land and water fetching playtime.
Cons
On a higher price range, so can be an expensive choice for a dog toy as compared to other dog toys.
Requires a replacement after prolonged use.
Initially, it has a strong smell that can make dogs hold off to play with it.
Not aesthetically pleasing as compared to other dog toys.
3. Multipet Lamb Chop Squeaky Plush Dog Toy
Who does not remember the popular Shari Lewis children's program? a classic during the '60s. Nostalgic? Yes, you guessed it right, Multipet's plush toy is an officially licensed holiday Lamb Chop toy from Shari Lewis TV puppet.
For any lazy day or after a tiring play session outdoor, a plush toy is every do's must-have cuddling napping buddy.
It is a white plush filled dog toy with a softer outer fabric that can become any dog's choice. This slender plush toy is perfect for games of fetch, carrying, and snuggling.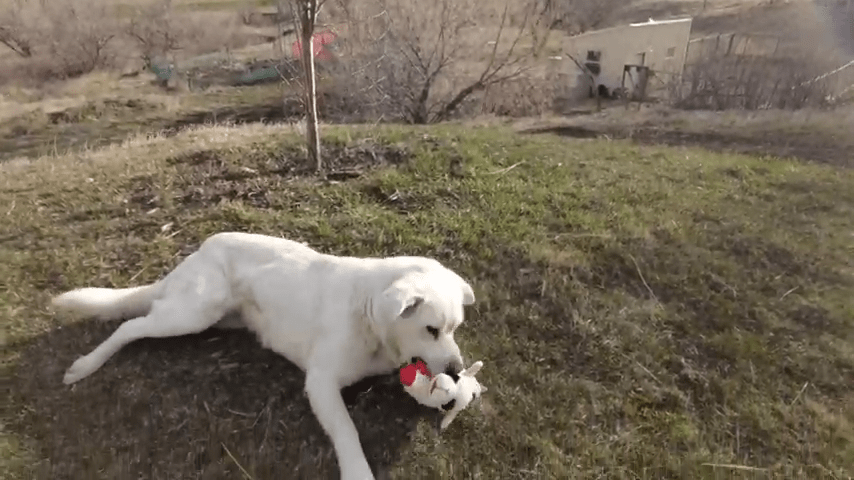 Pros
Has inner squeakers that squeak well when played.
Three sizing options: mini, regular, and jumbo makes for a good choice in all life stages.
Perfect for puppies and dogs who enjoy squeaky plush toys without stuffing.
Cons
Ideal only for non-aggressive chewers who like to just cuddle and play.
Cannot be used as a chew toy.
Requires supervision for heavy shredders, because of squeakers.
4. SunGrow Treat Dispenser Toy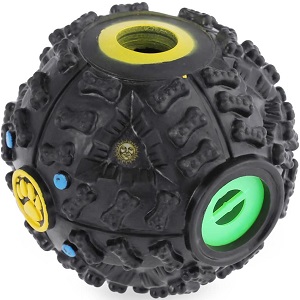 Want to make treats rewarding, interesting too? Then we recommend Sungrow's Treat dispenser toy for your sweet little corgis. It is our budget-friendly pick of our reviewer's team.
It is used for developing good and slow eating habits for your pups. It helps in maintaining optimum body weight and encourages fun and healthy exercise.
It develops IQ, because of its build. The dog treats are filled in the visible transparent compartment. The toy uses eye-paw coordination for play and improves physical training.
It is a win-win bargain for its price!
Pros
Helps in Improving physical and mental health.
Aids in slow eating habits and aids in proper digestion for better health.
Made of active rolling design, keeps your dog engaged for a good playtime
Effectively reduces boredom.
Best budget-friendly interactive dog toy for a good price range.
Low maintenance and easy to clean.
Travel friendly so it can be easily carried.
It is a harmless, durable, and non-toxic dog toy.
Cons
Single color choice.
No squeakers.
5. West Paw Zogoflex Zisc Dog Frisbee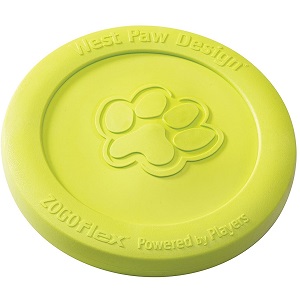 Every corgi loves and looks adorable while chasing to catch a frisbee. West Paw's Zogoflex Zisc is a perfect Frisbee. It is not your classic frisbee, but the one made to be highly durable.
Zisc is available in two sizes, large and small. The small size frisbee is perfect for small dog breeds. It is not only smaller, but thinner and lighter.
Zogoflex® is an exclusive material that stretches, makes fetch, tug-o-war their all-time favorite outdoor play sport.
The Zisc flies like a hard plastic frisbee but is softer on your dog's mouths. It is the best choice for a corgi who never mind a fetch in water too. Zisc is a must-have toy for active corgi dogs.
Pros
Great for fetching in both land and water play.
Dishwasher safe so it can be cleaned effectively.
Gentle to hold in the dog's mouth.
Easy to grip surface for dog fetches.
Highly durable and BPA-and-phthalate-free.
Recyclable.
100% guarantee against dog damage from the manufacturer.
Cons
Not for an aggressive chewer.
6. Outward Hound Hide A Squirrel Squeaky Dog Toy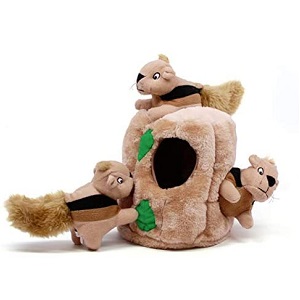 Outward Hound's Hide-A-Squirrel squeaky dog toy is another interactive puzzle dog toy pick in our review list. Yes, we cannot get enough of stuffing and sniffing plush dog toys as this one has a squirrel in place of chipmunks.
Durably designed with an engaging array of shapes, sounds so you can have huge fun with your furry friend.
It can be used for a quick training exercise for your small corgi pup curious to explore. The toy has a plush wooden tree log and squirrels that can be stuffed in.
Pros
Size options from Junior, large jumbo to Ginormous.
Provides mental stimulation.
Easy to buy replacement squirrels.
Cons
Needs supervision.
Plush toy squirrel tail hairs might come off in rough play.
Not for aggressive chewers.
Squeakers don't make much sound, so some dogs might find it uninteresting.
7. KONG Classic Dog Toy
Fill this toy with treats, snacks, or other food rewards or corgi's favorite treats. Everyday food items such as peanut butter, kibble, or yogurt, can be filled to add the fun play part to routine eating.
The toy is a classic chew toy made of natural rubber. It has different qualities in rubber build to best suit your corgi's chewing habits and needs.
It is recommended by veterinarians, trainers, and dog enthusiasts for over 40 years. So if you are looking for a dog toy that curbs their boredom, and relieves separation anxiety, this toy meets your needs!
This firm classic rubber toy will offer the best enrichment toy to your Corgi.
Pros
Made in the USA and highly recommended by vets and trainers globally.
Unpredictable bounce can make chewing a bit fun.
Sizing options from small to XL.
Cons
Buying the wrong size of Kong classic dog toy for your Corgi could mean easy destruction.
It can be hard to clean the inside.
Just serves the purpose of chewing nothing more interactive.
No squeakers.
8. ZippyPaws Skinny Peltz No Stuffing Plush Dog Toys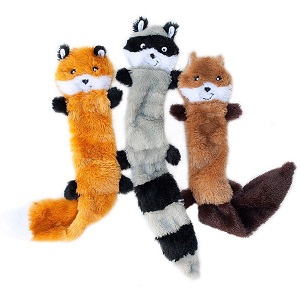 For a corgi who is a fan of cute woodland-animal designs, ZippyPaws Skinny Peltz no stuffing dog toy is your best pick. It makes for a fun fetching and cuddling experience. As it is stuffing free, it makes no mess for both owners and corgis.
This skinny Peltz no stuffing dog toy has three large size creatures: a fox, a raccoon, and a squirrel. They have bright colors with two squeakers in each toy.
This toy meets your pet's natural craving for chewing needs and also helps to prevent destructive chewing. It is made of soft fabric that cannot hurt your dog's teeth or gums.
Pros
It has squeakers on both ends of the plush toy that attracts attention well.
Skinny to fetch and handle in corgi's mouth.
Lightweight with no stuffing.
Three different large size creatures grab more attention for long playtime.
Easy for fetching and cuddling.
Fun and enjoyable.
Has a sturdy and durable construction.
Cons
Not suitable for puppies.
No sizing option, a large size is the only option.
Can be a choking hazard for aggressive chewers or rough tug of war.
9. Nylabone DuraChew Bacon Flavored Dog Chew Toy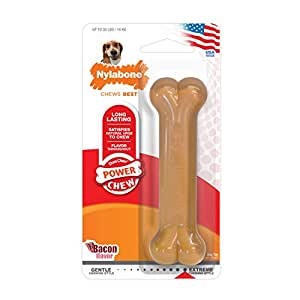 Corgis love bacon! Every dog parent has seen the small timid leg happy dance taps of corgi when they smell Bacon! Nylabone's Durachew Bacon flavored dog chew toy is for corgis who love both chewing and bacon.
It is proudly made in the USA. The Vet even recommends it, so you can feel confident about giving this chew toy to your furry cute corgi.
It has raised bristles over it, that increases chew time joy, clean teeth, and freshen breath – all at the same time!
Pros
Tough nylon material suits best for heavy chewers.
Sizes from XS-XL suits many dog breeds.
Provides good dental care while chewing.
Relieves stress and anxiety.
Cons
Not made of real bacon ingredients.
Bristles could cut off the mouth of hard aggressive chewers, so carefully check on the toy needed.
10. Chuckit! Ultra Toss Ball Tough Dog Toy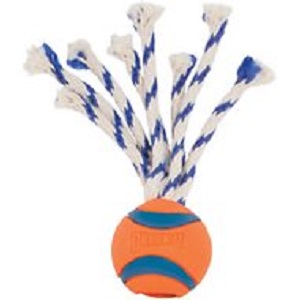 Chuckit! Is best known in the pet owner community for creating dog toys that enrich the human-canine bond. Chuckit!'s Ultra Toss ball is a cross-over between ChuckIt!'s durable Ultra ball and a tug rope. So, your corgi friend gets to enjoy dual fun of both fetching and tug of war in the same toy.
This toss ball is highly durable and made of rubber. It is light in weight and provides great bounce for a few more loving cute corgi jumps.
It is available in a bright color making it highly visible, and best suited for outdoor play. They even can be used with the Chuckit Launcher.
Pros
Available in small to X-large sizes.
Made from rubber so it's easy to clean after a long day of fetch.
A good quality cotton rope attached to the toss ball makes handling easy.
Great for tug of war and fetch games.
The cotton rope acts as playtime dental floss while chewing it on it.
Good for both indoor and outdoor playtime.
Cons
Rope can be torn, cut, or pulled out by a power chewer.
Does not have a squeaker in it.
Might be too hard for some dogs.
Buyer's Guide: How to Choose the Best Dog Toys for Corgis?
You may assume that all toys are the same but actually, there are many different styles, and not all of them will work equally well for your Corgi. So keep them entertained, busy, and out of trouble with the following fun toys, but keep in mind below mentioned factors.
Size
Always choose the dog toys that fit your dog's size. Small dogs do not want to play with large toys, and small toys will be dangerous for large dogs.
Keep safety in mind while choosing toys for your beloved pet. Looking for safety means selecting toys that are made with non-toxic materials or painted with non-toxic pigments.
So don't get a toy that's small enough to be swallowed.

Age
Age is another crucial factor to keep in mind while buying dog toys. Young pups have different needs from dog toys compared to adult dogs.
Due to their new teething habits, they need to chew more, so chew toys are best for puppies. Make sure to select a chew toy that has the flavor of food that can keep them engaged.
You can also look for the chew toys that are interactive and also serve as dog treats feeding toys.
Adult corgi dogs need toys that keep them busy, occupied, and free them from boredom and anxiety. Look for the ones that are more challenging and fun to be played for longer hours.
Certain toys have difficulty levels to training their mental skills. They even need long outdoor playtime so a frisbee or fetch-catch session will be more fun filling.
Durability
Check for durability so that you won't have to be always looking for a new dog toy. Getting one durable toy is better than getting dozens of toys that can constantly break or tear apart.
The durability of the dog toys is decided by the purpose of the play. If you are looking for a dog toy that needs to be used more frequently outdoors, then look for water and dustproof materials.
For the plush dog toys to be durable always look for high quality double seamless Stichting than glue-based materials.
Your dog's personality
This one might be the most important point to consider toy-wise. And no one can answer this except you,
As said, every dog is different. Some like to run while others prefer to walk, in the long trails.
Some want to play like there is no other day, while others prefer to lay around and laze around all the time.
You must get a toy that best reflects your corgi's personality because a dog toy won't grab their interest and attention if they are not selecting keep in mind their likes and dislikes.
So, as a caring and loving dog parent take time to question yourself.
What is best suited for your corgi? What keeps him occupied most? Does your corgi like garden squirrels or chipmunks? A ball or a frisbee? Observe, understand, learn, and buy!
The Cleaning Part

Cleaning is the most important aspect of buying any dog toy. Nothing comes before your dog's well being. Always check to make sure that the dog toys can be machine washed, wiped down, or either dry cleaned. Some can also be dishwasher safe, or hand washed.
Uncleaned dog toys can cause bacterial build-ups. They can be various dog allergies and mouth problems, as dog toys remain in the mouth for a longer time.
FAQs About Dog Toys for Corgis
Q. Do corgis chew furniture?
Corgis love chewing, like any other dog breed. But the downside comes to it when they start chewing the things and stuff that they are not supposed to chew, like furniture.
Corgis, like any dog, can chew furniture only when they are bored, dealing with separation anxiety or when they have way much Up spent energy.
Divert your loving corgi from the destructive habit of furniture chewing with different dog play toys. Dog play toys render chewing and in meanwhile keep them engaged for a longer time.
Q. Which is the best dog toy for a corgi?
The toys that keep their mind curious and challenged and out of trouble are the best dog toy choice for them. Corgis do well with toys that can work for both outdoor and indoor playtime. Interactive toys that help them work out their mind and body at the same time, is the best dog toy for corgis.
Q. Which is the best puzzle toy for corgis?
The best puzzle toy for corgis is that provides them with much-needed mental stimulation. A puzzle toy should keep its intellectual instincts working.
Our review list recommends ZippyPaws Interactive Squeaky Hide & Seek Plush Toy and Outward Hound Hide A Squirrel Squeaky Dog Toy as the best puzzle toys for corgis.
Both these dog toys are 2-IN-1 Interactive play toys that are used as plush toys and sniff and find play.
Our editor recommends ZippyPaws Interactive Squeaky Hide & Seek Plush Toy because of its price and is the perfect choice for both your corgi pup and corgi dog Grown-Ups.
Q. Are stuffed toys good for a corgi?
Heavy stuffing can be a choking hazard for your corgi. Avoid any toy that has a stuffing of small pieces or small nylon/rubber balls. Stuffing toys filled with straw or hay can leak out of the toys on prolonged chewing or by tough chewers. Stuffing can also damage the mouth and palette with cuts.
For toys with squeakers always keep a close watch on dog play and change any toy in the case when stitching comes out.
Q. Which are the best chew toys for corgi puppies?
KONG Classic Dog Toy and Nylabone DuraChew Bacon Flavored Dog Chew Toy from our review list are the best chew toys for corgi puppies. As both of these dog toys are available in size most suitable for young corgi puppies.
Their material is best suited for the mouth of corgi puppies and their new teething habits and can keep them engaged and interested for long playtimes.
Both these dog toys are hardly durable but we recommend supervised playtime for your small yet learning corgi puppies!
Q. How much do dog toys for corgi dogs cost?
Our review list features the best dog toys for corgi that have been extensively studied, in terms of their features, ratings, and reviews from corgi dog parents. The cost range for the dog toys starts from as budget-friendly as $4 to the premium choice of $30.
Conclusion
Now after having an idea of what different toys are available for your favorite corgi. Hope you find our review list for the 10 best dog toys for corgis informative and helpful.
These toys will keep your corgi buddy's butts wiggling and every family member giggling!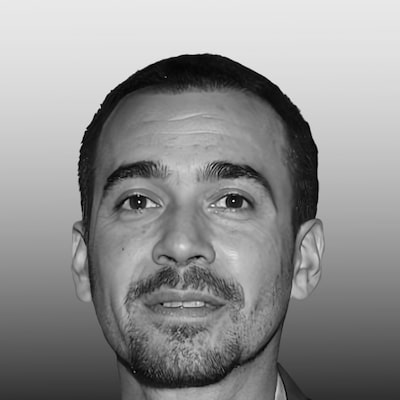 James Wilkinson joined DogLovesBest as a full-time writer with the objective of offering his insights on how to rear pets better. He shares the information through the experience he has gained over a span of 15 years working as a dog trainer. James also used to contribute regularly to several pet publications during his career as a trainer before joining this website. He also donates a portion of his own personal wealth to shelter abandoned animals in Gainesville, Florida and helps in finding a new home for them.