Thanks to their distinctive beard, Miniature Schnauzers are easy to recognize. During the 19th century, these miniature dogs were used in Germany to track down rats in the outhouses.
They are known to be courageous, strong, loyal, and loving family dogs. As affectionate and laid-back as this breed can be, but they still need plenty of active play to burn off unused energy.
This breed is not only adventuresome, but also intelligent, and keeping them occupied is often quite a test, which is why you need to know what Miniature Schnauzer's best dog toys are.
Miniature Schnauzers, in fact, have a strong predator instinct and like to chase. So, their dog toys need to be durable and sturdy as they can often be tough on their toys.
The 10 Best Dog Toys For Miniature Schnauzers In 2023
1. Petstages Dog Chew Toys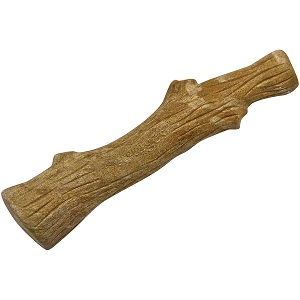 This dog toy is going is sure to be your dog's favorite if your miniature Schnauzer loves playing with sticks. Prestage's Dog chew toys are robust and reliable chewing toys that smell like natural wood.
This dog toy is our editor's first choice for its high ratings and good reviews from dog parents. As schnauzers have natural instincts and they love going on outdoor trails, This dog chew will be their all-time favorite chew toy.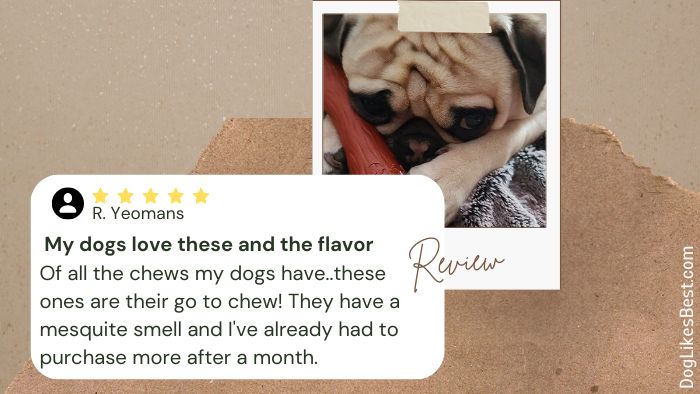 It's shaped like the bark of a tree. There are numerous ridges and elements that provide various angles for your dog to hold the toy and chew on it. This toy is a fun way to improve dental health, and it will help ease anxiety by chewing.
We recommend petstages dog chew toy as our first product choice for schnauzers as it is ideal for outdoor interactive play, safer than natural bark wood stick, and durable.
To conclude, we think this is the overall best dog toys for Miniature Schnauzers.

2. Mammoth Flossy Chews Color Rope Tug Toy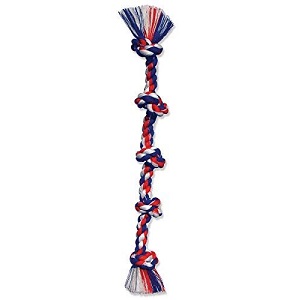 It's unsurprising to see Mammoth as the second winner here, in our review list. Mammoth Flossy chew color rope toy is in every dog owner's home because of its premium quality and varied color options.
We recommend Mammoth's flossy chew color rope dog toy with 5 knots to make your tug-of-war session more longer and fun. It can be used both indoors and outdoors. The rope is light in weight to be carried by your dog.
This dog toy is a fun way to spend up a few extra calories on your dog when their regular exercise sessions cant be made. A rope also acts as a good floss to keep your dog's mouth in good hygiene.
The rope toy needs to be overseen for heavy chewers as the fibers from the knots can riff off in heavy playtimes. Else to make. Hooman-doggo bond stronger and to mark for a memorable tug of war playtime, we recommend Mammoth flossy chew color rope toy.

3. Multipet Lamb Chop Plush Dog Toy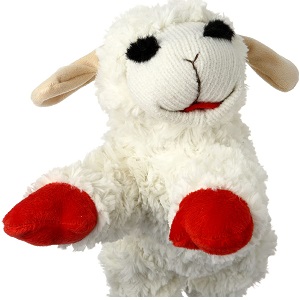 A lot of dogs love plush toys, but with your Schnauzer, cheap-quality plush toys might not last a week. Fortunately, with the Multipet Lamb Chop Toy, that shouldn't be the case. This toy is sturdy as well as soft to the touch.
During the fetch, your dog can recover it or even bounce it around the house, so they can snuggle with it when they sleep and when the playtime is done.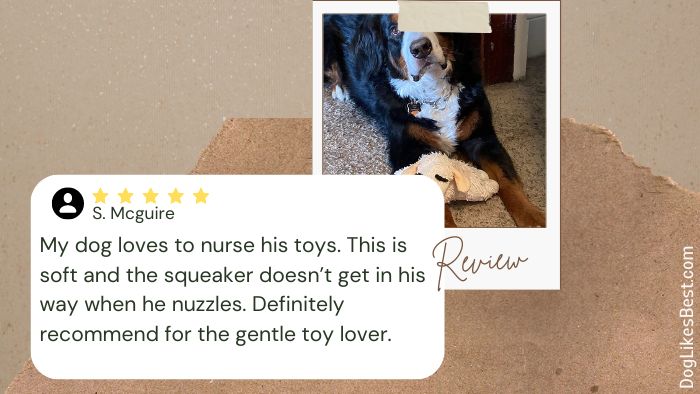 There is an inner squeaker in this dog toy so that your dog remains entertained by the sound and retain their focus. So, let this lamb chop plush dog toy be your dog's favorite plush toy companion that they like to nap around.

4. Chuckit! Classic Dog Ball Launcher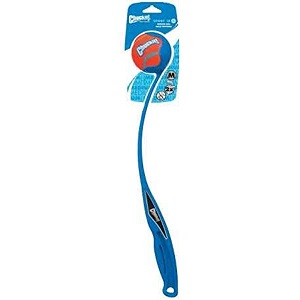 If your schnauzers love to run yards around without getting tired and done then, Chuckit classic dog launcher is a must buy as a dog parent. This ball launcher is sure t give your dog a fun-filled play session without tiring your hands or back.
Made with easy gripping handles, this launcher allows you to throw the ball to greater distances and your schnauzer to fetch the ball to its heart content.
Along with keeping your hands clean, the convenience of this toy can also be enjoyed by any owners who have joint problems.

5. KONG Extreme Ball Dog Toy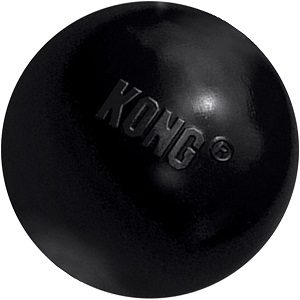 KONG is a well-known brand that sells quality dog toys, this rubber ball is an outstanding choice., to make for dogs who like to play hard. It's puncture-resistant, and the shape of the rubber offers plenty of bounce to make chasing the ball even more enjoyable for your dog.
This dog toy will be efficiently used in both indoor and outdoor play sessions. Highly durable and made of ultra-durable rubber is best suited for even the most aggressive chewers.
This dog toy is recommended by vets worldwide as a safe toy and stands by the test of several dog parents.

6. Omega Paw Tricky Treat Ball Dog Toy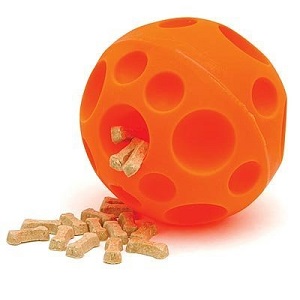 For the dogs who always love to play only when it has food in them, the Omega paw tricky treat ball dog toy would be its best buddy. The ball rolls swiftly with your dog paw and dispenses treat.
This ball dog toy has ridges, so it can be picked and comfortably carried by your miniature Schnauzer. You can use treats, peanut butter, yogurt, or food kibbles to fill the inside of the ball.
The treats are a good way to encourage your dog when they are lonely or excited to play with their toys. It's a fun activity that holds your pup amused for a while.
The dog toy is not dishwasher safe but can be cleaned with wipes. Keep your dog stimulated with a roll a ball and treat dispenser, but mind out for hard chewers as it might destroy this dog toy.

7. KONG Floppy Knots Dog Toy
KONG floppy knots dog toys offer a variety of playful designed plush toys in different animal shapes and vibrant colors. This dog toy is internally knotted for longer durability.
Chewing on this toy, your dog will love the feel of the knotted ropes, and you can use this toy to play tug-of-war or just paw-tner to shake about. The dog toy has the minimal stuffing to avoid any choking hazard. It squeaks enticing your dog for fun playtime.
This dog toy has various animal designs to choose from, and our recommendation is a floppy knotted fox dog toy matching your schnauzer's natural preying instinct. Supervision is a must for aggressive chewers.

8. Nylabone Puppy Chew Start Kit Triple Pack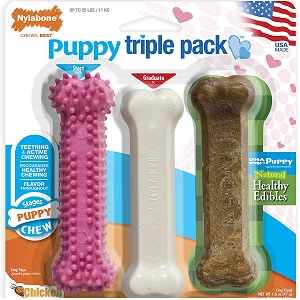 Puppies learning to chew or adult schnauzers facing a toothache can still enjoy their chew bone sticks with Nylabone Puppy chew start kit triple pack. This puppy starter kit offers chews all in one handy multi-pack for each developmental stage.
The first chicken-flavored teething toy is for baby teeth and soothes aching gums, while the flavor active chew bone is firmer than the first one and trains for a good chewing habit. The third chew bone toy is edible bacon-flavored that helps the pup to learn to transition to adult toys.
We recommend this puppy chew kit for puppies learning to chew and even adult dogs that have dental problems like teeth aches and swallowed gums but with a tip of attention to get it checked with our vet for any allergies.

9. Starmark Treat Dispensing Chew Ball Toy
If you want to keep your dog occupied for a long time till you can complete some of your odd jobs or run to a local grocery store then Starmark's treat dispenser is a must keep.
Starmark's treat dispensing chew ball is bouncy and has a hole in it, for filling it with your dog's favorite treats. This ball dog toy keeps your dog mentally stimulated and help prevent destructive boredom behaviors, in your absence.
The ball dog toy has been reviewed to smell off for some dogs and can be quite a challenge for young ones learning to train. We still consider this one as a favorite dog toy for the ones who need to be kept occupied, prefer chewing their ball toys, and loves to avoid classic treat dispensers.

10. Mammoth Flossy Chews Monkey Fist Toy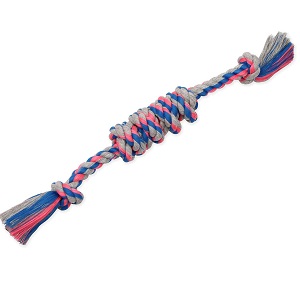 Is your mini Schnauzer a happily growing teething puppy or a big-time adult chewer dog, who likes to play it ruff? Then, Mammoth's flossy chew monkey first rope toy is the best chew and fetch toy.
This durable rope dog toy features a set of knots in the middle and additional knots at the ends, making it a perfect choice for tug-of-war, fetching and long chewing sessions.
Made from 100% pure cotton this rope dog toy is safe enough for hard chewers and the fibers within also help to floss dogs' teeth as they chew and play, maintaining your dog's oral health.
The knots might come off at the ends of the fibers might rip off after rough play so supervision is needed and else apart from it we recommend this toy for a fun tug-of-war session.
Buyer's Guide: How to Choose the Best Dog Toys for Miniature Schnauzers?
Non-toxic materials
Dog toys are not manufactured to the same quality as toys for human children, so you have to keep an eye out for toys containing such chemicals. BPA, PVC (especially for chewing toys), lead, and arsenic are some toxic chemicals to avoid.
Of course, none of these will be the perfect dog toys for the Miniature Schnauzer. Always look for material that is not harsh and is soft felt for plush toys. Look for dog toys that are made of natural rubber and cotton fibers that are considered to be pet safe.
If you find that the conduct or health of your dog seems impaired by it always ask your vet about a toy. Always consult Vet for the allergies of your dog to see if the ingredients in dog chew bones are best suited for your pet dog.
Durable
After looking for nontoxic materials in a dog toy and making sure that it is not hazardous. Dog toys need to be checked if it begins breaking down, easily. And if the dog toys do break down easier then it can still be a health threat.
It is possible to swallow small parts that easily fall off or the threads from the plush toys. Stuffing, and broken squeaker toys or small bits of plastic will also be a choking hazard if the durability of the dog toy is compromised.
So look for toys that can cope with the chewing habits of your dog well. Schnauzers are known to play tough on their toys and also have chewing habits so always opt for dog toys that offer maximum durability.
Intellectually stimulating
Your Miniature Schnauzer needs to be mentally stimulated to be completely exhausted out from playtime. A dog toy that is not enticing or that doesn't grab your dog's attention to play is not considered to be enriching and entertaining.
Always select a dog toy as per your dog's developmental age. Young pups are more curious and need to be trained for developing skills like chewing eye-paw coordination. Whereas adult dogs like something that enriches their instincts.
Interactive
Any of your Miniature Schnauzer dog toys should be interactive while being mentally stimulating. This means that the dog toy also enables your involvement with them.
These interactive dog toys can teach your Miniature Schnauzer tricks and help to create a working relationship between the two of you. Such toys can be enjoyed even with other dog buddies. A rope or catch and fetch toy are the best examples of interactive dog toys.
Correct size
Most dog toys manufacturer mention what the toy is intended to use, for on their labels or explanations, or whether the toy is intended for a puppy or adult dog.
Usually, a miniature Schnauzer weighs about 11-18 pounds and is about 13 inches tall so look for suitable toys., that is not heavy or not so light. Your dog will not play with dog toys that are incorrect in size.
Always keep in mind the size of the jaw of your dog. Either way, toys that may be too small might pose a risk of choking and the dog toys that are heavy or too huge to be grabbed should be avoided.
Versatility
It is always a good idea to have a variety of different toys in your dog toy box more often than not. One to chew, one to fetch, one to relax, one for the crate training, and the other for chewing, etc.
Having different toys for different activities is great for your pet as these, dog toys help your pet dog to adapt, to different styles of play. Dogs often get done through one kind or style of dog toy easily, so then start showing damaging habits.
So keep more than one type of dog toy so that your pet does not get bored and irritable.
Cleaning part
Always keep a close eye and check on maintaining the hygiene of your dog toys. Some of the dog toys are easy to wash and maintain by cleaning in a dishwasher or washing machine.
While some other dog toys can be kept clean by wiping them with wipes or wet cloth. Maintain a habit of regularly cleaning your dog toys especially the ones that they use for chewing. After washing makes sure to dry to avoid building bacterial growth due to moisture.
FAQs About Dog Toys for Miniature Schnauzers?
Q. Which toys are best for the temperament and activity level of miniature schnauzers?
Every miniature Schnauzer is different from the other, in its personality and temperament. Some are very lively, while others are quieter and some might be way energetic.
For your dog to maintain a healthy lifestyle, it's best to encourage physical exercise and playtime. Stimulating toys will aid you to initiate playtime and keeping your dog entertained.
Toys with built-in squeakers and flavored chewing toys are most preferred. Every schnauzer will have a happy spot for different types of dog toys. So, always look for what your dog pet spends most of its time with.
Q. What types of dog toys are best for Miniature Schnauzers?
Miniature schnauzers prefer toys that stimulate their mental skills more. This breed is known to be clever and can learn new tricks easily. So they need toys that enrich their instinctual skills like predating, hunting, and chasing.
The dog toys also need to be interactive, and the ones that also enable your interaction with them, As like any other dog breed they do strive for a stronger human bond. Look for hard durable toys as they are known for rough playing habits.
Q. How to increase dog toys lifetime?
No dog toy is completely indestructible. That said, you can still add more to the dog toys by taking proper care of them. Always look into material and build quality for the penny you pay. Follow the caretaking instructions mentioned in them.
Schnauzers always have a rough playtime or can be aggressive chewers, make sure to choose durable brands and try not to purchase smaller toys than their size.
Q. How much do dog toys for Miniature Schnauzers cost?
Our review list mentions different kinds of dog toys that can best suit the need of schnauzers. The price list for these dog toys ranges from $5 to $25.
Conclusion
Schnauzers usually have unique personalities and preferences. Our review list of 10 best dog toys for schnauzers aims to help select the best of these dog toys for your ever-loving fur wagging buddies.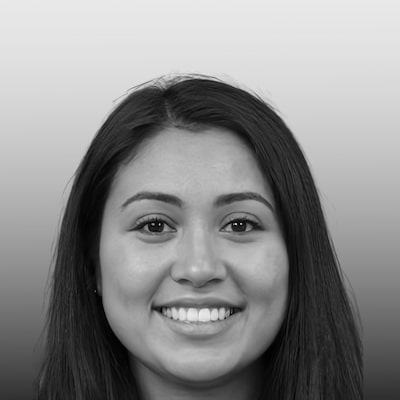 Dwana is our best team member when it comes to taking care of pets on daily basis. This is because she used to be a full-time pet sitter before joining DogLovesBest. Besides contributing her precious knowledge on dog care tips and everyday-use pet products, she still does dog walking as part of her hobby in her free time.