Hunting dogs have been with us, for somewhere between 12,000 and 20,000 years. They are working gun dogs that hunt the beast of prey for a human, along with being a great companion.
Hunting is their main job, still, they do need their share of loving playtime. Dog toys provide needed playtime for hardworking field dogs.
Some of these toys improve their sharp predation, detection, and retrieving skills, while some kill boredom in between hunting times.
So, regardless of their busy hunting schedule, they still deserve the best of dog play toys. A perfect dog toy thus improves the overall well-being of hunting dogs along with igniting hunting instincts.
The 5 Best Dog Toys for Hunting Dogs Reviews of 2023
1. KONG Flyer Dog Toy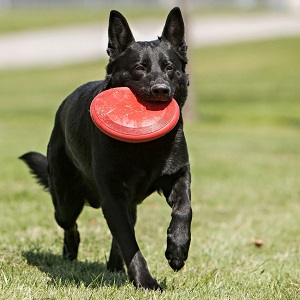 KONG'S flyer dog toy is our review team's first recommendation for the hunter dogs that are heavy chewers. It is an ultra-durable flying disc, best meeting the playtime demands of a hunter dog.
It is a perfect flying disc for fetch games with a precise high flight and a soft catch. Provides fun exercise for you as well as your furry friend. Designed for most outdoor activity usage that best suits the need of a hunting dog's energy.
Flyer delivers a dynamic rebound best enjoyed for longer fetch games and offers mental and physical stimulation.
To conclude, we think this is the overall best dog toys for Hunting Dogs.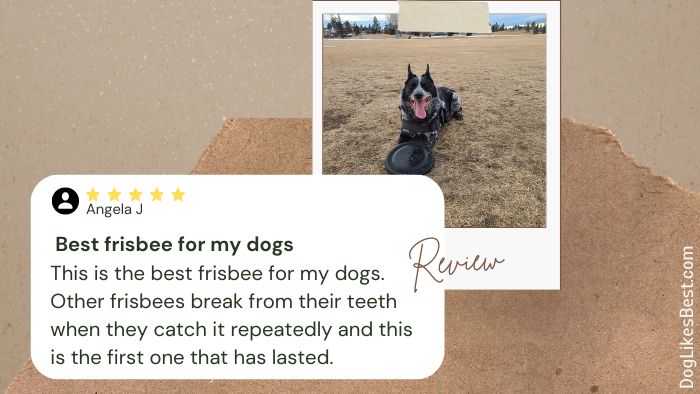 Pros
Soft on teeth and gums, that allows longer hold time.
Four different color choices.
Two different sizes: Small and Large.
Safe and non-toxic.
Cons
It won't be able to take prolonged chewing.
2. Avery ATB EZ-Bird Training Dummy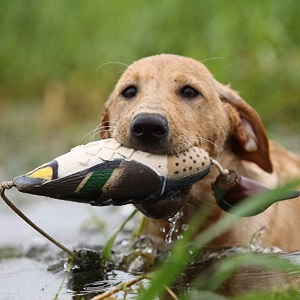 Training overly excitable hunting dogs who can't control their strength is a difficult task. Dog's hunting skills need good superior hold and retrieving training.
Avery's ATB EZ-Bird training dummy toy looks and feels like a real bird. It teaches hunter dogs to gently retrieve birds and animals.
Dummy duck toy has PVC outer skin, which makes the toy resistant to puncture. The Longer throw knob allows greater distance throws and better accuracy.
Pros
Easy to add scent, which teaches hunter dog detection and retrieving.
Foam filling yields a lifelike ducky feel with perfect weight.
Will not absorb water or emit a foul odor, so suitable for water play.
Cons
The rope handle is on the thin side making gripping uneasy.
3. SportDOG Hunting Dog Training Dummies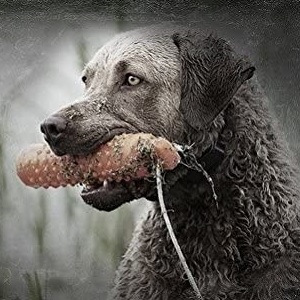 For new pups learning to hunt, training is the most important part. Making hunting training sessions interesting and fun is SportDOG's plastic dummies – Hunting Dog Training Tool.
These plastic dummies are great training tools for sporting and hunter dogs. It is effectively used, for both young and adult dogs.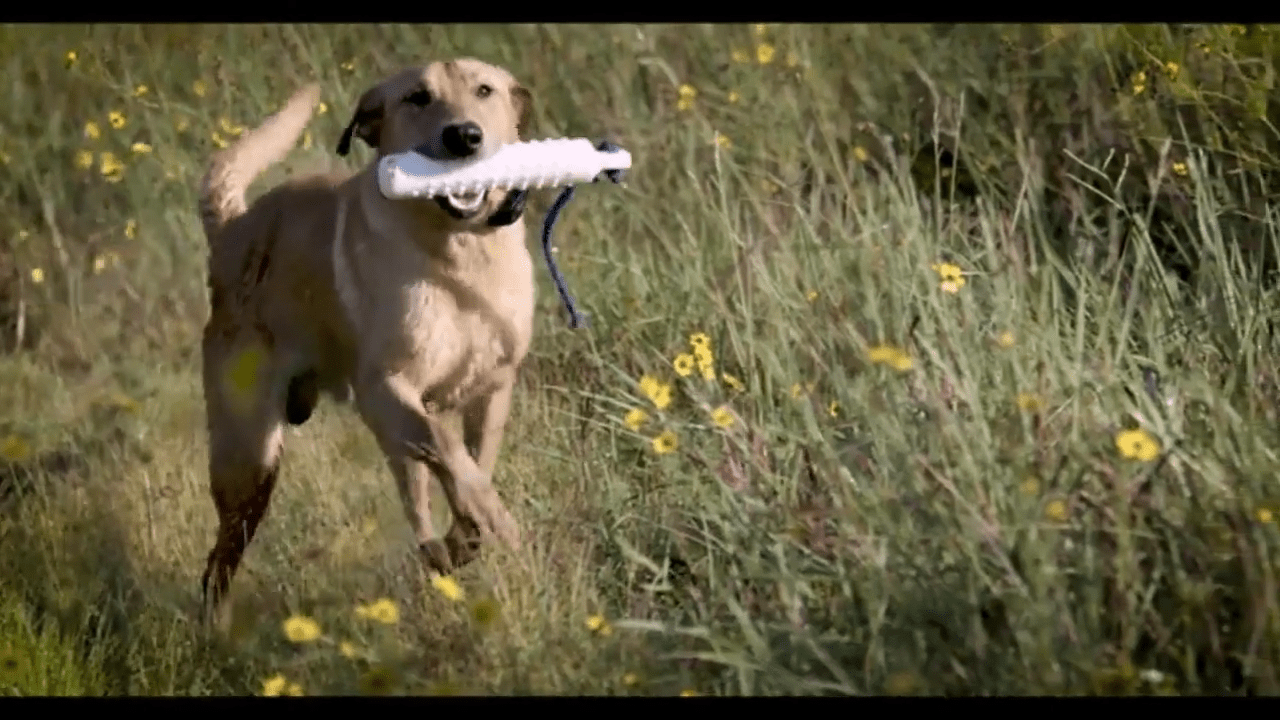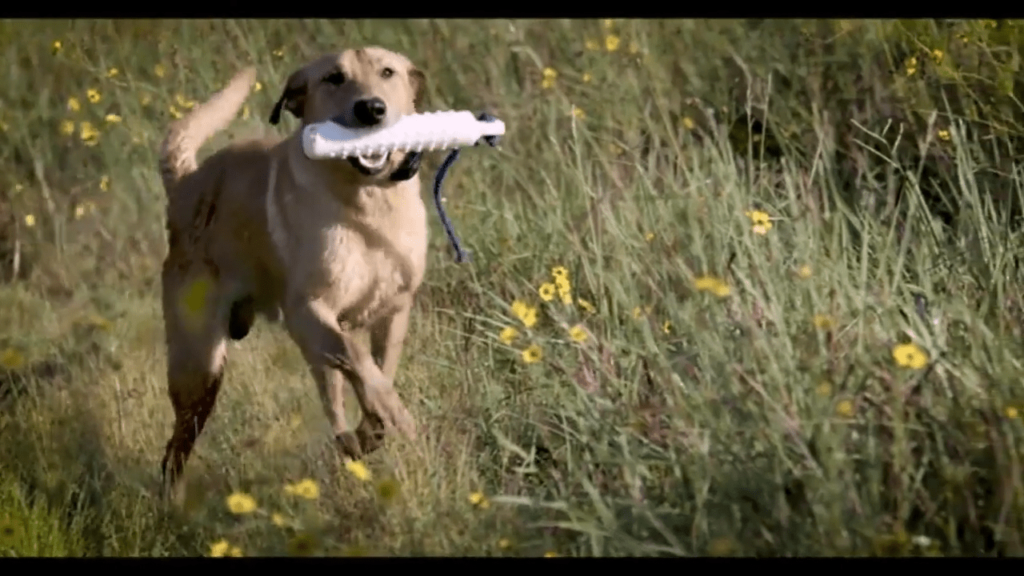 There are three color variants. White dummies are most visible against dark backgrounds and are used for training young dogs to use their eyes over land.
A high-visibility orange training dummy is a favorite of upland hunters and is also great for throwing against all backgrounds.
Pros
Adjustable weight and firmness support various hunting training.
Vinyl material is sturdy and comfortable on your dog's mouth.
Suitable to use in all weather conditions.
Floats for easier water training, or bird hunting.
Cons
No handle or throwing rope attached to the toy.
4. Chuckit! Classic Launcher Dog Toy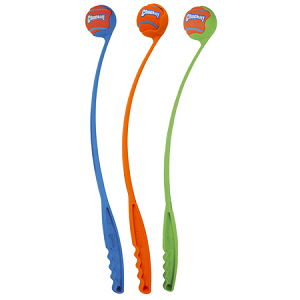 The dogs that don't get tired of fetching games need more long-lasting fetches. Throw the ball three times as far as normal, without bending over or even touching the ball by Chuckit's classic launcher toy.
It has a long durable handle that makes holding comfortable. Effectively engages their hunting skills, without making you tired.
Best for your backyards everlasting throw and fetch or your dog park and wide-open spaces. It's entertaining and keeps your hunting dog entertained for hours.
Pros
Easy to wash off the launcher.
Lightweight and available in many sizes.
Hands-free pick up of the ball enables easy handling to owners.
Easy to use for water sports.
Increases playtime, with long throws.
Random fun colors.
Cons
Active hard chewers can destroy the ball and launcher.
Not for studio apartments.
5. PetSafe Sportsmen Latex Meeze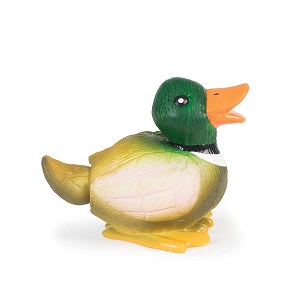 Hunting dogs' favorite part is chasing the birds. They protect the farms, grazing lands by chasing, attacking, and killing birds.
The PetSafe Sportsmen's Latex Meeze Hunting Dog Toy appears in the likeness of a duck for your dog's hunting training needs.
It is vibrantly colored that appeals to your dog's instincts to hunt. The toy is used even for the game of fetch and soft chewing for keeping boredom away.
The tail moves and it squeaks, appeals to your dog's instincts to hunt.
Pros
Made of soft latex, so doesn't hurt the dog's mouth.
Light to carry around makes for long walking and trailing exercise.
Best for dog owners who love outdoor sports.
Cons
Buyer's Guide: How to Choose the Best Dog Toys for Hunting Dogs?
There are many different types of toys for hunting dogs. But each dog toy is different and meets different training of the dogs.
Below we have listed out many key features found in hunting toys for you need to keep in mind, before selecting a perfect dog toy.
Size
The size of your hunting dog is an important feature to consider for buying a dog toy. As some of the hound hunt dogs are smaller. The size of the dog toy also depends on the life stage of the hunter dog.
Durability
Hunting dog toys are generally used outside, which means they are made of tough materials. The hunter dog toys are durable to be used in all weather.
Nylon and vinyl are very common materials that are best suited for hard chewers. PVC is the best material being and is used in water training outdoor sports.
Washability
A perfect play dog toy is easy to clean and keep up. Look for dust-free material. Certain dog toys are easily maintained for sporting outdoors by wiping them with cleaning wipes.
Dog toys like launchers are easy to keep up with because they don't allow the touching of hands.
A dog toy directly affects your dog's health, so make sure to keep it clean.
Dog's Age
This is one of the most important factors to consider when you buy a dog toy. A puppy is in the learning stage so needs toys that suit soft chewing and nibbling.
As for the older hunting dogs, will be able to take on harder toys that are a bit more challenging to chew on. Adult hunting dogs also need dog toys that keep their boredom and anxiety at bay in their free time between hunting.
Breed
Various hunting dog breeds have distinct skills and thus need different dog toys. For instance, the beagle is a scent hound dog. Thus, we need to encourage their sense of smell, with dog toys. The Afghan hound, on the other hand, is a sight-hound dog. They depend on their sight and speed. So they usually like Frisbees or balls.
Texture/Material of Dog toy
Use durable nylon weaving with reinforced stitches. Don't use any type of material that comes off for hard chewing hunter dogs. Other materials can include things like soft rubber or high-quality bones.
Types Of Dog Toys For Hunting Dogs
Dog toys come in all shapes and sizes and have different purposes. A dog owner needs to have different types of toys to help your hunting dogs exhibit healthy behaviors and cut down on negative ones. Below are a few different types and their purposes.
Fetch Toys
The fetch toys are great as they get your dog moving. They work on their eye to mouth control while catching.
These toys train them to learn detection and retrieving skills. They allow them to sense and learn where to fetch sense their prey.
Frisbees are better for teaching them to track something in the air,.It improves running to keep stride with it and jumping to catch it. Balls teach them speed fetching and a sense of retrieval.
Chew Toy
When your pup is training for hunting sometimes they have higher energy or aggression and chew toys help keep calm.
Driven by a strong sense of smell and chew toys are a great way to keep them occupied. They help in tracking sense based retrieval.
Some can even help improve dental hygiene and clean your hunting dog's teeth.
Training Dummy Toys
Dummies training keeps your dogs entertained and engaged. They feel challenged and useful!.
These toys help in improving their hunting skills with different physical and mental training.
These toys target your dog's mind, busy and happy, for hours.
Soft plush toys
Hunting dogs may not need as many soft toys as most of the time they spend outdoors. However, after a long working day, they deserve soft toys to hang around in home comfort.
Sometimes soft plush toys are great for puppies who need a little bit of comfort to adjust to new hunting skills. Soft toys are also great for hunting pups that are teething.
Also, if you have a hunting dog that spends time indoors, it could be a nice touch of comfort and companionship.
FAQs About Dog Toys for Pugs
Q. What toys are best for hunting dogs?
Hunting dogs' best skills are their preying skills. The toys that best manage their preying skills are worth a spend.
Look for the ones that look like natural prey such as Duck, raccoon, or squirrel dummy training toys.
Chew toys and fetch toys use the natural hunting dog drive to give enrichment and mental stimulation.
Always look for durable toys, that withstand forceful chewing and can sustain different outdoor conditions.
Q.Can toys keep the dog occupied without the owner's supervision?
Dog toys are important for relieving stress, separation anxiety, and adding relaxing fun playtime. But all the good benefits of dog toys are In a limited capacity.
However, toys are no replacement for the time your dogs want to spend with you. Dogs that don't get enough attention and stimulation are easily bored and show destructive behaviors.
Dog play needs have to be supervised for extended outdoor hours and water sports.
Q. Do hunter dogs need dog toys?
Yes. Like any other dog breed, hunter dogs too need dog toys. These dog toys help to curb anxiety and stress in between hunt times. Some of these dog toys teach hunting skills to new puppies. These dog toys actively engage important hunting skills like the smell, sight, speed, fetching, and retrieval.
Q. Are dog toys used for hunting dogs the same as other breeds?
Some of the dog toys used for hunter dogs are different from your friendly apartment or studio dogs. Hunter dogs have higher energy and need long hours of physical training.
They need toys that have utility in different environmental conditions like water and outdoor sports. Their toy often has scented material and nature like animal features that help develop their hunting skills.
Their toys best train them for higher speed and object retrieval motives.
Q. Which is the best dog toy for hunting dogs?
Like any other dog breed, hunting dogs also need dog toys. However, the best dog toys for them would be the one that develops their instinctual skills like sniffing, chasing, fetching. The dummy training dog toys will best serve this purpose.
However, we recommend even soft plush dog toys that can accompany them in nap times. Interactive dog toys also help in relieving their boredom in their free time.
Q. How much do dog toys for hunting dogs cost?
Our review list features dog toys for hunting dogs from as low as $4 to premium choices of $25.
Conclusion
The best thing for maintaining the well-being of your hunting dogs is to challenge them, both physically and mentally, and to keep them happy and healthy.
Hunting dog's toys are more durable than most because of their powerful strength and the ones on our list satisfy those criteria.
We hope that you find our list of the 5 best dog toys for hunting dogs helpful and useful.
Give your hunting dogs the best dog toys they deserve and make their training fun.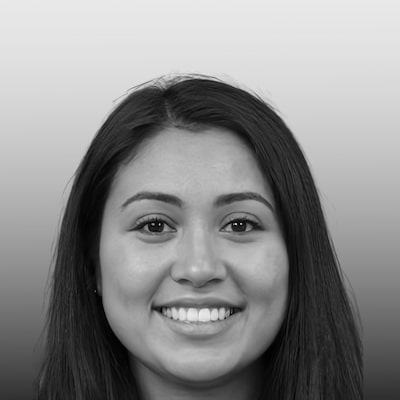 Dwana is our best team member when it comes to taking care of pets on daily basis. This is because she used to be a full-time pet sitter before joining DogLovesBest. Besides contributing her precious knowledge on dog care tips and everyday-use pet products, she still does dog walking as part of her hobby in her free time.