We selected the 12 best fetch toys for dogs after testing over 50 toys for their durability, safety, price, etc. so that you get the perfect one for your pooch.
Chasing and fetching are the natural instincts of canines and thus providing them with a fetch toy is a great way of stimulating them mentally as well as physically.
Playing the game of fetch, in addition to providing mental & physical stimulation, also increases the bond between you and your pooch.
So gift your pooches with a fetch toy to help them with a healthy and happy lifestyle.
The 12 Best Dog Fetch Toys Reviews of 2023
1. KONG Flyer Frisbee Dog Toy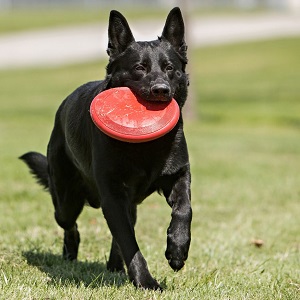 The best of all fetch toys in terms of durability, price, and usability are the KONG Flyer. Not only this toy is durable enough to withstand the tough chewers but it is also soft on the dog's mouth and flexible enough for an entertaining game of fetch.
Besides the red and classic variant, the KONG Flyer is also available in the Extreme (back) variant. The black variant, similar to other KONG toys, is the toughest variant, and hence it is suitable for aggressive chewers.
These are also available in small and large sizes thus suitable for breeds of all sizes.
To conclude, we think this is the overall best dog fetch toys.
Key Features:
Size: Small & Large
Material: Natural rubber
Type: Frisbee
Indoor/Outdoor: Both
Water-Friendly: No
All of the variants are made from natural rubber and hence they are totally safe for the dogs. Its construction also makes it durable and the shape makes it aerodynamic to provide longer launching distances.
The ridged ends of the flyer provide grip and make it easy to throw.
2. iFetch Interactive Ball Launcher for Dogs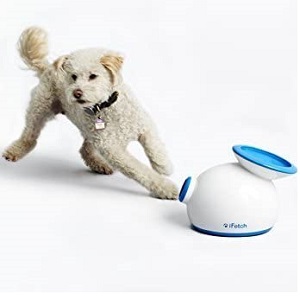 Busy pet parents, especially after a long working day, can sometimes find it tiring to get their pets engaged in any activity.
This is where the iFetch Interactive Ball Launcher comes to the rescue as with the help of this toy your pooches can play the interactive game of fetch by putting in the least effort.
This automatic ball launcher from iFetch comes in two sizes, small & large, so you can easily find the one most appropriate for your requirement.
The smaller one is compatible with mini tennis balls, whereas, the larger variant is compatible with standard sized tennis balls.
Key Features:
Size: Small & Large
Material: Plastic (Launcher), Rubber (Ball)
Type: Automatic Ball Launcher
Indoor/Outdoor: Both
Water-Friendly: No
It can launch the balls at varying distances ranging from 10 feet to 30 feet. You can change the launching distance to 10 feet with just click of a button to make it appropriate for indoor as well.
You can even select the random launching distance option for an unpredictable launch to make the fetch game more entertaining.
3. ChuckIt! Ultra Ball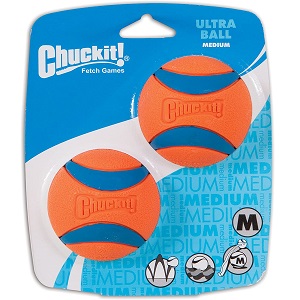 How can we forget the Chuckit! Ultra Ball when it comes to the fetch toys. This toy is also one of the cheapest options available out there for a fetch toy in our list.
Additionally, it is also available in a pack of two as well as single pack, so you are in double benefit on buying toy that is available in pack of two.
You also get an option to choose from Small to XX-Large, so you have the choice to get the most appropriate size for your fido.
All the sizes, including the larger ones, are light in weight. Hence, they are always convenient to play the game of fetch indoors as well as outdoors.
Key Features:
Size: Small to XX-Large
Material: Rubber
Type: Fetch Ball
Indoor/Outdoor: Both
Water-Friendly: Yes
The balls are made from natural and high-bounce rubber so in addition to being durable & safe, they are also bouncy enough for more fun.
It also has a textured surface that provides grip and its tough core makes it withstand even aggressive chewers.
4. JW Hol-ee Roller Original Treat Dispensing Dog Ball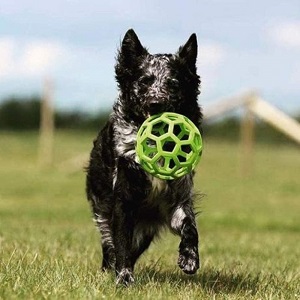 Dogs love playing with treat-dispensing toys because they are full of fun as well as their favorite treats. It is also a great toy for the dogs to encourage them to play with the toy by rewarding their favorite treats.
The JW Hol-ee Roller Original Treat Dispensing Dog Ball comes with a hollow center and Telstra ball-like 32-panel pattern.
Within the hollow center of the ball, it can be filled with the appropriate size of treats. These treats then unpredictably come out while your pooch is playing with it.
Additionally, the toy can be even used independently as a fetch toy. Yet, it is advisable to use it indoors only since its design makes it prone to attracting debris.
Key Features:
Size: Mini to Jumbo
Material: Rubber
Type: Fetch Ball
Indoor/Outdoor: Both
Water-Friendly: No
This treat-dispensing ball is available in four sizes ranging from mini to jumbo so you can easily find the most suitable size for your pooch.
It is also available in different colors like red, blue, and green, however, you do not get the option to choose between the color as it is shipped in any of the random colors from these three.
5. Chuckit Indoor Ball Dog Toys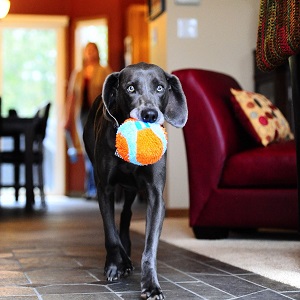 We know that not every time it is suitable to go out for the game of fetch. So in this case it is recommended to get an indoor fetch ball.
The Chuckit Indoor Ball Dog Toys would be most suitable in this scenario as in addition to providing an option for your pooches to play indoors, it does not cause any harm to the surfaces of walls or furniture because of being soft.
Its soft texture does not compromise over the durability of the toy as it is made up of high-quality plush material with multilayer construction having textured chenille fabric as its topmost layer.
On the other hand, its interior part is made up of rubber that makes it bouncy. In total, all the materials used in making this dog toy not only make it durable & long-lasting but also totally safe for your pooches.
Size: 4.7 inches
Material: Textured Chenille Fabric
Type: Plush Ball
Indoor/Outdoor: Indoor
Water-Friendly: No
The textured surface of this dog toy also makes it easy for your pooch to get a good hold of it without causing any harm to their teeth.
Moreover, it is even compatible with the standard ball launchers and hence provides a convenient slobber-free pickup.
6. Chuckit! Max Glow Ball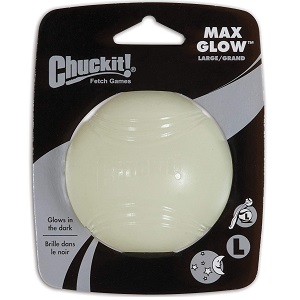 If you and your pet are night owls and like to stay awake up to late night and play then you can relate to the scenario that it might be sometimes becoming difficult to spot the ball (or whichever toy they are playing with) in the dark.
The Chuckit! Max Glow Ball glows in the dark and hence makes it easy to spot even in the dark. Hence, this makes it suitable to play in the night as well thus increasing the playtime of your pooch.
However, it is available only in white color so no other color options are available.
Size: Medium and Large
Material: Photoluminescent Rubber
Type: Glowing Fetch Ball
Indoor/Outdoor: Both
Water-Friendly: Yes
It is even compatible with the standard tennis ball launchers. This makes it perfect or playing the game of fetch with a huge launching distance.
Additionally, keeping the ball under sunlight or flashlight for 5 minutes makes it glow in the dark for 20 minutes.
7. Chuckit! Breathe Right Fetch Ball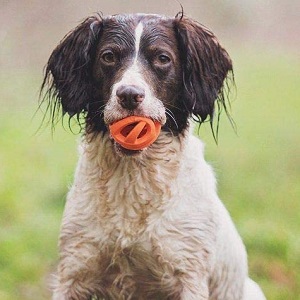 Fetch toys, especially the ones that are in round shape, can restrict airflow for some dogs. This can make it difficult to breathe.
So if your pooch finds it difficult to breathe by using a standard fetch ball then getting the Chuckit! Breathe Right Fetch Ball is the most suitable option.
Its hollow mesh-like design facilitates breathing so that your pooch can play it for a longer period of time without feeling short of their breath.
It is also compatible with the Chuckit launchers so it provides a great launching distance during the game of fetch.
Key Features:
Size: Small, Medium, and Large
Material: Natural Rubber
Type: Fetch Ball
Indoor/Outdoor: Both
Water-Friendly: Yes
Moreover, the bright orange color of this fetch ball makes it easy to spot in different lighting conditions. It is also made from natural rubber, which in addition to being durable is also safe for dogs.
Additionally, its design is sturdy yet flexible and bouncy for an interactive game of fetch.
8. Chuckit! Flying Squirrel Toy for Dogs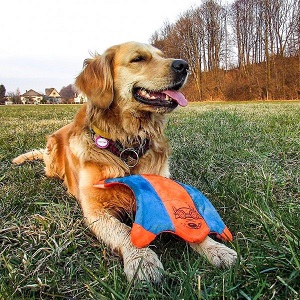 Dogs love sneaking across the yard whenever they see squirrels, birds, rabbits, and other small critters. Hence, providing the Chuckit! Flying Squirrel Toy is definitely a good idea.
Its unique design is not only attractive but the aerodynamic shape also makes it perfect for long-distance fetch.
This toy even floats in water and hence makes it perfect for good splashing time in the swimming pool as well. Moreover, the glowing paws on its four corners also make it suitable to even play it in the dark.
This extends the playtime of your dog since it glows so it is easy to spot in the dark and hence appropriate to play in the late evenings or even at night.
Key Features:
Size: Medium (10×10 inches)
Material: Polyester with reinforced plastic corners
Type: Frisbee
Indoor/Outdoor: Both
Water-Friendly: Yes
It is made up of polyester that makes it sturdy yet soft. At the same time, it is also easy on the dog's mouth. Moreover, the polyester material, which this toy is made of, is also totally safe for the dogs.
Its multi-layer construction also adds up to its durability to withstand the chewing as dogs hold the toy under their teeth during a game of fetch.
9. Hyper Pet Flippy Flopper Dog Frisbee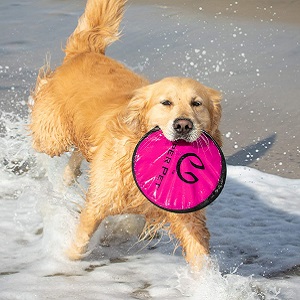 Playing the Frisbee game with pooches not only provides an entertaining activity & physical workout but it also increases your bonding with them.
The Hyper Pet Flippy Flopper Dog Frisbee provides a way by which you can play the fetch game with your pooch.
It is made of multi-layer nylon construction that makes it stronger and chew-resistant. It has hard plastic ring that keeps the toy stiff and prevents it from losing its shape.
Moreover, in addition to being durable, the materials used in making this toy are totally safe for dogs.
Size: 9″ diameter
Material: Nylon, Hard plastic ring inside
Type: Frisbee
Indoor/Outdoor: Outdoor
Water-Friendly: Yes
The lightweight and buoyant design make it flow in water. Thus, this toy is even suitable for playing the game of fetch in the swimming pool as well. Moreover, the soft & smooth texture of this frisbee is also safe on your dog's teeth.
10. S&T INC. Natural Rubber Fetch Toy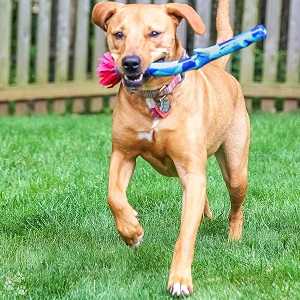 The S&T INC. Natural Rubber Fetch Toy is one of the most flexible and durable fetch toy that comes in a unique design and color that appeals your pet.
The materials being totally soft and flexible is easy on your dog's teeth and gums and is suitable for dogs of all life stages.
Its tree bark like design gives a natural wood stick feeling but the rubber makes it quite durable. It is available in 2 designs being the stick and the disc shape and is suitable for both indoor and outdoor playing.
The stick is 12.8 inches in length that makes it apt for medium to large-sized breeds.
The dog toy is made of 100% natural rubber and goes very easy on your dog's teeth and gums. Another variant of this dog toy is available in the form of a stick. You can get this one as well if your pooch prefers disc toys over stick toys.
Key Features:
Size: 12.8″ length (Stick) and 9″ diameter (Disc)
Material: Natural Rubber
Type: Fetch Stick and Disc
Indoor/Outdoor: Both
Water-Friendly: No
Since both the variants of this dog toy are only available in one size, so you do not have a choice of different sizes. However, both the stick and the disc are large enough to be appropriate for most of the dog breeds.
11. KONG Air Squeaker Tennis Balls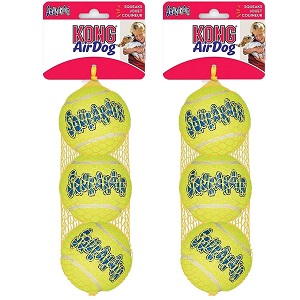 Tennis balls are extremely bouncy and fun and the KONG Air Squeaker Tennis Balls have inbuilt squeakers that add to double the fun and excitement. These toys serve perfect for a game of fetch and come with the durability of KONG quality.
The tennis balls are made of non-abrasive material that is gentle on your dog's teeth and jaws and does not wear down their teeth in any way.
It comes in a range of bright colors that makes it easy to spot amongst the bushes and can be fetched from any place.
The tennis ball is available in various sizes based on your dog's breed and size and also fits inside multiple ball launchers for added fun.
The balls are easily available in a pack of 6 and 18 in case your dog ends up losing out on a ball anywhere.
Key Features:
Size: Medium
Material: Rubber Compound
Type: Fetch Ball
Indoor/Outdoor: Outdoor
Water-Friendly: No
Make sure that you choose a size that is compatible as it is not always delivered as true to size. Sometimes, the balls are delivered as defective or wear out too soon.
Else, the natural bounce that tennis balls produce is extremely fun to fetch and chase.
12. ChuckIt! Breathe Right Stick Dog Toy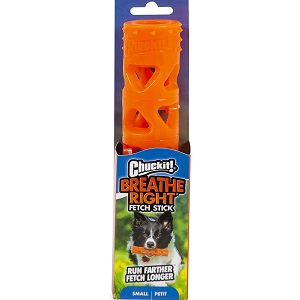 Have some fun and extended playtime with the ChuckIt! Breathe Right Stick Dog Toy that possesses a unique animal print design and has been designed for your pet to run farther and fetch longer.
Since it has several holes and a lightweight design, the buoyancy allows you to even play with it in the pool.
This fetch toy by Chuckit! is a great way of bonding and interaction time with your pet as dogs enjoy playing fetch. It enriches the human animal bonding as well as encourages them to obey commands and train them.
The toy is small and compact enough to be used indoors as well as outdoors.
The dog toy is made of all natural materials to withstand chewing and the fetch stick with holes allows enough air to flow through making it quite suitable for flying.
It is made of safe blended material and comes in bright colors for ease of visibility.
Key Features:
Size: Medium
Material: Blend
Type: Fetch Stick
Indoor/Outdoor: Both
Water-Friendly: Yes
However, the toy is not very durable and does not last in case of aggressive chewers. It is made of plastic blend that makes it light and easy to fetch but the quality is not quite up to the mark. Overall, the toy is great for playing fetch and catch with your pet.
Buyer's Guide: How to Choose the Best Fetch Dog Toys?
Here are the steps you must follow before choosing the best fetch dog toys for your pet:
Size
Size is one of the most important features to consider regarding a dog toy, be it a chew or a fetch toy. Dogs would be holding and gripping the fetch toy with their mouths.
If the size of the fetch toy is too small as per your dog's size, he may end up swallowing it that may cause choking disorders.
Large sized dog toys for fetching on the other hand are not very comfortable for gripping and may cause imbalance or improper gripping in your dog's mouth. He will find it difficult to play with the toy if it does not suit his size and his jaws!
Material & Grip
The material of the fetch toy also holds extreme significance since it has to suit your pet's grip and comfort. Ideally, fetch toys are made of plastic, rubber or cloth based on their design. Other materials may also be wood or nylon fetch sticks.
Rubber: Rubber is the most durable material that you would find amongst dog toys as it can sustain aggressive and tough chewing. Rubber fetch toys are also known to be flexible and easy to grip due to their non-slippery surface. They are fairly easy to clean as well as produce a random bounce at times that adds to the fun.
Plastic: Plastic is quite light and easy to handle but not as chew proof and durable as rubber. It lacks flexibility and bounce and can break apart almost easily if tampered with and chewed aggressively. Plastic is waterproof but is subject to cultivating pathogens and bacteria in its pores due to the extreme slobber that it may face from your pet. Fetch toys made of plastic are easy to clean and cheap that makes them the most common choice. They might get slippery upon getting wet but are fairly manageable to grip.
Cloth: Certain frisbees and fetch toys are made of cloth or lightweight fibers simply because they can fly easily due to an aerodynamic design. However, cloth is considered to be extremely fragile and is not tear or weatherproof. It can be considered for indoor play but is not meant for outdoor use as it may get stuck on shrubs and trees and tear almost easily. Cloth provides a good grip but is not as durable.
Wood: Wooden toys are considered to be durable as they can sustain extreme chewing but are equally dangerous if they are ingested or if the wood fibers start coming off. They can even end up injuring your dog's jaws or teeth if the ends are blunt or if the fibers are sharp enough. There are alternative materials like nylon or plastic available that have comparatively blunt ends.
Type
Want a fetch toy that bounces or you are simply looking for one to launch at your pet? Based on your pet's playing habits and needs, you can choose from a range of fetch toy types, like a fetch stick, a ball, a frisbee or simply a plush toy.
Make sure to consider the size and age of your pet too as small puppies would prefer playing fetch with a plush toy whereas larger and agile dogs would love playing fetch with a frisbee or ball.
If you are looking for a fetch toy that is fairly easy to launch at your pet, you can go for ball launchers that are easy on your arms and reduce the efforts for you to launch the ball while playing with your pet.
Design
Fetch toys are generally supposed to be light and have an aerodynamic design. This allows them to fly easily and travel across larger distances to encourage better running.
Moreover, toys that have a textured design or multiple grooves and ridges are easier to grip. The design should not be too rough for your dog's sensitive jaws and teeth.
Indoor Or Outdoor Use
Fetch toys are meant for outdoor use as they are launched or thrown at large distances. However, it is not always possible to go outdoors due to poor weather or simply because the conditions are not favorable.
In such cases, fetch toys can also be used to play with at your backyard, mini garden or balcony.
Fetch toys that are soft and non-bouncy can be used for playing in smaller areas to not harm your belongings and making it suitable for confined play zones. Plush fetch toys or small fetch sticks are an ideal choice for indoor/outdoor use.
Quality
Make sure that the fetch sticks you choose are of a decent quality and are not made of any chemicals or other harmful ingredients. Since for most times that the toy is fetched, it would come in contact with your dog's mouth.
Make sure that he does not end up ingesting the toxic chemicals as it may end up causing unwanted allergies and adverse reaction or defects in your pet.
Renowned Dog Toy Brands like KONG, Chuckit!, ZippyPaws, etc. use only safe and reliable raw materials sourced from the finest of places.
These products generally have no scope of containing any toxic chemicals or allergens that may harm your pet.
Water Friendly
Some of the fetch dog toys are designed in a way that they float in water. Hence, due to their buoyant design, these toys are water-friendly.
Thus, if you are looking for a toy using which you can play game of fetch with your pooch in the swimming pool or on the beach then getting this type of toy would be the perfect choice.
Ease of Cleaning
Since, fetch toys would constantly come in contact with your dog's mouth while playing, make sure that the material and design is such that it is easy to clean.
Certain fetch and chew toys are dishwasher safe that makes it easy to handle whereas fetch balls can be washed with water.
Do not allow any dust or dirt to remain on the crevices or surfaces while cleaning as these fetch toys travel across multiple surfaces to have accumulated dirt.
Cleaning them under running tap water or with a brush and cloth after each game session always helps and prevents dirt from entering your dog's mouth.
Types of Fetch Dog Toys
Fetch Toys are the perfect way to release your dog's energy and engage them into exercise and activity.
Based on your dog's nature and playing habits, there are various types of fetch toys available to indulge into different games with your pet. We have listed a few types to make it simpler for you to understand:
Fetch Sticks
Fetch Sticks are every dog's favorite. Fetch sticks are either made of wood or are available artificially made of nylon or plastic that are safer alternatives to wood.
Fetch sticks have various grooves and ridges on its surface and its shape and twig size makes it easy to catch and grip in the mouth. These sticks are also durable to be able to withstand constant chewing by your dog.
Fetch Balls
Fetch balls are fun as they are bouncy, and come in various color and size variants. They can be thrown across larger distances which means it encourages your dog to run even farther.
The only possible danger with fetch balls is that they can be dangerous if the size is small as it may cause choking if your dog ingests the ball by mistake. Certain fetch balls can even glow in the dark.
Plush Fetch Toys
Plush toys are the safest bet especially for small puppies who like to play fetch. These are extremely soft and would not hurt your pup's jaws as they offer a very soft and comfortable grip.
Additionally, you can also look for some chewy ropes within the plush toy for engaging your dog into activity and increasing the durability of the toy.
Plush toys are extremely light as they are usually made of fleece or nylon fabric that makes it easy for your small pup to fetch and run with.
Ball Launchers
Ball launchers are an extremely helpful tool as you don't have to stress your arms or shoulders to play fetch with your dog.
Moreover, the launcher helps in throwing across extremely large distances and different angles that encourages your pet to run farther.
These launchers are available in a variety of sizes as per your dog's size and age that adjusts the launching distance accordingly. Our reviews above help you choose from the best ball launchers to play fetch with your pup.
Automatic Ball Launchers
If you have plans of sitting back and enjoy watching your dog playing fetch, you can opt for automatic ball launchers that allow you to adjust the distance of launching and throws the ball with immense power while launching.
This throws the ball at a greater angle encouraging your pet to run across farther distances as well as exercise. Automatic Ball Launchers are highly priced but quite worth the investment.
Treat Dispensing Fetch Toy
Fetch toys that promise a treat are an added bonus as it encourages your dog to play more and fetch across farther distances.
Sometimes, it is the mere smell and sight of food that gets your dog to run and fetch the toy while at times, they simply enjoy winning a reward after a day of hard work and play time.
The catch with these treat dispensing fetch toys is that you can make your dog strive for the treat by playing fetch and encouraging him to exercise. Make sure to not pamper them enough with the treats else it may lead to unwanted weight gain.
Frisbees & Discs
Frisbees and discs are made for playing catch and fetch. Their aerodynamic shape and design makes them fly high in the air. They are also quite light and buoyant which means most of them can also be used in the pool.
However, frisbee flying toys can sometimes be quite flimsy which may cause them to tear apart or break easily if your dog gets aggressive.
However, their lightweight and ergonomic design causes them to fly across large distances that makes them quite a worthy toy for playing fetch with.
FAQs Dog Fetch Toys
Why do dogs play fetch?
Playing fetch makes your dog feel good. Dogs are known to be faithful and loyal creatures by instincts and enjoy playing fetch and retrieval for as long as they are tired.
It does not require intense training and flourishes your pet's skills well while they love the praises they receive from you upon obeying commands.
Are fetch toys safe for puppies?
Yes! Fetch toys are very safe for puppies. This depends upon the material used and the type of fetch toy as well as the size.
Avoid using wooden fetch sticks or fetch toys of a poor quality to ensure your pup's safety. Else, fetch toys are a great way to encourage your pup to run and exercise at a young age.
How long should I play fetch with my dog?
Ideally, 30-45 minutes is the ideal time span for playing fetch and encouraging your pup to run and exercise.
This also depends upon your dog's energy levels as an excessive activity should not tire him out and make him feeling fatigued for the rest of the day.
How much do fetch toys for dogs cost?
Most of the best fetch dog toys cost around $10 to $20. However, our budget pick, ChuckIt! Ultra Ball, costs even lesser than $5.
Whereas, the premium pick, iFetch Interactive Ball Launchers for Dogs, costs more than $100. Spending this amount is a good idea if you want an effortless way of engaging your pooch in the game of fetch.
What is the best dog fetch toy?
Now selecting the best fetch dog highly depends upon your requirement and dog's preference. However, at any point, if you are confused about the selection then you can pick up from any of our top three picks.
And not to mention, our topmost product, KONG Flyer Frisbee Dog Toy, is suitable for virtually all dogs.
The Final Note
We hope you found the best fetch toy for your dog. Make sure that while paying the game of fetch, or in fact while playing with any toy, the dog should be under supervision.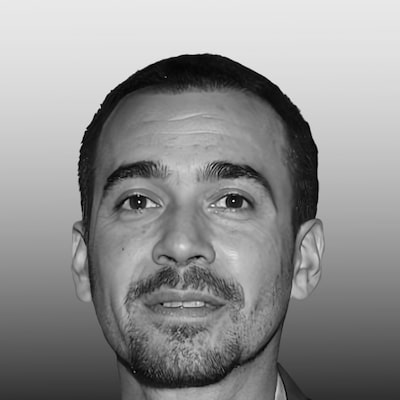 James Wilkinson joined DogLovesBest as a full-time writer with the objective of offering his insights on how to rear pets better. He shares the information through the experience he has gained over a span of 15 years working as a dog trainer. James also used to contribute regularly to several pet publications during his career as a trainer before joining this website. He also donates a portion of his own personal wealth to shelter abandoned animals in Gainesville, Florida and helps in finding a new home for them.