Our review article enlists the 7 best dog toys for poodles in 2023, which guides you to dog toys and their relevant pros and cons. We have curated this list after intensively researching individual dog toy reviews and ratings.
Elvis loved poodles! Poodles are the 7th most prominent breed in the US. They are intelligent, affectionate, and enthusiastic dogs, covered in iconic curly coats. They typically become beloved family members and are good with younger children and elders.
They are known to have a long life span, with the smaller poodles reaching as much as 17 years of age, while the standard poodle tends to live for 12 to 14 years of age.
All poodles like to play games, solve puzzles, or just like to spend time with their favorite plush toy. Poodle pups need plush companion toys as they stay more time indoors. Poodles are intelligent and need more than just a simple dog toy to lie around.
The 7 Best Dog Toys for Poodles Reviews of 2023
1. Multipet Look Who's Talking Toy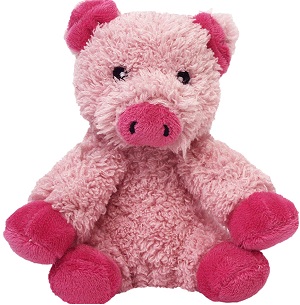 Our first choice of best dog toys for poodles is from the premier pet product designer and importer in the United States, Multipet. Multipet's Look Who' Talking toy is our top first pick for an interactive dog toy. They are the best talking dog toys that will keep your poodle engaged for hours.
The toy makes different sounds when your poodle squeezes it. These toys come in different animal shapes to pick from. Great for playing fetch and to prevent boredom. The toy is super soft in material and makes for a favorite bedtime or napping time buddy.
To conclude, we think this is the overall best dog toys for Poodles.
Pros
Durable stitching.
Not made with any detachable plastic parts like eyes or nose that can be swallowed.
No plastic parts, so there's no choking danger.
Cons
Needs supervision as hairs on the plush toy can come off on heavy chewing.
Once the squeaker breaks, no voices can be heard.
No classic squeaker.
Not washing machine safe.
2. Outward Hound Hide A Squirrel Squeaky Dog Toy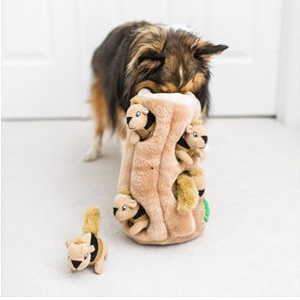 A toy for Poodles who like to play 'hide and seek' is Outward hound's Hide A Squirrel squeaky dog toy. This dog toy is our premium pick. This puzzle dog toy has already gathered more than 6K+ user reviews and 5 stars to shine as a hit in the dog toy category.
This dog toy features cute plush toy squirrels for your poodle for the game hide and seek. For the fun to begin, you just need to hide the squeaky squirrels in a plush tree and let your pet sniff them out.
The Hide a Squirrel interactive toy keeps poodles occupied so they don't become destructive or start biting or chewing on items around your house, in your absence.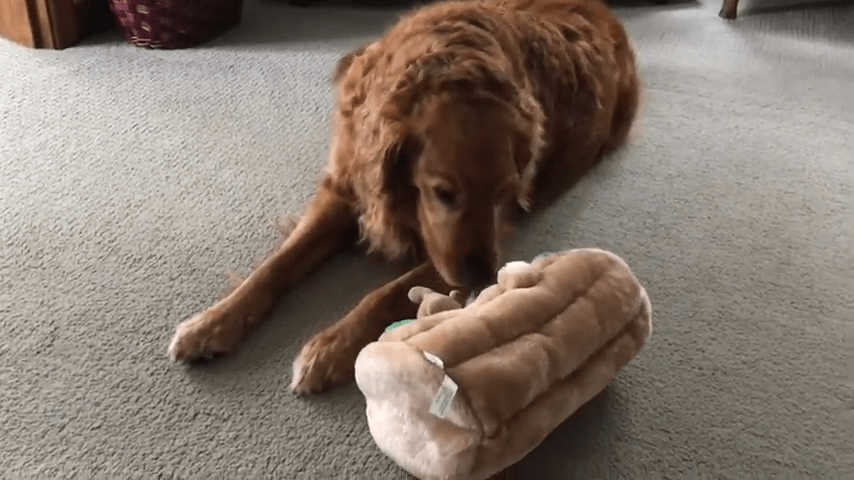 Pros
Sizes choices in junior, large, Jumbo, and ginormous.
Interactive dog toy that stimulates mental health.
Easy to replace squirrel plush toys when your dog losses it.
Keeps playtime interactive and engaging.
Cons
Needs supervision
Plush toy squirrel tail hairs might come off in rough play
Not for aggressive chewers.
Squeakers don't make much sound, so some dogs might find it uninteresting.
3. Chuckit! Ultra Rubber Ball Tough Dog Toy
Chuckit! Ultra Ball lets you bring more fun in playtime with your poodle, be it at the waterfront, in your backyard, or at the dark park with an additional component of fun. This ball has a squeaker toy inside that entities your poodle to play. It is way durable because it has solid elastic outside.
The ball's finished surface and thick rubber center are soft for your poodle's mouth. It is the best choice for an extreme chewer. This fun Ultra Ball comes in brilliant color that is simpler to discover the toy in any background.
This toy can even be used with Chuckit's Launcher, which you can use to toss balls for your pet to get.
Pros
Available in small to X-large sizes.
Made from rubber so it's easy to clean after a long day of fetch.
A good quality cotton rope attached to the toss ball makes handling easy.
Great for tug of war and fetch games.
The cotton rope acts as playtime dental floss while chewing it on it.
Good for both indoor and outdoor playtime.
Cons
Rope can be torn, cut, or pulled out by a power chewer.
Does not have a squeaker in it.
Might be too hard for some dogs.
4. KONG Jumbler Ball Dog Toy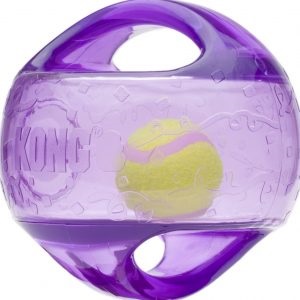 A toy in a toy can be a fascinating concept for many of our poodles and their parents. One such uniquely designed dog toy is KONG's Jumbler ball dog toy. As the name goes by, this dog toy is a rolling jumbler of a tennis ball and a squeaker in a translucent dog toy. It is sure to grab the attention of you and your poodle at once!
The two-in-one ball dog toy creates an exciting, active play session for you and your dog with its handle. The handles on the toy provide a fun tugging session. It also makes for a fun tossing and shaking experience for your dog.
Pros
Squeaky toy entices dogs to play.
Broad handles make pickup easy for the dog owners.
Engages interactive play.
Suitable to be used for indoor and outdoor play.
Easy to wipe with damp cloth or wipes.
Cons
Handling might get difficult for some of the poodle dogs.
It can get heavy picking up puppies, toy, and miniature poodles.
Doesn't roll like a ball.
Jumbler's exterior surface might get opaque after long use, making the interior tennis ball and squeaker less visible.
5. Hartz Dura Play Ball
Bouncy, bacon-scented play fun time? Yes! From every dog, Hartz's dura play ball makes this unusual combination possible in a dog toy. Yes, you heard that right, ball and bacon at once! Your poodle will be highly incited by the scent of bacon, and will not resist playing with this dog toy. Chances are high that they won't return it, for the next throw after a fetch it session!
Made with unique foam technology, it fits your dog's mouth without a hard outer exterior and is always bouncy.
This toy is so light and durable that it can afloat and makes a good choice for outdoor or indoor water playtime. The dog toy has a fun unusual shape and comes in vibrant attractive colors.
Pros
Perfect for dogs of all ages, including senior dogs and teething puppies.
Made with natural latex, so can bounce better.
Three sizing options from the small, medium, and large.
Suitable for indoor and outdoor play.
Highly durable as it is made from foam.
Waterproof design.
Vibrant color options.
Cons
The material is not BPA free.
Not suitable for poodles whose weight is above 50 lb.
Not for super chewers.
6. Pet Qwerks Talking Babble Ball Dog Toy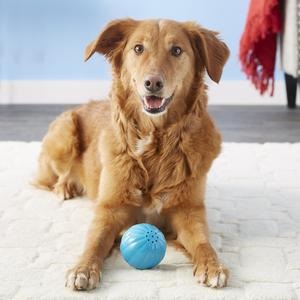 So, interactive toys are a great way to keep your poodle dog occupied and reduce their boredom. Our best dog tog review list features an engaging interactive toy by Pet Qwerks.
Pet Qwerks Talking babble ball dog is an attractive talkative ball with 20 different sounds. It is sure to entertain and interact with your poodle by giving compliments.
The Talking Babble Ball is triggered by a paw touch and turns off automatically when playtime is over. Give your poodle their favorite ball but with a twist of talk, and let them be amazed, occupied by its babbling.
Pros
Easy to use.
Highly sensitive to touch and responds immediately.
Made from a durable plastic material.
Three size options: Small, medium, and large.
Can be cleaned with a damp cloth or cleaning wipes.
Cons
Need batteries.
Supervision needed, as rough play or aggressive chewing can make batteries accessible to your dogs.
7. Mammoth SnakeBiter Snake Rope Dog Toy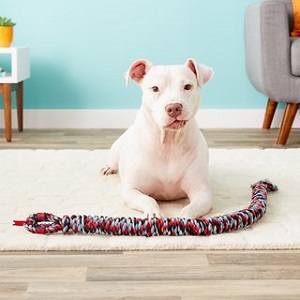 A rope dog toy is a must for every dog parent! The reason is its popularity. Rope dog toys are way popular with every dog parent, as it allows your dog to play different games.
So, if your poodle buddy fancies every possible dog game, Mammoth's SnakeBiter Snake Rope toy will be its buddy in play. Made from 100% natural cotton, it makes chewing it safer.
It is best for playing pulling, tugging, and fetching as it is made to last longer and tougher. It makes a better choice for aggressive chewers and in turn, cleans and flosses their teeth. A great choice for playing a memorable tug-o-war or a fun fetch session with your poodle.
Pros
Perfect item for teething puppies and strong chewers.
Size options in small, medium, and large.
Machine wash, so easy to clean and maintain.
Perfect toy for teething puppies and strong chewers.
Suitable for both puppies and adult poodles.
Multiple play choices: fetching, tugging, and fetching
Suitable for both, outer and indoor playtime.
Cons
Needs supervision, if chewed aggressively can lead to choking.
Buyer's Guide: How to Choose the Best Dog Toys for Poodles?
Choosing the right toys for your furry friend will not only boost your poodle friend's happiness but will help strengthen your bond with them. There are several considerations to keep in mind.
Age
Softer plush and rubber toys, or other delicate materials, are better dog toy choices for a young puppy with his new teething.
Puppies may be teething from three to nine months of age, so you may want to have plenty of soft-but-sturdy toys on hand. At this age, you may want to avoid hard rubber toys.
Your adult poodle dog can handle tougher rubber toys and more fun toys like ropes and ultra balls as they finish their teething stage.
Your senior poodle may always want to play and chew and be active, but with simpler toys like sticks and balls, and comfy plush toys as they mainly want to spend their time indoors.

Size
The size of your dog will help you narrow down the appropriate dog toy. A full-grown adult poodle needs more meaningful and more durable toys than your toy poodle or miniature poodle
It is better to not opt for a toy that's too small to be a threat for choking, and you should not select something too big either.
Ensure you always assess when toys start breaking, ripping, or when objects like squeakers eventually fall apart from dog toys.
You may also want to replace them to make sure they do not become a danger of choking.

Type of Toys

It can feel a little confusing as there are dozens of toys to choose from. The personality of your dog will shine with time, and you will come to know what kinds of toys your dog likes
Some of the most popular toys are tug toys, plush toys, chewable toys and treats, balls, sticks, and bones.
You'll know which type of dog toys your dog prefers if you try a combination of them.
But with any of these dog toys, we recommend buying one or two of these distinct dog toys to keep your dog engaged, reduce their negative habits, and curb their boredom.
Know your type of poodle
We hope that you probably know that, poodles come in all shapes and sizes. It's important to understand what type of poodle you have. And which dog toy will suit your loving canine.
Here are the three general classifications of poodles, but other registration agencies and poodle fans admit and know two additional variations.
Five Basic Types of Poodle
Standard Poodles
Standard poodles are the largest of the classifications. They can weigh from about 21 to more than 60 lbs. It is one of the smartest, most trainable breeds. They make for good guard dogs, as they are alert, brave, and are protective of their owners.
Miniature Poodles
Miniature poodles are mid-size. They typically aren't much bigger than toy poodles. Generally, mini poodles weigh between 10 and 20 lbs.
They are smaller than their standard mates. They make great pets for families and are the most commonly favored variant in poodles.
Toy Poodles
Toy poodles are the smallest size of the classifications and they typically weigh under 10 lbs. A loveable lap dog, they are about 8 to 10 inches tall.
The smallest of the three traditional poodle breeds, they still need a surprisingly good amount of exercise.
Klein (Moyen) Poodle
These are a medium size poodle between miniature and standard poodles. At present, with AKC or UKC in America, they are not recognized at a distinct scale.
Klein poodles are excellent family dogs and are best with young children. They are small enough to cuddle on your lap and large enough to enjoy outdoor feats.
Teacup Poodle
Short, small, and tiny, the Teacup Poodle is surely the favorite for the 'Teacup' Era of dogs. They are incredibly low maintenance dogs, with low exercise that makes them great pets for the elderly too!
Hybrid poodle breeds
Cockapoo, Labradoodle, Cavapoo, Goldendoodle, Shihpoo, Bichon poodle, Whoodle, and so on. The list of hybrid poodle breeds is quite extensive, with breeders interested to combine different traits and temperaments, to make a cross poodle of its kind.
FAQs About Dog Toys for Poodles
Q. How much activity should my Poodle be getting each day?
Poodles are highly interactive people dogs. Like any other dog breed, they need bare minimum exercises like Daily walk, purposeful activity play, and a good amount of mental stimulation.
Keep them mentally stimulated with puzzle games that develop their instincts and enrich their mental skills. A daily walk of between 20 – 60 minutes is best for them, along with skill-building dog toys.
Q.What type of toys are best for my Poodle temperament?
Poodles' temperament is identified as alert, informed, obedient, trainable, active, and instinctual. They are very smart dogs and can very quickly learn commands and tricks
So for every poodle dog owner, it becomes important to choose the dog toys that are interactive, fun, and meet their intellectual needs.
Every poodle dog has a different personality and temperament which is best known by their dog parent.
Some enjoy long fetch and catch sessions with the ball outdoors more, while others prefer frisbee, whereas some prefer indoor interactive dog toys.
Q.How can I stop my Poodle from chewing on my things?
Like every dog, poodles like to chew things, but not always your furniture or favorite things. Excessive chewing can be due to many reasons like separation anxiety, higher energies or just to kill boredom.
To avoid chewing on your things, make sure to keep your poodle occupied always, even for their napping time, by giving them their favorite plush dog toy.
Keep more than one type of dog toys available. Keep good chew toys that are safe, durable, and keep them interested.
Q. How much do dog toys for poodle dogs cost?
Our review list features carefully selected dog toys that would meet the demands of the poodles and their price range from $5- $30.
Conclusion
All poodles love to be challenged by interactive dog toys and equally want a loving plush toy as a companion.
The toys on our review list, for best dog toys for poodles, are all highly recommended and review verified, to suit your poodle's natural intelligence and curiosity instincts while giving them memorable playtime.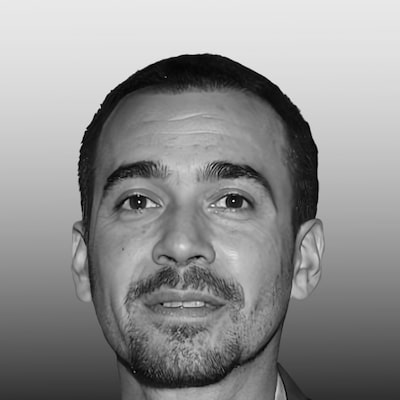 James Wilkinson joined DogLovesBest as a full-time writer with the objective of offering his insights on how to rear pets better. He shares the information through the experience he has gained over a span of 15 years working as a dog trainer. James also used to contribute regularly to several pet publications during his career as a trainer before joining this website. He also donates a portion of his own personal wealth to shelter abandoned animals in Gainesville, Florida and helps in finding a new home for them.