Pugs have strong personalities and are awesome cuddly lap dogs. They serve as a great companion and are relatively low-maintenance.
However, our wrinkly-faced pug buddies need more attention in selecting their play toys because of their peculiar facial structure, which makes them distinct and different from other breeds of dogs.
You will need to pay more attention to selecting the pug toys because of their peculiar wrinkly faces and smaller mouth.
Playtime with your dog is a priceless experience and any pet parent would want to cherish it to the fullest.
So, owning dog toys becomes not only a necessity, to show love to your paw buddies but to enrich and develop a strong human-canine bond.
Being adorably chubby and having a tendency to gain weight, pugs require their playtime to be fun and energy-filled. Dog Toys add fun workout sessions along with their routine than brief walks.
The 5 Best Dog Toys for Pugs of 2023
1. KONG Classic Dog Toy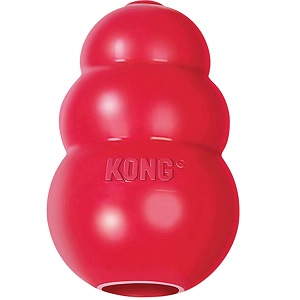 A cult favorite of your pug's boss community and their members is this highly rated and recommended dog toy by Veterinarians and trainers worldwide.
KONG Classic's Dog toy is uniquely made of all-natural red rubber formula that is ultra-durable, and even a treat feeder! It acts as an excellent toy for chase and fetches, because of erratic bounce.
You can increase the playtime for a pug by stuffing it with kibble, peanut butter, KONG's easy Treat, Snacks, or Ziggies.
Loving pug parents this is our first choice as a classic, Chew-Chase-Fetch toy, and we highly recommend it.
Pros
Meets instinctual needs, which provides mental stimulation.
Dishwasher safe hence can be cleaned easily although avoid heated dry cycle.
Supports various options for the size selection from X-SMALL that suits a dog weighing 5 lbs to XX-LARGE that suits a dog weighing 85 lbs and up.
It is completely Eco-Friendly.
Cons
Strong rubbery smell.
Gets slimy during use.
Needs frequent cleaning.
What pug owners say: Makes feeding treat fun, premium natural rubber keeps pug's mouth hygiene safe and better, best for crate training of new pug pups.
2. Outward Hound Hide-A-Squirrel Plush Toy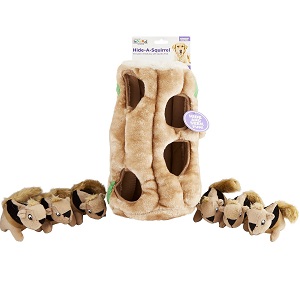 Is your pug a hide-and-seek squirrel predator? If your answer is always yes, then Outward Hound's Hide-A-Squirrel Plush toy will be your adorable pug's best plush toy ever.
This concept gives the illusion, that they are sniffing and chasing something up-in this case, not your garden squirrel, but a squeaky squirrel plush toy.
Just stuff the squeaky toy squirrels and watch, your dog curiously sniffing them out. To keep the game going, just stuff them in again, and again.
We and other pug parents, highly recommend the Outward Hound's Hide-A-Squirrel Plush toy.
As the toy is tough, highly durable, engaging, and simultaneously develops sniffing, chewing, puzzle-solving attributes all at once.
Every pug doggo's favorite and All in One, plush toy.
Pros
Machine Washable.
Supports all size options from junior to Ginomorous.
The dual seamed fabric of the plush toy, keep the squeakers sealed perfectly.
Suits as the best puzzle squeaky plush toy for a pug puppy to an adult hound.
Easily replaceable squeaky squirrels.
Cons
The fur part of the tree and the hairs in the squirrel's tail can come out during vigorous chewing, pulling, or snatching, however, keeping a close watch on your pup can help.
What pug owners say: Brilliant fun toy, interestingly engages the pug for hours by stuffing and finding through sniffing, increases and develops curiosity for younger pug pups, plenty of choices in sizing makes a great buy not just for your pug dog but also for other paw friends.
3. Benebone Real Bacon Flavor Wishbone Dog Chew Toy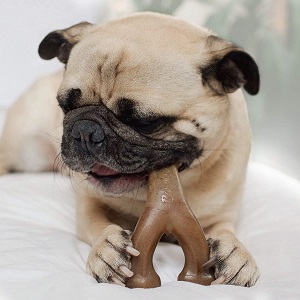 It's Bacon in Air, and not Love! when it comes to the food love of your fur buddies. Call it, bacon and that puppy eye face pop out from nowhere. Food and its delicious smell can make your dog gaga.
Benebone's Real Bacon Flavor Wishbone dog chew toy is the best bet buy for the chewing habits of your pugs. It is made of nylon and Real bacon as the main ingredient.
Purchase of this Benebone wishbone even supports animal welfare as a portion of the sale is donated to animal support organizations in the USA.
Pros
Sizing from small to giant.
The ergonomic bone design makes gripping easy for longer hours.
Cons
Needs to be replaced after 1 month or depending on usage, as it made of real food ingredient.
What pug owners say: A great value chew toy, keeps pugs pretty entertained while chewing, a high recommendation for a pug who is a fan of beacon and chewing!
4. ZippyPaws Skinny Peltz No Stuffing Squeaky Plush Dog Toy
With a smaller mouth and shorter muzzle comes more crowded teeth, and difficulty holding and chewing plush toys. So, ZippyPaws Skinny No Stuffing Squeaky Plush Dog Toy is a pug lover's popular choice.
This stuffing-free squeaky yet soft and skinny plush toy earns top marks from dog owners and their small breed pups, providing longer playtimes.
Attractive toy animal figures with noisy squeakers can easily seek the attention of your growing pug master puppy or your adult grown pug star.
For no stuffing, no mess, and noise loving pug and puppies, we recommend ZippyPaws Skinny Peltz Plush toy is worth a penny buy.
Pros
Easy to wash in the machine on the gentle rinse cycle.
No stuffing and seamless Stichting helps in longer durability.
Light in weight makes it easy for even small-sized breeds to carry and nap along accessible.
3 high-quality round squeakers in the flush toy make playtime entertaining.
Cons
Large build toy animals, won't fit a pug puppy's mouth, but it is useful for an adult pug to play around.
Excessive aggressive chewing or snatching mouth tug of war by medium or large-sized dogs can pull out the squeakers.
What pug owners say: A must-have stimulator for small pug pups, worth a buy flush toy for medium to small size breeds, easy to clean, soft and squeaky plush toy chewer.
5. Pet Zone IQ Treat Dispenser Ball Dog Toy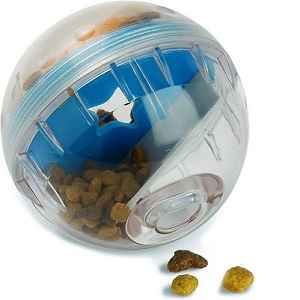 Pet Zone IQ Treat Dispense Ball is your best bet when it comes to managing your easily bored pug buddy.
This IQ treat ball can be adjusted to different levels of difficulty depending on the life stage of your pug.
The tricky level adjustments even help to slow the feeding rate, which promotes easy and slow digestion, in turn, being the best toy for teaching healthy eating habits to pugs. A great toy to observe their weight.

The tricky level adjustments slow the feeding rate and promote easy and slow digestion. Teaches healthy eating habits and keeps weight in check.
So, treat reward your furry paw friend with this amazing, Pet Zone IQ Treat dispenser Ball and make their playtime extra fun!
Pros
Fun to play and challenging at the same time for always lively pugs.
Renders usage for all life stages of dogs, due to its difficulty level adjustments.
Easy cleaning and maintaining it, gives owners an added advantage.
Develops adaptive intelligence.
Cons
Gets a bit noisy because of rolling, though it can be helpful to seek the attention of pug puppies and helps to develop their exercising routine.
What pug owners say: Slows down gobbling of meals, easy to use and clean, constantly engages physical and mental training abilities, a treat feeder and puzzle solver toy.
Buyer's Guide: How to Choose the Best Dog Toy for Pugs?
Every dog is different and so, is their toy! Let's take a quick look at some points you need to consider before you go shopping for your cute lap cuddlers.
Age
For Pug puppies
Chewing: We recommend using flat, soft, less squeaky dog toys. For puppies learning to nibble or teething we recommend using a dog toy made of up natural and durable rubber.
The soft rubber allows learning to chew without damaging the mouth's palette of pug.
Growing puppies can be taught chewing by using food flavored wishbones, which can make them learn proper chewing.
For Adult Pugs
For adult pugs who have learned chewing needs to be trained for more slow eating techniques. Adolescent pugs have higher energy, which makes them more playful and they gobble food instead of chewing it properly!
Hardness
While you want to choose a toy that is durable and won't fall apart easily. The amount of hardness though you want to avoid is one that is too hard.
Choosing flat and smooth plush toys, or chewy bones are a better deal for a pug because of its small mouth and overcrowded teeth.
Material and Coating
Look for chew toys that do not contain any harmful toxic substances and are safe for dogs.
Look for durable fabrics and materials, reinforced double seaming.
Better to choose a material that is Eco-friendly and approved by Veterinarians.
It is worth choosing materials or coating that are rust-resistant and antimicrobial. Look for Dog toys that are easy to clean, dry, and washable to protect your dog's health.
Size
Size is also an important consideration, as toys made for a puppy may cause an adult dog to choke. So, Always read the manufacturer's guidelines to make sure the play toy is suitable for your dog's age and size and has been tested for safety.
Skill Development
Play toys should also be selected keeping in mind the intellectual skills of dogs. Mental and physical training can make your dog combat boredom, anxiety, and destructive behaviors.
Sufficient mental stimulation is a great way for dogs to channelize their energy into developing skills and keeping them engaged for hours.
Interactiveness
Last but not least, get a toy that can entertain your dog for long periods. Go for toys that squeak, make noisy sounds, or contain compartments to hide treats in them. Sound stimulates a dog's mind and attracts them to play increasing their health with a fun exercise.
FAQs About Dog Toys for Pugs
Q. Which dog toys are not suitable for pugs?
Avoid any toys that aren't designed specifically for dog chewing. Never give your pug any type of toy that has sharp edges, threads, stuffing that can come off easily.
Avoid toys that have detachable parts that can be removed or ingested leading to choking because of their smaller mouth structure.
Q. Do pugs chew furniture?
Pugs have a natural tendency to put things in their mouth and pull on them, like any other dog breed. Chewing can also serve as a stress release, or just for fun.
They most likely won't chew on your furniture, but like any dog, they can cause damage to some of your home decor. This habit can be trained by providing suitable dog toys to your pug.
Q. How do I keep my pug safe during playtimes?
Pugs can have trouble breathing and trouble regulating their temperature, hence keep a careful watch. It is necessary to avoid over playtime stress. Make sure your pug is well hydrated and always has good rest hours.
Check toys regularly to avoid injuries caused by broken dog toy parts. Always maintain the habit of cleaning dog toys after playtimes.
Q. Can toys clean my pug's teeth?
Dental chews can keep your pug's teeth cleaner between brushings, however, they can't take the place of regular cleaning sessions. Make sure to visit the vet and maintain oral hygiene.
Q. Can dog play toys heal Separation Anxiety?
It is always a better idea to spend some good quality time with your furry friend to avoid serious and acute mental health issues or separation anxiety.
However, dog play toys can keep company with your pet friend in your absence to get their mind and energy involved.
Q. How much do dog toys for pugs cost?
Our review list features all the types of dog toys that your pug would enjoy playing with. It features dog toys that are budget buys to more premium ones. Their prices range from $4 to $25.
Conclusion

Pugs need a lot of love and buying the best of dog toys can boost their mental skills and make your dogs the best of all.
So, we've bundled up every pug dog's owner dream list for their paw love.
Our dog toys review list meets the needed part of your pug's happiness and aims to melt your heart, with their happy faces.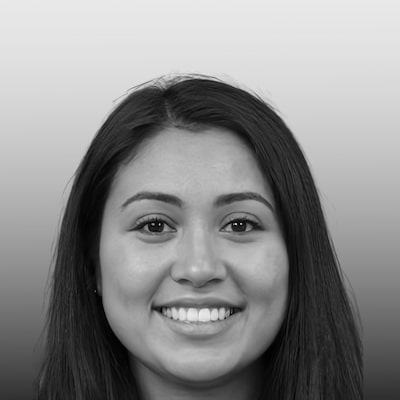 Dwana is our best team member when it comes to taking care of pets on daily basis. This is because she used to be a full-time pet sitter before joining DogLovesBest. Besides contributing her precious knowledge on dog care tips and everyday-use pet products, she still does dog walking as part of her hobby in her free time.