Are you tired of seeing your furry friend suffer from allergies, digestive issues, and skin problems? It's time to try Badlands Ranch Superfood Complete Dog Food! This newly launched formula is specifically designed to address these common health concerns in dogs.
But how can a simple change in diet make such a difference for your dog's well-being? It all comes down to nutrition. By feeding your dog high-quality, dehydrated dog food, providing plenty of fresh water, and adding in some natural supplements, you can give your dog the nutrients it needs to heal and thrive. In fact, many dog owners have seen positive results simply by switching to air-dried dog food.
Don't let your dog suffer any longer. Give Badlands Ranch Superfood Complete Dog Food a try and see the difference it can make for your beloved companion.
Key Takeaways
Badlands Ranch Superfood Complete is a premium dog food, recently introduced in the year 2021, by Katherine Heigl.
Superfood Complete contains natural ingredients, which helps your dog's body in easy digestion, boost the immunity system, and improve the gut health.
Helps in maintaining the shiny coat, and keep the skin hydrated.
It includes premium ingredients beef, salmon, and organ meat, to meet your dog's essential nutrient requirements.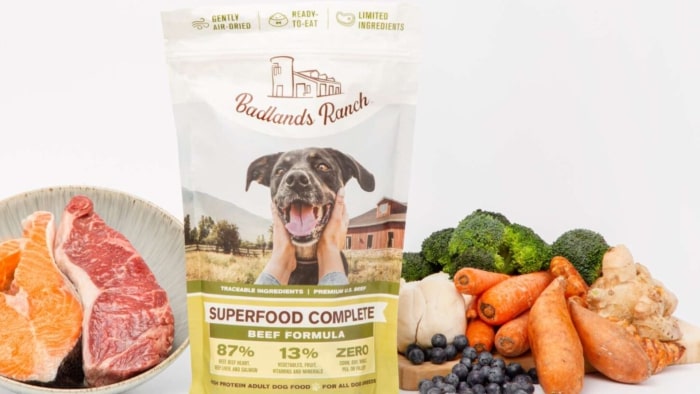 Let's go through in-depth information of Badlands Ranch Superfood Complete Review, it's ingredients list, potential benefits, etc.
What Is Badlands Ranch Dog Food??
Badlands Ranch Superfood Complete is a high-quality dog food, which was recently launched in the year 2021 by actress and animal activist Katherine Heigl. It only contains air-dried kibbles for your dog with natural ingredients.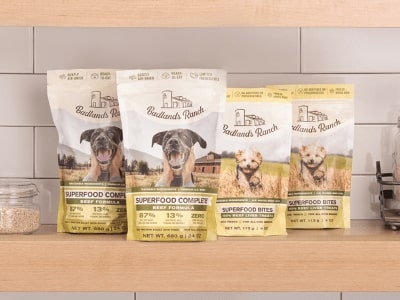 It has beef, salmon, organ meat, and healthy vegetables, all of which are a great source of omega and full of nutrients and antioxidants for your furry friend's body. The food is air-dried to maintain optimum nutrition.
How Does Superfood Complete Work?
As per the survey, it has been observed that Badlands Ranch Superfood Complete includes premium ingredients with essential nutrients to give your dog's body a good health. These essential ingredients give protein, amino acid, fiber, fatty acid, antioxidants to your pooch's body.
The Superfood for dogs not only helps themin easy digestion, boost their immune system but also helps in other factors such as: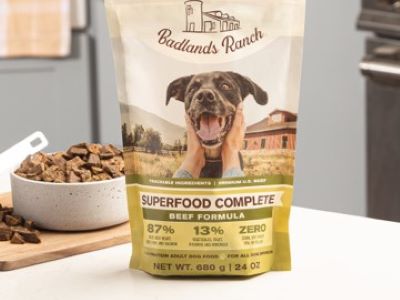 Provide shiny coat and moisturized skin
Your dog feel energetic full day
Provide healthy eye vision
Makes the joints and teeth strong
Support in healthy digestion and gut health
Feed your furry pal Superfood Complete without worrying much about his health. Let him enjoy the delicious kibbles, and live the healthy life.
What Are the Main Ingredients Used in the Superfood Complete?
Superfood Complete contains natural ingredients, which helps your dog's body in easy digestion, boost the stamina level, improve the immune system, and easy-moving joints. In addition, it follows the low cooking method, so that food contains the maximum nutrients value. Plus, do not include any by-product, and fillers.
You can check out the list of primary ingredients used in the formulation of the food, and the guaranteed analysis also.
Ingredients: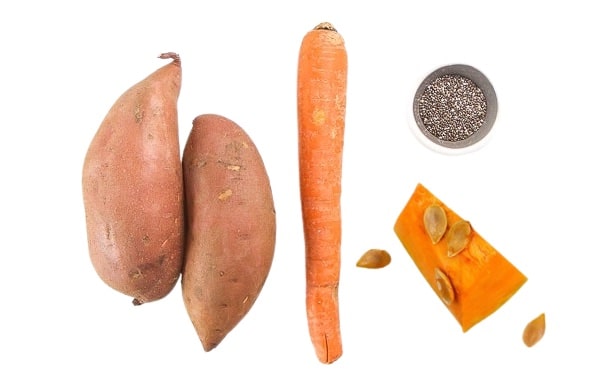 Beef
Beef Liver
Beef Heart
Salmon
Flaxseed
Other Ingredients:
Sweet Potato
Lion's Mane Mushroom (Hericium Erinaceus)
Pumpkin
Carrots
Broccoli
Chia Seeds
Blueberry
Ginger
Guaranteed Analysis:
Crude Protein 30% (min)
Crude Fat 14% (min)
Crude Fiber 5% (max)
Moisture 15% (max)
Why Superfood Complete Is Different From Other Dog Food?
Dogs love dry food, and kibble is more convenient to feed as compared to other foods. It has been observed that many commercial dog food brand overcook the kibbles at high flame, to make it last for longer period of time.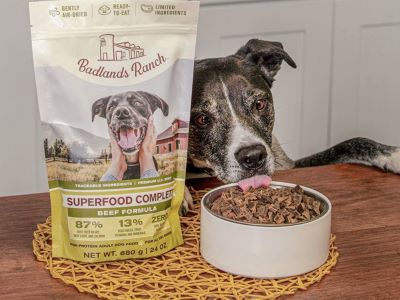 On the other hand, Superfood Complete prefers slow cooking method, includes only natural ingredients in the formulation of the kibble. It helps in maintaining the skin and coat health of your dog. Plus, also boost the immune system to fight against germs, also helps in increasing the stamina of the dog, and maintain their digestive system.
FAQs
Is it OK to put warm water on dry dog food?
Generally, dogs like eating dry food/kibbles. But, if your dog is not consuming enough water, and don't like wet food. Then you can do one thing, pour lukewarm water in dry food, wait for a few minutes to rehydrate it, and then serve it to your pooch.
How much does Badlands Ranch superfood complete cost?
Badlands Ranch Superfood Complete is one of the premium dog food brand, which offers essential nutrients for your pup's health. It offers air dried dog food, which will cost you around $40-$59 per bag which has 24 ounces of dog food.
Is air dried dog food safe?
Yes, air dried dog food are safe. The food is cooked on low flame, which helps to preserve the nutrients value, and has a longer shelf life.
How to transition to Badlands Ranch Superfood Complete Dog Food?


In order to transition to the Badlands Ranch Superfood Complete Dog Food, start by feeding 90% of the old diet with 10% of the recommended feeding amount of the new food. Keep this proportion for first two days. For next two days, decrease the proportion of old food to 75% and increase the new food to 75%.




On the fifth and sixth day of feeding this diet, the proportion of old food to new food will now be equal. Similarly, for the next two days, increase the proportion of new food to 75% and keep the old food to just 25%. Now after 9 days of this transitioning process, you can start feeding full amount of this Superfood Complete dog food.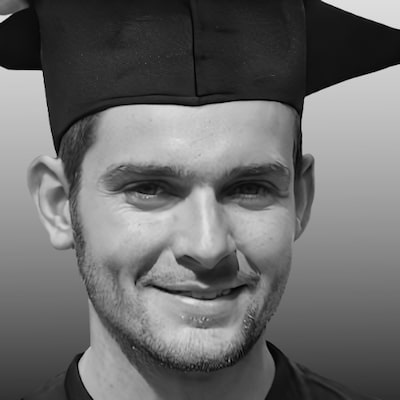 Peter Thielen has studied veterinary medicine and is a veterinary advisor at DogLovesBest. All the articles on this website that has to do something with the dog's health go under his scrutiny before getting published. He also writes some of the featured articles on dog foods, treats, or other products, along with tips and tricks for canines for healthy living.