So there is this buzz about feeding dogs raw freeze-dried food. They reflect the natural raw diet from the wild while retaining the nutrition to its fullest. Something exactly similar is what Dr. Marty's Dog Food has to offer.
Dr. Marty Nature's Blend Dog Food is a premium quality, power-packed freeze-dried food for your canine. The blend is formulated by the famous celebrity veterinarian Dr. Martin Goldstein who is a well-versed personality in pet health and nutrition.
The best thing about the premium quality food is that it does not contain grains or fillers and uses 100 % natural, raw ingredients to fulfill your dog's 'complete and balanced' dietary requirements.
Read on to know about this unique and premium quality dietary 'Nature's Blend' offered by one of the most well-known brands across the U.S.A. 'Dr. Marty's.'
Dr. Marty Nature's Blend Dog Food Reviews
Dr. Marty Nature's Blend Dog Food Formula is designed to suit your dog's unique needs and is suitable for canines of all ages, sizes, and breeds.
The pet formula is known to offer a range of health benefits to your pooch along with providing 100% nutritionally rich, wholesome ingredients.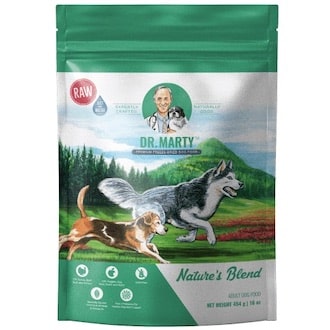 Nature's Blend uses premium raw meat like Turkey, Beef, Salmon, etc along with organ meat like hearts and liver to provide your dog a protein and multivitamin rich experience.
It also has a mix of fruits and vegetables like Apples, Blueberries, Cranberries, Spinach, Carrots, etc. These are rich in antioxidants, minerals, and vitamins. The blend also comprises of EPA/DHA for maintaining optimum canine health.
Nature's Blend is a nutrition packed formula with a variety of meats, fruits, and vegetables to provide balanced and complete nutrition along with a burst of flavor; delivering 'just exactly' what your dog deserves.
The product can be given to dogs irrespective of their health condition and has proven to be very advantageous for their overall improvement. Nature's Blend offers a range of benefits like:
Increased energy levels, mobility, and flexibility
Improved cognitive and brain function
Easier digestion
Better nutrient absorption
Firmer, smaller stools
Shinier and healthier coat
Stronger, developed joints and bones
The best part is that the dog food is 'absolutely safe and reliable' as it does not contain any fillers or artificial additives and is a completely 'grain and gluten-free formula'.
This reduces the chances of inflammation or allergies and offers visible health benefits.
Although, if you do not see any significant results, Dr. Marty Nature's Blend promises you a 100% Money-back, Guaranteed. Read more to know what goes into making Nature's Blend one of the most loved dog foods across the town.
Check out the BEST offer [As Discovered by our Team]
Ingredients and their benefits
The ingredients in Dr. Marty Nature's Blend are freshly chosen and freeze-dried gently for them to retain their nutrition while also keeping the flavor intact. The list goes as follows:
Meat: Turkey, Beef, Salmon, Duck, Beef Liver, Turkey Liver, Turkey Heart
Fruits: Apple, Blueberry, Cranberry
Vegetables: Sweet Potato, Spinach, Broccoli, Kale
Superfoods: Pumpkin Seeds, Flax Seeds, Sunflower Seeds
Additionals: Egg, Pea Flour, Ginger, Salt, Mixed Tocopherols (natural preservative)
The range of ingredients they provide makes it an all in one meal comprising of balanced proportions of protein and multivitamin rich meat, fruits and vegetables along with a blend of superfoods and egg that provide EPA/DHA as well as Omega 3 fatty acids for your pet's optimal health.
Nutrition
Each ingredient is carefully selected after understanding every dog's and their breed's dietary needs.
Canines are sensitive and need specific ingredients that nourish and suit them. Dr. Marty Nature's Blend is formulated keeping the above factors in mind.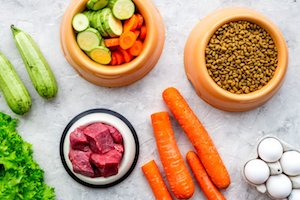 The meat blend in the formula is a combination of muscle and organ meat that makes up for the high protein and moderate fat requirements in dogs.
Turkey has high protein whereas Salmon and Duck are suited for dogs who are prone to allergies from other forms of meat. Organ meat provides essential multivitamins and minerals like Calcium, Phosphorous, Zinc, Vitamin B, Vitamin D, etc.
Fruits and Vegetables in the diet are rich in antioxidants as well as multivitamins and minerals. These have been carefully selected as dogs cannot eat all fruits and veggies as humans.
They also provide certain amounts of Fiber, Calcium, and Phosphorous to maintain the nutrient balance in your fido's meals.
Superfoods are excellent sources of Omega 3 fatty acids along with EPA/DHA that boost your pet's immunity and reduce chances of inflammation and allergies giving your dog a shinier, healthier, coat.
Nutritional Values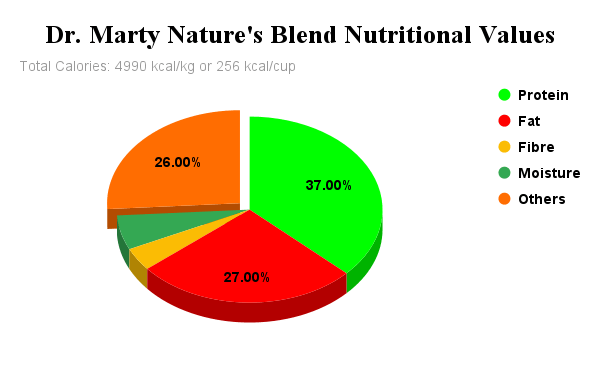 The dog formula claims to be bursting with flavor and nutrition. Let's see how:
Total Calories: 4990 kcal/kg or 256 kcal/cup
Crude Protein: 37% (min)
Crude Fat: 27% (min)
Crude Fiber: 4% (max)
Moisture: 6%(max)
Calcium: 0.5% (min)
Iron: 40 mg/kg (min)
Leucine: 2% (min)
Vitamin A: 50,000 IU/kg (min)
Omega-3: 2.5% (min)
Additional Calorie Breakdown
In order to mimic the raw, ancestral diet of canines, Nature's Blend maintains a high proportion of proteins and fats and a low proportion of carbohydrates.
A majority of its calories are derived from fats and proteins while carbohydrates contribute to a lower proportion of calorific value.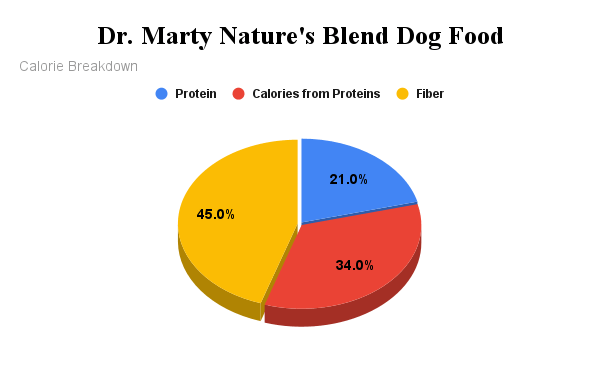 Calories from Carbohydrates: 21%
Calories from Proteins: 34%
Calories from Fat: 45%
Feeding Guidelines
Nature's Blend feeding guidelines depend upon the size and weight of your dog.
The food is suitable for dogs of all sizes, ages, and breeds irrespective of any health conditions. The table below gives you a rundown on the feeding recommendations.
Feeding Recommendations:
| Weight of Dog | Amount Per Day |
| --- | --- |
| 5 lbs | ½ cup |
| 10 lbs | ¾ cup |
| 20 lbs | 1 ¼ cup |
| 25 lbs | 1 ½ cup |
| 30 lbs | 1 ¾ cups |
| 40 lbs | 2 cups |
| 50 lbs | 2 ½ cups |
| 60 lbs | 2 ¾ cups |
| 70 lbs | 3 ¼ cups |
| 80 lbs | 3 ½ cups |
| 90 lbs | 3 ¾ cups |
Feeding Recommendations
How to Prepare Dr. Marty Nature's Blend Dog Food?
Its Pretty Simple! Just follow the steps below and you are good to go.

Take the desired quantity of freeze-dried food into a non-toxic heat-safe bowl or dish.
Break the pieces and add warm water (lukewarm water most preferable).
Allow the water to soak into the food for 3 minutes.
After 3 minutes, mix with a spoon gently until you obtain a consistent texture.
Note: The amount of water will not alter the nutritional content of the food. Feel free to serve it wet or dry as per your dog's preference.
Transitioning to Dr. Marty Dog Food
If your dog is not used to having a freeze-dried raw diet, then it may take time to adjust to a new type of food. This is quite normal. Switching from processed meals to a raw diet can cause a 'gut shock' to your pet.
Hence the transition to a raw diet has to be slow to avoid overwhelming their system with too many nutrients at once.

Day 1-3: Replace 25% of dog's old food with Nature's Blend. Combine evenly.
Day 4-6: Replace 50% of the dog's old food with Nature's Blend. Combine evenly.
Day 7-9: Replace 75% of the dog's old food with Nature's Blend.
Day 10: Serve your dog a 100% bowl full of Nature's Blend.
Money-Back Guarantee, Is it Legit or Scam?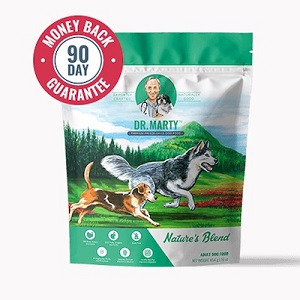 Absolutely Legitimate and True! Dr. Marty offers a 100% Healthy Happy Guarantee.
This means that if by any chance, your dog does not like the food or if you do not see visible results, you can simply return the half-used food bag within 90 days and get a GUARANTEED 100% Refund.
The food is carefully curated and formulated by the very own and famous veterinarian Dr. Martin Goldstein.
Fondly known as Dr. Marty, his range of products combines significant elements from Western Medicine and Nutritional Therapy to provide overall health and dietary support to pets.
The dog formula is prepared after implementing extreme hard work and extensive research on pet health, and therefore, Dr.Marty's Nature's Blend is confident enough of providing the Healthy Happy Money-Back Guarantee to pet owners.
Is Dr. Marty Nature's Blend Dog Food Really Worth??
The table below summarizes the details of Dr. Marty Nature's Blend premium quality freeze-dried dog food and helps you decide whether it is suitable for your canine or not.
| Product | Details |
| --- | --- |
| Dr. Marty Nature's Feast Dog Food | Premium Quality, Freeze-Dried Raw Dog Food |
| Rating**: | 4.5 out of 5 |
| Nutrition: | 4 out of 5 |
| Ingredients: | 4 out of 5 |
| Money Back Guarantee: | 100% Money Back Guarantee within 90 days. |
| List of Ingredients: | Turkey, Beef, Salmon, Duck, Beef Liver, Turkey Liver, Turkey Heart, Flaxseed, Sweet Potato, Egg, Pea Flour, Apple, Blueberry, Carrot, Cranberry, Pumpkin Seed, Spinach, Dried Kelp, Ginger, Salt, Sunflower Seed, Broccoli, Kale, Mixed Tocopherols (natural preservative) |
Summary of Dr. Marty Nature's Blend Dog Food Review
We have a list of reasons for you to choose the all-natural, freeze-dried dog food.
Freeze-dried technology keeps the nutrients in the food intact.
Food formula matches the wild canine ancestral diets.
Rich in protein and fats with moderate carbohydrate content.
Suitable for dogs of all ages, breeds, and sizes.
Easy to prepare and serve.
Uses a unique blend of dog-friendly ingredients.
Zero fillers or additives, 100% safe for dogs prone to allergies and sensitivities.
100% Money Back Guarantee within 90 days.
Apart from these features, the high-quality food formula supports overall health, keeps infections and allergies at bay, provides healthier joints and a shinier coat, and improves your dog's vitality and quality of life.
It is available as a single pack of 16oz or as a package of 3 or 6 bags of food.
The Nature's Blend Formula is designed such that it contains all essential ingredients for any and every dog breed irrespective of their size, age or health.
With a range of health benefits to offer, Dr. Marty's rich in nutrient and quality freeze-dried formula takes care of all your dog's nutritional needs without you having to spend extra on vet bills and dog supplements.
We wanted to do Dr. Marty Dog Food Exposed kind of review but finally gave our best ratings to this product.
FAQs
Why is Nature's Blend Dog Food freeze dried?
Dr. Marty Nature's Blend Dog Food is freeze-dried to mimic the raw diet of canines while keeping the ingredients fresh and preserving the nutrients to their best.

Most cooked foods rip the ingredients off their nutrition which reduces their overall quality and value for money. Hence, freeze-dried food is always better than a cooked meal.
Does each dog need different types of food?
No. Dr. Marty Nature's Blend has been designed such that it fulfills the nutrient requirements of every type of dog irrespective of their size, age, and breed.

The nutrient profile contains every ingredient that your dog's body needs to live the longest, healthiest, and highest quality of life.
Is Dr. Marty Nature's Blend good for dogs?
Definitely! Nature's Blend freeze-dried food is made using premium quality ingredients offering wholesome nourishment from its meals.

The freeze-dried technology maintains the nutrient quality. The food is 100% all-natural, without any fillers or additives, making it safe and best for dogs belonging to all life stages.
How to buy Nature's Blend dog food?
Dr. Marty Nature's Blend Dog Food can be purchased from the product's official website.
Is Dr. Marty's dog food available on Amazon?
No, Dr. Marty's dog food is not available on Amazon.
Who is Dr. Martin Goldstein?
Dr. Martin Goldtstein a.k.a. Dr. Marty is an American celebrity veterinarian and the author of the famous book 'Nature of Animal Healing'.

For decades, he has been using his extensive knowledge of traditional medicine and animal wellness to formulate canine and feline products for a pet's optimal health and well-being.
Bottom Line
On a final note, the premium quality freeze-dried raw food offered by Dr. Marty's range of products has been loved and appreciated by a number of pet parents across the U.S.A., offering visible health benefits. (Do check out this limited time offer)
The dog food formulation is rich in protein and fats while offering moderate carbohydrate content making it the perfect raw blend for canines of all breeds and life stages.
Make sure to transition slow and steady and follow the feeding guidelines for your dog to enjoy the premium quality, nutritionally enriched Nature's Blend offered by Dr. Marty.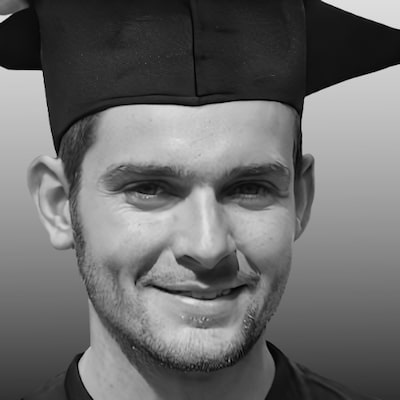 Peter Thielen has studied veterinary medicine and is a veterinary advisor at DogLovesBest. All the articles on this website that has to do something with the dog's health go under his scrutiny before getting published. He also writes some of the featured articles on dog foods, treats, or other products, along with tips and tricks for canines for healthy living.