We collaborated with many cyclists who own dogs and over 100+ hours of work later, we bring you compiled a list of the 12 best dog bike trailers of 2023.
Did you wish you could tag your furry friend along in your road adventures? Bike rides are so much more fun after all, with your pooch riding along with you.
Have your pooch take a whiff of the fresh flowing air, while maintaining and ensuring their complete safety and care with a dog bike carrier.
A Quick Comparison of Our Favorites in 2023
12 Best Dog Bike Trailers of 2023
1. Schwinn Rascal Tow-Behind Bike Pet Trailers — Best Overall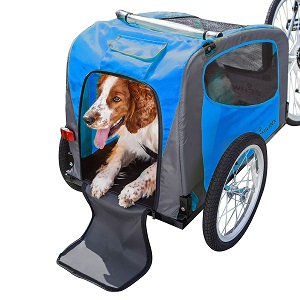 With this tow-behind bike trailer by Schwinn, you can make riding with your pooch so much easier. The product has been made with a steel frame which makes both, storage and durability, no longer a far-fetched combination for dog bike trailers.
Safe and quick-release wheels have been incorporated, and you get to pick your favorite color out of 3 fun color schemes too!
Holding capacity of up to 50 pounds
Versatile and universal fit
Adjustable internal leash
Our rating:
This bike trailer has quick-release wheels which make connecting and disjoining of the product so much easier and without any external help.
The rear door allows your doggy to make the entrance and exit a piece of cake. Your pooch will be able to move around in the compartment without feeling jammed too.
Unfortunately, this trailer cannot hold more than 50 lbs of weight. Sorry large pooches! Overall, this is one of the best dog bike trailers.
To conclude, we think this is the overall best dog bike trailers.
2. Burley Design Tail Wagon Bike Trailer, Yellow/Black — Premium Choice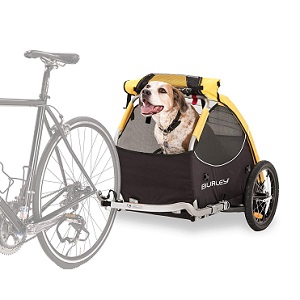 Tail Wagon bike trailer by Burley not only allows fun times to be safe, but it also makes the maintenance and cleaning post-adventure extremely feasible with a removable floor.
This product has an easy holding capacity of up to 75 pounds, covering most medium-sized and some large breeds as well.
Removable floor for easy cleaning
Comes with part-exclusive one to three years of warranty
Premium, durable, and stylish product
Our rating:
The product contains mesh covers on the windows to allow your pooch breathability and ventilation, these covers are heavy-duty and durable.
The big 75 pounds holding capacity does not interfere with your ability to tow so much weight as it equally distributes. You get a one-year warranty on the fabric, as well as a three-year warranty on the plastic parts.
For the premium style and features, you also have to buy this at a premium cost. However, it is all worth it.
3. MDOG2 MK0065A Comfy Pet Bike Trailer — Best Value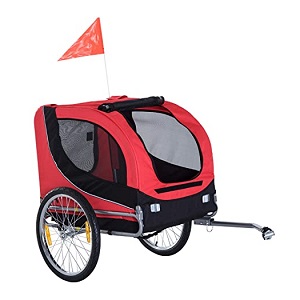 Take your dog to all your favorite adventures on a bike with this affordable and durable pet bike trailer. MDOG2 MK0065A Comfy Pet Bike Trailer has been made with waterproof material to shield your pooch through not just rainy weathers, but other dust-related problems as well.
You can easily unzip and open the bike trailer's top to let your pooch peek its head out and experience the breezy air.
Easy assembly and storage
Roof-opening available with sun protection
Water-proof and safe bike trailer
Our rating:
You get all the amazing features in this definitive cost-friendly product. Traveling with your pooch on a bike never was so inexpensive and safe. This product can easily hold up to 65 pounds of weight while providing ample space to your pet.
Some customers complain about the difficulty faced during the assembling of the product.
4. Best Choice Products 2-in-1 Pet Stroller and Trailer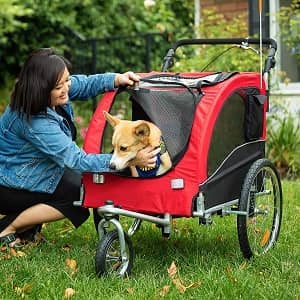 Lately, a significant number of brands have started providing pet bike trailers which can double as strollers. However, many fail to provide the required security checks. Not with this product.
This 2-in-1 pet stroller and trailer by Best Choice Products has been loved and trusted by many customers. Pet lovers swear by the durability and safety features of this product for their beloved pooch.
Built-in hand-lock brake system
Made with polyester material which is water-resistant
Added security with safety flags and reflectors
You could be riding your bike in the end and it is perfectly fine until your pooch is tagging along with you.
Your furry friend cannot navigate the trailer on his or her own, therefore, having reflectors and safety flags on the dog bike trailer helps motorists and other vehicles to spot your pooch in dim light.
The item weighs around 40 pounds. Make sure to keep this in mind along with your pooch's weight before you add it to the cart.
5. Aosom Elite Pet Dog Bike Trailer with Type 'A' Hitch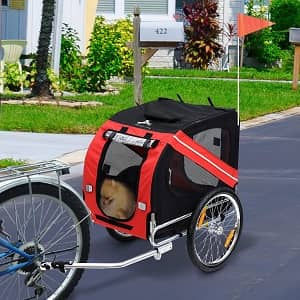 This is another 2-in-1 design for your furry friend which comes with a detachable canopy. You can ensure the safety of your dog from the scorching sun without limiting their visibility outside of the bike trailer.
The product also has a lot of storage space which can be used to carry their water, bags, toys, and what not! You also get a harness hitch inside the compartment for extra security.
Protection from the sun with a removable canopy
5-point safety harness for added security of your pooch
Large storage space to carry poop-bags or toys along
Our rating:
Customers and other pet lovers confirm the quality of the product. The basic safety feature by the brand wherein an in-built harness has been Incorporated inside the compartment to hold and maintain a grip on your pooch if the roads get too Rocky.
If your pooch is comfortable and feeling too adventurous then remove the canopy and let him stick his tongue out and enjoy the bolt of fresh air. The product can seem to be toward a rather expensive side of the price range for the average buyer.
6. PetSafe Solvit HoundAbout Pet Bicycle Trailer For Dogs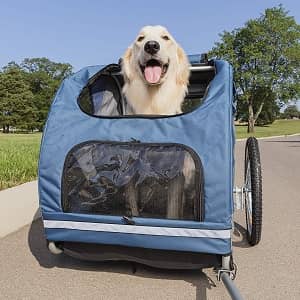 This bike trailer by Petsafe contains a durable steel design which promises a sturdy and lasting use. All four sides of this product have been made with mesh, to allow ventilation within the compartment.
The product also provides enough shade to your pooch when harsh sun rays hit during the fun rides.
Comes with a steel constructed frame
A safety tether to keep your dog connected to the trailer
Three storage pockets outside of the product
One of the crucial plus points with this product is how much storage space the brand is providing you.
PetSafe seems to understand the urgency for sufficient storage space which pet-owners require in order to store their pet's essentials when on the road like water-bowl, toys, poop bags and much more.
The drawbacks of this product include the absence of the feature to convert it into a stroller.
7. Sepnine Pet Bike Trailer for Pets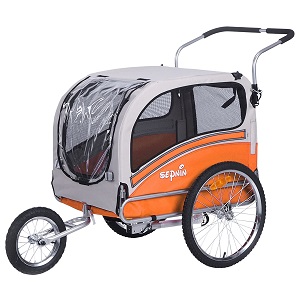 Available in more than 6 designs and color schemes, Sepnine Pet Bike Trailer can very effortlessly gel into your aesthetics. With ample space inside, this compartment can hold up to 88 pounds of weight.
Plus, you wouldn't have to get a separate stroller for long walks, as this is a 2 in 1 bike trailer which can be multi-purposed according to your liking.
Quick-release with mesh windows and doors
Large 20 inches long rear wheels for support
Protection from the weather with removable plastic cover
Our rating:
Sepnine is a popular name for dog bike trailers, and you can find many of their products around the same cost range with many color schemes to choose from.
This is one of their best creations due to a couple of features that set it apart from others, namely – full thin plastic coverage, 20-inch rear wheels, and convertible stroller option.
Some of its buyers have a complaint about the difficulty in assembling the product, as well as, that sometimes the front wheel does not swivel on beaches due to sand.
8. ibiyaya 2-in-1 Pet Strollers/Bicycle Trailer for Multiple Dogs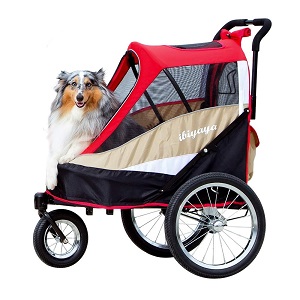 Ibiyaya 2-in-1 Pet Strollers has a carrying capacity of around 50 pounds and provides a decent number of safety features and functions while making sure your dog is able to enjoy his or her ride.
This is a convertible bicycle trailer for dogs and comes with storage space and sturdy push-handles.
Strong floor support and completely enclosed cabin
Comes with a rain cover for added protection
Capacity to hold up weight up to 50 pounds
Our rating:
Bicycle trailers that can convert into strollers and vice versa are such a win-win. You do not have to buy these items separately and instead have one product do the job of two, and that too very seamlessly.
This trailer provides just that, the convenience, safety, and style that you need.
Although the product has been claimed to hold multiple dogs, you must remember it is under the limit of 50 pounds. Weigh your dogs if you're looking to carry two.
9. Sepnine 2 in 1 Medium Sized Comfortable Bike Trailer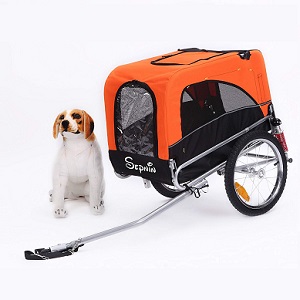 Another one of the bike trailers by Sepnine provides adequate protection and care to your pet, as he or she takes on the road journey with you.
The product contains suspension to get through bumpy terrains smoothly, and without causing any harm to your pooch. You also get three colors to choose your favorite one!
Suspension to ease the bumps for pets
Easy fold, storage, and carry design
Screened of all four sides with zipper
Our rating:
This one is a comparatively inexpensive product by the brand called Sepnine. You can all the good features that you require to ensure the health and happiness of your pup, while not breaking your bank.
The product folds down easily and holds up to 66 pounds of weight. Front-wheel and stroller kits have not been provided along with the product.
10. Aosom Elite II 2-in-1 Bike Trailer for Dogs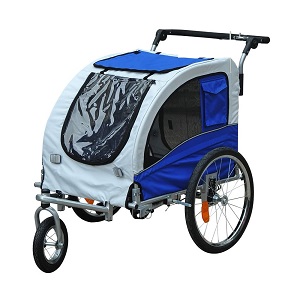 Made with oxford fabric, you can rest assured about not jamming your pooch into suffocation with this dog bike trailer. This is a 2-in-1 trailer that can be used for jogs, walks, and bike rides.
The steel construction helps carry the weight of your dog without any hassle. You have a brake system within the trailer to ensure the utmost safety of your dog.
Can be used during jogs or bike rides
Made with oxford fabric with a steel construction
Built-in handlock brake system and D-ring for leash
Our rating:
Your pooch will be protected through any harsh weather with the oxford fabric, be it sun, rain, or wind. The rear wheels have a height of 20 inches, providing enough support and a smoother ride to your canine.
Good ventilation and easy come and go, make this product a decent buy for dog owners.
One of the complaints by the buyers has been that the compartment does not take bumps well due to not being able to balance weight distribution.
You must avoid this product if you're looking to take on the tougher roads. While for a ride on a clear pavement on a sunny day is just fine!
11. Rage Powersports Red Pull-Behind Dog Bicycle Trailer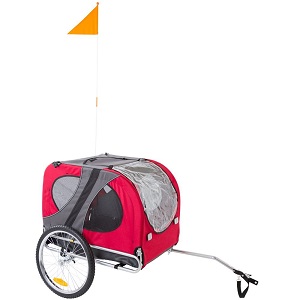 This dog bicycle trailer by Rage Powersports contains Pneumatic wheels that provide extra cushioning and support to your pet while on the road. These wheels are great for pavements and gardens with bumps and curves.
You have a water-resistant nylon material to keep any cold and infection at bay. The product also contains mesh windows for ventilation.
Pneumatic wheels for rocky roads
Made with water-resistant nylon fabric
Mesh windows for visibility and ventilation
Our rating:
While pneumatic wheels will maintain steadiness and provide support to your pooch, other features like mesh windows will be able to provide your canine with the much-needed breathers even when they have been enclosed in the compartment.
Many customers have lauded the quality of the product and it's feature highlights.
It has been reported that some customers have faced shipping problems in the past, and have found the size of the product to be smaller than expected. This can be avoided by checking the measurements before making the final purchase.
12. DoggyRide Novel Dog Bike Trailer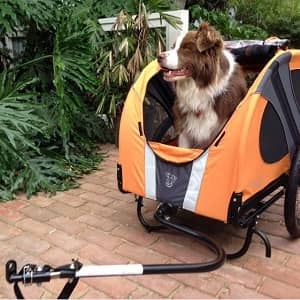 This is a premium product within all the dog bike trailers available on the market. Doggyride dog bike trailer has a lightweight aluminum frame and raised wheels for extra protection from unintended or unexpected impacts on the road.
The product is available in one color scheme as of now. Reflective strips have been added to the trailer as well.
Has a lightweight frame of aluminum alloy
Comes with quick-release wheels
Water bottle pouch, and padded front headrest
Our rating:
The product is significantly lighter in weight, this allows you in the storage and maintenance. Enough care and safety points have been included to make sure your pet experiences no turbulence while riding along with you.
Many customers say their pets have loved this dog bike trailer since the day it arrived. The only drawback of the product is how heavy it can be on the pocket to an average pet-owner.
Buyer's Guide: How to Choose the Best Dog Bike Trailer?
A dog bike trailer is undoubtedly a one-time purchase, and you simply cannot afford to go wrong with it.
Therefore, in order to help you pick the most suitable and best dog bike trailer, we have listed some of the factors you must look out for before getting your hands on one of them:
Installation
Not all bike trailers can fit your bike and vice versa. Before you make the final purchase, make sure to check whether the trailer you're going along with is compatible with your bike or not.
Nevertheless, it is important to note that there are some of these trailers available on the market which is known and claimed to be universal.
Capacity
First and foremost, check the weight capacity of the bike trailer you're eyeing. Not all bike trailers can hold similar weight.
Anyway, at the end of the day, you are going to be pulling your dog's weight, it is also important to understand that hitching a 200-pound dog may not be that great of a plan.
If you have a medium or small-sized dog, or puppy even, you can consider buying a bike trailer for him or her.
Protection
The bike trailer you pick for your pet must protect him or her against harsh weather like rain, snow, or dust.
Some of these products come with rain covers, and even a thin and transparent layer of plastic to shield your dog against these bad guys. Always make sure your pooch is going to be well-protected and happy!
Suspension System
Let's be honest! Bumpy bike rides are the only bike rides that truly count. However, when you have your pooch together, you may avoid taking the less traveled road.
If you get a bike trailer with a suspension system, you can take on the rocky roads without their letting the impact affect your dog. Suspensions make these rides so much smoother and more fun!
Frame
You need a dog bike trailer with a frame which can be easily foldable, allowing it to fold-down seamlessly and without any issues.
Try to go for steel frames, as they tend to provide rather sturdy and strong support when the trailer carries your dog's weight and rides along with the bike.
Wheels
Dog bike trailers come with different sizes of wheels, even ones that go higher in length toward the rear area. One of the biggest recommendations for wheels has to be to go for Pneumatic tires.
These types of tires are especially advised to provide added cushioning during rides and avoid any unexpected impact or bump.
Stroller Extension
Yes, you saw that right! Some of these bike trailers double as strollers for your pooch. If you are a runner and a biker and wish to invite your dog to both these activities – then there is nothing better than this.
Stroller bike trailers generally have adjustable handles or push bars. Therefore, instead of investing in a stroller and bike trailer separately, you can opt for this.
Who Needs a Dog Bike Trailer?
If you are a dog owner who owns or rents a bike, then you will require a dog bike trailer. You can use this trailer to carry your dog wherever you bike around.
Some bike trailers also double as strollers for your pooch, therefore, you wouldn't have to invest in a stroller for the daily runs as well.
If you want to spend quality time with your pet and take them out on a ride with you (in an enclosed and protected environment) then you must get a dog bike trailer.
Benefits of Using a Dog Bike Trailer
Many dog owners choose to go the traditional way and have their dogs run side-by-side with their bicycles. It is convenient, they say. But here are some of the many ways having a dog bike trailer can be beneficial and nifty for both you and your furry friend:
It saves your dog's energy
An average bike ride outlasts the stamina of an average healthy medium-sized dog. Having your dog hitched to the bike with the help of a trailer helps you take your dog around without demanding a lot of their energy.
You can also have your pooch run along for as much as he or she can, and then have them jump in the trailer whenever required.
It is convenient and cuts down risk elements
Some dogs may be in excellent shape as well as have a habit of extensive exercise daily, however, many dogs are naturally easily distracted. Training your pooch to run alongside you as you bike, requires a great deal of time effort.
Also note, running with the bike also exposes them to many challenges as well as risks. All of this can simply be avoided if you tag him or her along in a bike trailer.
It is easier for older dogs and lazy pups
As dogs grow older, their capacity to run or walk for long hours becomes really difficult. Hip and joint problems, low stamina, and general fatigue must not stop you or your pooch from sharing a fun bike ride adventure together.
Other dogs who can benefit from a bike trailer are flat-face canines who have a hard time running too fast for too long.
Safety Tips While Using a Dog Bike Trailer
The safety of your pet requires your utmost attention if you want to start tagging him or her along with you on a bike. Roads can be bumpy, with crevices that can turn a trailer around if not taken proper care.
Here are some crucial tips which you can put to good use before your dog has their first-ever bike ride:
Train train train!
Before anything, equip yourself with knowledge on how to train your pooch to sit and adjust themselves in the trailer. Your dog is going to be enclosed in a compartment and treading with whatever comes on your way.
If your pooch is not comfortable, or feel claustrophobic in enclosed spaces, then it is of prime concern to first train them to be okay within a trailer. Better yet, have fun!
Pick the roads wisely
When you're riding alone, you may have the inclination to take on potholed or uneven roads. However, you have to pay attention to which roads you pick to cycle on when your canine is with you.
Rocky or bumpy roads can increase the risk of your pooch getting harmed. If you plan on taking the road less traveled, then we suggest you go with bike trailers that come with suspension and pneumatic wheels.
Look for safety features
You must look for bike trailers that have built-in safety features like suspension, breaks, or harnesses. Some of the common features which have been incorporated by most brands in their bike trailers are safety flags and even reflectors.
While you are riding down the road, you have to make sure that the other vehicles can spot not only you but also the bike trailer you're towing along. This ensures the safeguarding of your pooch!
Don't go over the limit!
The thing with bike trailers is that they can only hold up to a certain amount of weight. This is perhaps because you can only tow so much weight.
Therefore, if you have a 100-150 pounds pooch and you are unable to find a carrier compatible with the weight, do not opt for one that has only a 50 pounds capacity.
Although it may not seem to cause many problems, it can largely put your dog's life and well-being in danger while on the road.
Train Your Pet to Use Dog Bike Trailer
The moment you bring home a suitable dog bike trailer which is also compatible with your bike, your next task is to train your dog to sit in it when you ride. This training process can look something like this:
Pick a place
Here is the number one step into training your dog for the bike trailer – choosing a distraction-free place for the training process. Do not opt for a busy road or garden.
Your backyard is probably the best place, it feels most like home to your pooch and automatically restricts the development of anxious feelings.
Be ready with treats and praises
Your job as a dog-owner is to ensure your pet's comfort over everything else. This feeling of comfort can be induced in training sessions with the help of some yummy treats of your dog's choice.
Another great way to pave way for positive affiliation with the bike trailer is to shower your dog with praises whenever they get in and out of it. Your dog must like and enjoy being towed in the carrier, therefore, do not force him or her into it.
Secure the dog
Okay, for real, make sure your dog has been hitched or harnessed with the bike trailer properly before you zoom into the roads.
As your pooch is going to be apprehensive the first time he or she rides, you have to make it a point to ensure their comfort and ease. This will be easy as many models provide a D-ring to secure your pooch's leash in.
Start slow
This is definitely going to be a new experience for your dog, and you must remember to gradually move forward the first couple of times you hit the road.
You can start by unzipping the top of the carrier to ease him or her, and avoid making them claustrophobic. Make a couple of peddles slowly and offer your pooch treats for every couple of them.
FAQs about Dog Bike Trailers
What is a dog bike trailer?
A dog bike trailer is a compartment or trailer you can hitch to your bike specifically for your dog. These trailers help you tow your pet around whenever you go, while also keeping them protected under a canopy or shed.
Usually, a dog bike trailer comes with mesh windows for ventilation, and doors for easy in and out.
What size bike trailer do I need for my dog?
Evidently, dog bike trailers are not for dogs of all sizes (yikes!). When buying one for your pooch, you will be making the choice as per the holding capacity of the product.
Because while most dog bike trailers have the ability to hold up to 30 to 50 pounds of weight, some may not be to.
How do I get my dog used to a bike trailer?
You can start by opening the door of the trailer for your dog and having him or her hop in. Keep a lot of treats and praises ready to associate the trailer with positive experiences.
The first couple of rides with your dog must include only a simple walk down the road while observing your dog's behavior. Go slow and stop and comfort your pooch immediately whenever required.
Can a child trailer be used as a dog trailer?
The straightforward answer to this is – no. Child trailers are not equipped to secure or manage a dog. Both of them cater to different requirements.
While their primary function is to towed behind a bike, a child trailer's job is to secure human children properly, while a dog's trailer is designed to prioritize breathability.
How much does a dog bike trailer cost?
You will find dog bike trailers that cost anywhere between 90 to 300 USD approximately. The cost varies based on quality, material, capacity, and brand.
Which is the best dog bike trailer?
According to us, Burley Design Tail Wagon Bike Trailer is the best dog bike trailer available on the market. With this product, you get the perfect blend of high-quality material, great features, and a loyal customer base.
Conclusion
Get out and head toward the wilderness (or park) and tag along with your furry friend with the help of a sturdy dog bike trailer.
Investing in this product can be a little heavy on your pocket, and therefore, you need to concentrate on many factors before you make the final purchase.
Make sure to pick a bike trailer according to your dog's weight, size, and usage. Happy riding!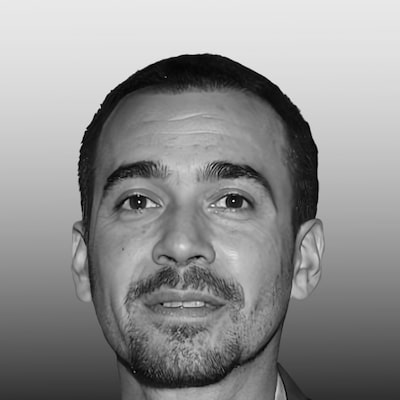 James Wilkinson joined DogLovesBest as a full-time writer with the objective of offering his insights on how to rear pets better. He shares the information through the experience he has gained over a span of 15 years working as a dog trainer. James also used to contribute regularly to several pet publications during his career as a trainer before joining this website. He also donates a portion of his own personal wealth to shelter abandoned animals in Gainesville, Florida and helps in finding a new home for them.