We help you choose the Best Dog Swim Trunk for your pet to have fashionable and trend-setting swimming adventures together.
Out on a trip or holiday with your pet? Got a pool to jump into? Plan on a random trip to the beach? Or just plan on having a chilled summer and beat the scorching heat.
What's better than having a swim trunk for yourself and your canine. One of the most comfortable and coolest swimming gears you and your pet can have.
A Quick Comparison of Our Favorites in 2023
Best Overall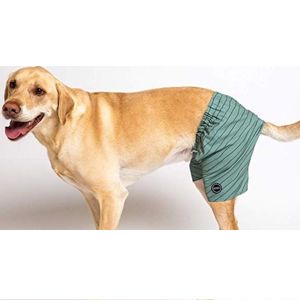 Kove Mate Dog Swim Trunks
Quick Dry 4-way stretch fabric
Ultrasoft Inner Mesh Lining
3 variants available (Small, Medium, Large)
Premium Choice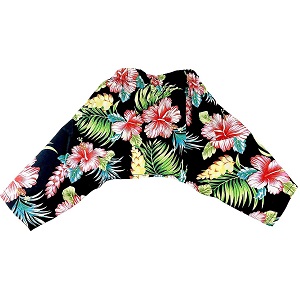 Midlee Hawaiian Dog Swim Trunks
Elastic waistband with velcro closure
Underside opening
Hawaiian print fabric
Best Value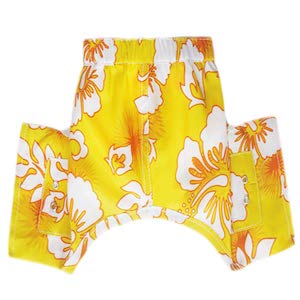 Pooch Outfitters Swim Trunk
Elastic Waistband with velcro openings
Comes with pockets and grommets
Cotton and Polyester Blend (50% Cotton)
The 3 Best Dog Swim Trunks of 2023
1. Kove Mate Dog Swim Trunks — Best Overall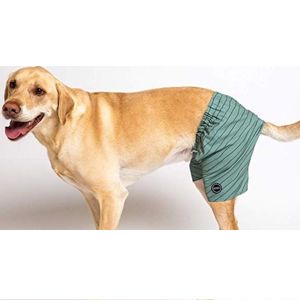 Our first choice is the Kove Mate Dog Swim Trunks.
Kove Zero has taken into an innovative mission of saving the ocean by manufacturing swim trunks made of plastic waste.
How thoughtful is that? They claim to have a hangtag with their swim trunk, which explains the number of plastic bottles they use for making swim trunks.
Isn't that a great idea to reduce plastic waste and keep your dog trending with the swim trunk on?
Kove Mate Swim Trunks use around 8 plastic bottles in every swim trunk. The fabric is quick-drying and very stretchable. This provides maximum comfort wherever your dog wears it, in the pool, at the beach or for a stroll in the park.
There is an inner mesh lining, providing good ventilation while it keeps the fabric light and airy. Mesh fabric also dries quickly.
To conclude, we think this is the overall best dog swim trunks.
Features
Material: Recycled plastic waste
Size: 3 variants available (Small, Medium, Large)
Color: Sage Green (variants available)
Quick Dry 4-way stretch fabric
Ultrasoft Inner Mesh Lining
The best part about having this dog swim trunk is the cause behind making it, to reduce ocean waste and recycle plastic. The fabric is light and ultra-soft, flexible with inner mesh lining. It helps in quick drying and feels comfortable.
The only issue with the swim trunk is sizing. Overall, it's quite great for the price.
You can match your swim trunk with your dog. Look out for a matching swim trunk for men by Kove Zero and you and your dog are good to get the trend setting and matching it up together.
2. Midlee Hawaiian Dog Swim Trunks — Premium Choice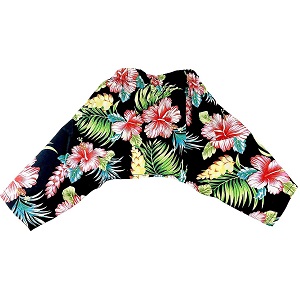 Get the holiday mood setting with your pooch with this range of swim trunks by Midlee Hawaiian. Midlee Hawaiian Dog Swim Trunks come in varied sizes. The design and pattern are very attractive, with colorful floral accents.
Your dog will grab the eyeballs with this Hawaiian print. The dog swim trunk can be a great costume for any poolside or Halloween party. There is a separate matching Hawaiian shirt available to complete the look and get your pooch all party-ready.
The waistband is of elastic, which gives ease of movement and breathability. The dog swim trunk is easy to slip on and take off too. The elastic waistband comes with velcro closures.
Features
Material: Hawaiian print fabric
Size: Small: 11″-13″ waist (variants available)
Color: Black with colorful floral accents
Elastic waistband with velcro closure
Underside opening
The tropical-like design with bright and soothing floral prints gets the mood-setting with your pet. Your pet is certainly to look all fashionable with Midlee Hawaiian Dog Swim Trunk.
The best part is, it offers the convenience of hassle-free peeing by having an underside opening in the dog swim trunk.
The product does not mention the fabric being quick drying. Moreover, it does not fit true to size, especially with large dogs. The quality of the fabric is not great either.
This swim trunk serves the purpose of being good fashion apparel to your pet.
Do you know:
If you will take your pup for outdoor activities and the ground is freezing, scorching, or rough, you may need the
best water shoes for dogs
to protect their paws.
3. Pooch Outfitters Swim Trunk for Dogs — Best Value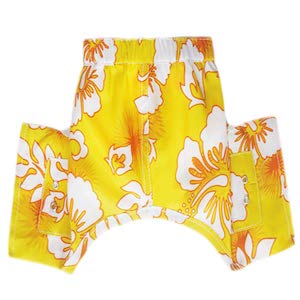 The design, quality, and style is never a compromise with Pooch Outfitters Swim Trunk for Dogs. The fabric is extremely lightweight.
The dog swim trunk is made of cotton and polyester. The designs are so attractive, there are varieties of colors and styles to choose from, each one of them being equally bright and good-looking.
The dog swim trunk even has pockets and grommets. The dog swim trunk has an elastic waistband with velcro openings.
Features
Material: Cotton and Polyester Blend (50% Cotton)
Size: Small (variants available)
Color: Yellow (variants available)
Elastic Waistband with velcro openings
Comes with pockets and grommets
Pooch Outfitters is a brand that selects high-quality designs from best in class experienced designers. And this is no ordinary dog swim trunk, it is a perfect outfit for a pool party or a doggy party.
It provides the comfort of cotton and the elasticity and ease of drying from polyester. The elastic waistband and velcro closure makes it easy to wear and slip off. Combine it with a cool dog t-shirt and your pooch is the next showstopper of the town.
The sizing can be an issue with the dog swim trunk but it works as a colorful and trendy swim trunk for your hound.
Do you Know?
The best
dog life vests
can help in boosting your dog's confidence if he is a weak swimmer and helps him have more fun in the water. Even if your dog knows how to swim, the best dog life jackets could save his life, especially if he's on a boat. You can
read dog life jacket reviews
to know about trending products.
Buyers Guide: How to Choose the Best Dog Swim Trunk?
When it comes to buying the ideal swim gear for us, there is a vast variety to choose from.
Similarly, when we need to get swimwear or swim trunks for our hounds, there are a lot of factors to consider. These factors are regarding size, comfort, fabric, etc.
As dogs can't tell us much, it is our duty to understand their needs and comfort levels. Moreover, making them feel and look good adds to their style quotients altogether.
So, for you and your pet to have a good swim time while not compromising on the style, we help you enlist a few features before buying the Best Dog Life Trunk.
After looking at several reasons a dog lover can have to buy a dog swim trunk, we help you consider a few features before getting the Best Dog Swim Trunk.
Size
Size matters. Incase of dog trunks too. Of what we have known from swim trunks, they are usually made of elastic material.
But in case of dogs, their shape and dimensions matter. Every dog is of a different size and shape. Hence, it is very important to measure your dog first before getting the right swim trunk.
The fitting should not be too tight or loose. If the trunk is too tight, it automatically restricts your dog's movements while swimming or running. Plus, your dog may start feeling suffocated in the swim trunk.
If the swim trunk is too loose, your pooch may feel like the swim trunk is slipping of its waist. Rather, it will be of no use and just a hanging piece of cloth on your pet.
Never choose from brands that speak of 'one size fits all'. As mentioned earlier, every dog is different and has a unique shape and size.
No matter how elastic the material may be, it is recommended to choose size after carefully measuring your dog and comparing it with the size chart.
If your dog measures anywhere between two sizes, go for the larger size for a more comfortable fit.
Recommendation:
These
best doggie pools
are the perfect option to help your furry friend get away from summer's sweltering heat.
Material
The material has to be quick-drying and comfortable. At the same time, it should not feel bulky and should be extremely lightweight and airy. Ideally for swim trunks, polyester is the leading fabric as it is quick-drying and feels very light.
This comes with a nylon mesh lining for ease in drying and making your dog feel ventilated and comfortable. Your dog can wear it all day and feel comfortable as it dries quickly and is a 'to-go' wear for your pet.
The fabric is even made of a blend of polyester and cotton, as cotton provides ultimate comfort in any clothing.
Although pure cotton cannot be elastic and stretchable and can take time to dry. Hence, swim trunks made of a blend of cotton and polyester are also a good option.
Comfort
For dogs who are not comfortable or not habituated to having any kind of clothing on them, they might hesitate a bit before wearing a swim trunk.
Initially, they may feel restricted in their movements or may feel irritable after wearing it. Eventually, they will get used to wearing it and swimming with you.
Choosing the right fabric and the right size is important, for your dog to feel comfortable in the swim trunk for hours underwater or above ground. The dog swim trunk should feel like your dog's second skin, lightweight and elastic with the right fit.
Guide:
If you have a senior dog, a dog with arthritis, or a dog with other mobility issues, it may be time for the best
doggie ramp
.
Elasticity
Elasticity adds to the comfort of the swim trunk. You would not want your dog to paddle awkwardly in water. Human swim trunks can compromise on elasticty as a feature but not in case of dogs.
Dogs are more active and agile than us. They have so much running and stretching to do, the elasticity of the swim trunk aids in movement.
Dog swim trunks having good stretchability and elasticity not only ensure a snug fit but also keep your dog feeling comfortable for hours in the swim trunk.
They can run, stretch, paddle, swim, climb or do anything without having to worry about the swim trunk tearing off or holding them back.
Expert's View:
Let your pup enjoy the
best pool float for dogs
this summer. It will keep them cool on a hot summer's day.
Design
Lastly, not to forget, the looks matter too. While looking out for swim trunks, attractive colors are preferable. Dark colors with colorful prints on the fabric are a good choice. We can also consider fluorescent or neon colors.
Bright and neon colors increase your dog's visibility in crowded areas or under the water. It is easy to spot your pooch from a distance if he's out of sight for a moment. These bright colors are easily visible under the water or in low light areas too.
If you and your dog go trekking, boating, swimming, hunting or playing together, the idea is to make him wear bright and reflective swim trunks for you to spot him from a distance.
Apart from which, designs add to the aesthetics of the swim trunk. They make your dog look attractive and irresistibly cute. Click a selfie or two with your pooch in a swim trunk and it is sure to gather a lot of likes and followers on your social media handle.
Why Should You Buy Dog Swim Trunks?
Swim trunks are small shorts or a set of briefs worn for any swimming or water activities. Swim Trunks have been known to cover the entire leg region in case of dogs and humans both.
But over the years, the length of swim trunks has been similar to that of swimming shorts. Hence they are better referred to as swim trunks.
As a dog parent and an ardent dog lover, it is a great feeling to indulge in activities with your pet. That way, you and your pet get to spend more time with each other.
Moreover, it's a great feeling when pets try to match up to us or vice versa. That also includes sharing the same clothes or wearing similar swim trunks.
If you are planning on a trip outdoors or at the beach where your dog can get dirty, dog swim trunks can keep them from getting too wet and messy. If your dog prefers staying by the beachside and maybe avoid the water, swim trunks can help them keep dry.
Swim trunks are a good pair of clothing for your pet. Apart from all the swim gear that your pet might have, swim trunks are more open, ventilated and comfortable, giving them a breathable experience.
The fabric they are usually made of are light in weight. So your dog need not feel all stuffed up under a jacket, especially during the summers.
Dog swim trunks are hassle-free and easy to wear too. Just slip it onto your pet from their leg and you and your pet are good to go for a dip. If your dog is an expert and needs no aid in swimming, then swim trunks are a convenient option.
FAQs About Dog Swim Trunks
1. Can dogs wear human swim trunks?
Dogs can wear human swim trunks. As long as the swim trunk is perfect in size and dimensions for your pet, there is no harm if your dog wears your swim trunk and goes for a dip.

Check if your dog feels comfortable in your swim trunk and that the fabric and material suit your pet well
2. Do swim trunks help dogs in swimming?
There is no such purpose or help that a dog swim trunk serves apart from keeping your dog covered. Although, swim trunks can act as good fashion outfits for your pet.

Your pet can be the center of attraction at the beach or outdoors. All in all, they can have an outfit for themselves that they can wear all day, for any outdoor or underwater activities.
3. Can we use dog swim trunks instead of swim vests?
Dog Swim Trunks are not a replacement to swim vests. Dog swim vests provide safety and buoyancy to dogs while swimming while dog swim trunks are just a piece of clothing that keeps your dogs covered while swimming or any other outdoor activity.

For dogs who do not need swim vests, they can definitely wear swim trunks while going for a swim at the beach or while playing.
4. How much does dog swim trunk cost?
Dog Swim Trunks can cost anywhere between $20-$25. If you are looking out for a high-quality brand that is running in the market, then Kove Mate Dog Swim Trunks are a good choice costing anywhere between $25-$30.

For a trendsetting yet a budget choice, you can go for the Midlee Hawaiian Dog Swim Trunks priced between $15-$20. 
5. Which is the best dog swim trunk?
The Best Dog Swim Trunk that is currently trending in the market is the Kove Mate Dog Swim Trunk. It is made of recycled plastic, making it totally environmentally friendly and a comfortable fit for your dog.

If you are looking out for something more stylish and colorful for your dog, you can get the Pooch Outfitters Swim Trunk for Dogs.

It is available in a range of colors, styles, and sizes. For a more pocket-friendly purchase, you can buy the Midlee Hawaiian Dog Swim Trunks. 
Conclusion
So when they say that a dog looks up to its owner, why not in the case of clothes too?
It's a great feeling to see your pet's wear your clothes, be it t-shirts or swim trunks. But at times, your swim trunks may not fit them well considering their size and dimensions.
Dog swim trunks are available keeping in mind your dog's daily activities as well as their swimming and paddling movements. They are made of quick-dry and breathable fabric to keep your pet comfortable in them all day.
What's more is that, the range of colors and designs they offer, your pooch is sure to attract the paparazzi.
Make sure to consider the features like size, material, elasticity, etc. to ensure your dog is trending with the best dog swim trunk.
References:
Gillette, L. D. (2021, December 14). Why Do Dogs Have Whiskers? PetMD. Retrieved August 5, 2022, from https://www.petmd.com/dog/general-health/why-do-dogs-have-whiskers
Barnette, C. (n.d.). Post-Operative Instructions in Dogs. Vca_canada_corporate. Retrieved August 5, 2022, from https://vcacanada.com/know-your-pet/post-operative-instructions-in-dogs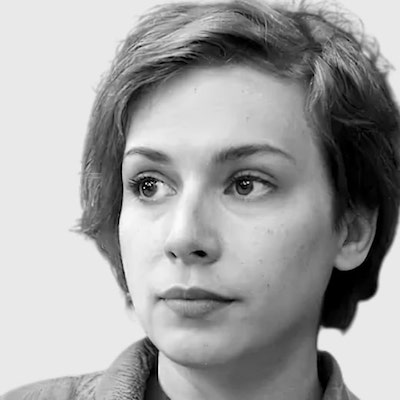 Clara Lou is Co-founder of DogLovesBest along with Mark. They both have one thing in common i.e. to share the best of the pet-related knowledge to the audience who happen to own a pet or are planning to own one.
Clara shares her expertise and knowledge related to all the pets by contributing to another website named Pet Loves Best. Yet being a dog-person she believes in having a dedicated place for the dog parents.