Are you on the fence about whether to invest in a dog boat ramp or not? Or maybe you're ready but cannot decide which product to go for with all the options in the market?
Dog boat ramps are a necessary supply to not only include your pooch in your adventures but to ensure their complete safety while doing so.
In order to make this decision process quick and easy, we reviewed numerous dog boat ramps alongside experts and pet lovers to bring you the 7 best dog boat ramps of 2022.
A Glance of Our Favorites in 2022
The 7 Best Dog Boat Ramps
1. PetSTEP Original Folding Pet Ramp — Best Overall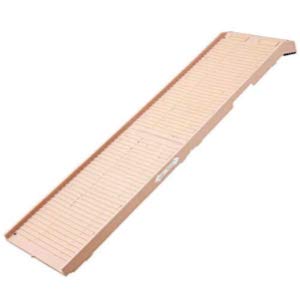 Our first choice is the PetSTEP Original Folding Pet Ramp.
This folding ramp is the creation of a brand called PetSTEP. Although PetSTEP is known for its best dog ramp for Cars, SUVs and Trucks, this ramp can double as water ramps too.
The ramp is made of a rubber and plastic blend which helps in both providing a no-slip surface, as well as increasing the carrying capacity of the ramp.
The ramp is 70 inches long and has a holding capacity of 500 pounds. This helps your pooch walk up and down the ramp easily, without risking slips.
The foldable feature allows seamless storage of the product without taking up too much space in your car or house.
Material: Rubber and Plastic
Dimensions: 70 inches length, longer than most boat ramps
Capacity: Up to 500 lbs
Our rating: 4.8/5
However, there is a minor difficulty in transporting this boat ramp. The ramp weighs only 18 pounds as per the seller, but many customers complain that the product is too heavy for them to manage.
To conclude, we think this is the overall best dog boat ramps.
Pros
No-slip rubberized walking surface
Holds up to 500 lbs of weight
Folds to half its size for easy storage
Cons
Heavy built makes portability an issue
Note: We recommend this product considering the price, customer reviews, and material.
2. Great Day LP500 Pet Platform (Load-A-Pup for Boats) — Premium Choice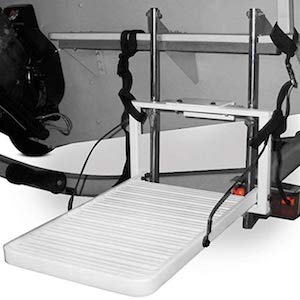 Great Day LP500 Pet Platform (Load-A-Pup for Boats) takes our premium product placement for the best Dog Boat Ramp.
This dog boat ramp is manufactured by a brand named Great Day. The product is made out of aircraft Aluminium which provides good resistance and toughness.
With an easily hooked front, you can secure the product on any boat with a boarding ladder and help your fluffy pet easily climb up and down.
The holding capacity of this dog water ramp is roughly 200 pounds, making it ideal for most medium to large-sized dog breeds. Despite having such a bearing capacity, the design of this item with very light in weight. This
Material: Aircraft Aluminium
Capacity: 200 lbs
Our rating: 4.7/5
Installation can be easily done by hooking the ramp to the boat ladder. This will allow mobility to your pet so he or she can have as much fun on the day off.
Pros
Easily hooked to any boat or dock with a ladder
Gripping ridges for a safe climb
Lightweight and portable built
Easily installable
Cons
More toward the expensive side of the price range
Note: The premium cost of this product is compensated by its quality, durability, and price.
3. Beavertail Aluminum Folding Dog Ladder — Best Value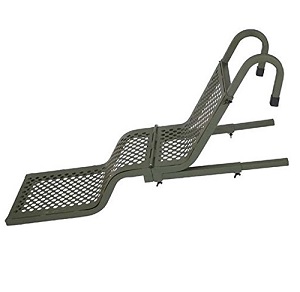 This beautiful dog boat ladder cum ramp comes in an olive green color and is based on Aluminium material. Beavertail Aluminum Folding Dog Ladder has been designed specifically as boat and pool ramps for dogs.
Although the capacity has not been specified by the seller, it can roughly hold about 120 pounds of weight as per other customers. Once you install this product on your boat, you can let your dog move around at his own will.
This dog boat ladder works great in pontoon boats and fits in almost all of them. The easy-fold nature of the product makes storage a piece of cake.
Material: Aluminum
Capacity: Not mentioned or specified
Our rating: 4.6/5
The only downside of this product is its length. Many dog owners complain that the ladder is incompetent in supporting a large dog's weight. If you have a 200-pound dog, you may want to check other options appropriate for him or her.
Pros
Strong two-way adjustable ladder
Helps dogs come in and go out without human assistance
The easy fold-up feature makes storage trouble-free
Works great with a pontoon ladder
Cons
Small length
Not ideal for large dogs
Note: By popular opinion, this is the best dog boat ramp for small dogs.
4. Paws & Pals Dog Ramps for Large Dogs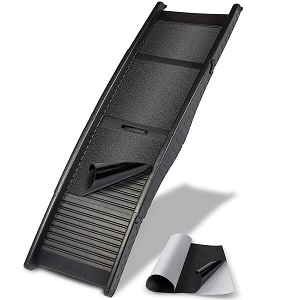 This PVC plastic dog water ramp by Paws & Pals is both affordable and durable. The length of this ramp stays 15.5 inches increases to 60 inches long when unfolded.
This feature helps with the storage of the product without taking up too much space in the house or in the car.
This dog ramp can hold up to 120 lbs of weight. Lightweight built assists in transporting the product with only 11.6 pounds of weight.
Material: PVC Plastic
Dimensions: Goes up to 60 inches long when unfolded for better usage
Capacity: 120 lbs
Our rating: 4.5/5
Hinges have been incorporated in the ramp for a tighter grip and better stability in the water. This detail helps support your dog's weight every time they come in and go out of the boat.
Pros
Includes 4 grip tapes for optional use
Ramp hinges for stability
Easily foldable
Lightweight composition
Can be used in cars as well
Cons
Low holding capacity
Not suitable for large dogs
Note:
You can read about the
best dog ramp for big dogs
if you have large fido. They require an extra-wide walking surface as well as a secure build-up.
5. Drifter Marine Dog Boat Boarding Ladder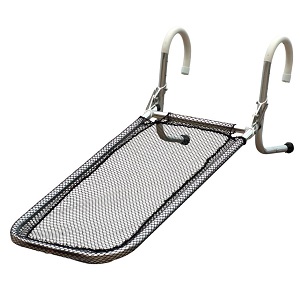 Drifter Marine dog boat ramp is one of its kind with its mesh design. The mesh design helps the water flow in and out easily, making sure your pooch does not slip and injure themselves while climbing on it.
According to the seller, the product can hold up to 300 pounds – however, the customers have a different opinion to offer.
Many buyers suggest that the most weight this ramp can hold is between 150 to 200 lbs. So either way, it is ideal for your large pooch.
Material: Aluminium and Plastic
Capacity: Over 300 lbs
Our rating: 4.5/5
The ramp has many good qualities, including the fact that it can be easily stored or transported.
However, the disappointing thing about this ramp is that it does not fit all boats or pontoons. Plus – it is a mesh design that can potentially tear with heavy usage.
Pros
Foldable and adjustable dog boat and pool ramp
Easily collapsible for effective storage
Water flows through the mesh design
Cons
Can tear with a lot of resistance
Cannot hold as per mentioned capacity
Does not fit in all boats
6. Paws Aboard Doggy Boat Ladder and Ramp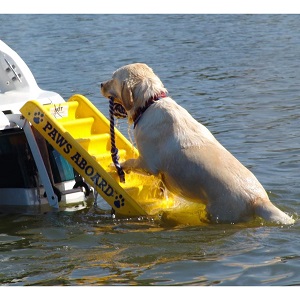 This dog boat ramp and ladder by Paws Aboard comes in a striking yellow color and a lasting built. The ramp is about 65 inches long and holds up to 150 pounds of dog weight effortlessly.
The color helps your furry friend spot the ladder in the water easily and helps avoid any unforeseen anxiety bouts.
The product has been designed with two main elements namely, Rubber and Plastic. This combination provides a non-slipping climb up and down to your pooch to avoid injuries and risks.
Material: Rubber and Plastic
Dimensions: 65 inches length, ideal for medium to large dogs
Capacity: Up to 150 lbs
Our rating: 4.2/5
Nevertheless, climbing the ladder can still pose a problem for large dogs as the steps rendered by the brand are too narrow. This makes the product just perfect for medium-sized dogs.
Pros
Durable and sturdy design
Easily spottable for your canine
Does not fit all the boats
Cons
Not ideal for extra large dogs
Steps are too narrow for large dogs to climb on
7. PetSafe Happy Ride Extra Long Telescoping Dog Ramp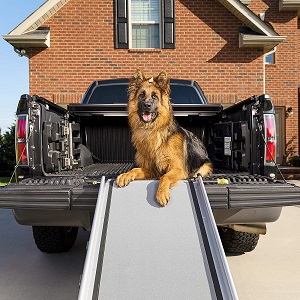 PetSafe Happy Ride Extra Long Telescoping dog ramp has been made keeping cars and trucks in mind, you can easily use the product to help get your dog in and out of the boat on a solid surface.
The ramp has four rubber feet to keep the ramp stable when your dog climbs over it.
The materials used in the dog ramp are Aluminium and Plastic, providing high-traction or no-slip climb to your pooch.
Material: Aluminium and Plastic
Capacity: Over 300 lbs
Our rating: 4.2/5
However, despite the seller guaranteeing a holding capacity of 300-pound, customers suggest the ramp is unable to hold any more than 120-pounds in some cases.
Plus – the built is such that your pooch's nail scratches may be easily visible after multiple uses. It is also among the best dog pool ramps of the year.
Pros
Adjustable size
High-traction surface to keep your pet from slipping
Lightweight built with only 18 lbs weight
Cons
Nail scratches can be easily visible
Can hold only around 120 lbs weight as pet other customer reviews
Not designed keeping boats in mind but works nevertheless
Buyer's Guide: How to Choose the Best Dog Boat Ramps?
There are some factors you will need to consider before getting a boat ramp for your dog. That which seems a simple slope to climb already has numerous features to choose from.
Here is a simple guide to help you choose the best dog boat ramp for your fluffy pooch:
Your dog's built
The first thing you will need to consider is the size and weight of your dog. The "one size fits all" philosophy needs to be chucked in the bin.
Just like Ramps now come in the breed and weight-specific sizes and you must avoid overhauling it with a large dog and risk injuries.
And while a smaller dog can walk up a large ramp, why would you want to unnecessarily block all the space in your house or garage?
Ease of installation
This depends largely on the manufacturer's recommendation. Some ramps can be permanent, while others are easy to pick out, use, and fold back.
You do not want to get stuck with a boat ramp which you cannot even use for the boat in the first place! Look-out for the set-up steps provided by the maker before purchasing your final choice.
Ease of transport
Since you are using the ramp for boats, you need a product that is not too heavy to carry around. You will be required to move the ramp in your car, and with your hands.
Therefore, it is essential to get a boat ramp which is not too difficult to shift around. You don't want another task to burden you.
Why Do You Need a Dog Boat Ramp?
There are several benefits to using a dog boat ramp for your lovely pooch. If you are a dog owner who is a water baby and loves spending time around water bodies then you need a dog boat ramp now!
Dog water ramps make going out for water sports with your canine easy peasy lemon squeezy. Some of the benefits include:
Easy access to the boat: Dogs are natural swimmers but that does not minus out any and all anxieties which come with boarding a boat, especially, if it is a small one. Having a dog boat ramp inculcates a feeling of safety in your pet which is important for a good adventure. Alternatively, you can buy the best dog swimming pool so that they can enjoy indoor.
Save your back: It is common for dogs to be reluctant in getting inside a boat which means you will have to pick them up. Now, this is fine for a small or medium-sized dog, but I don't think you enjoy carrying a 200 lbs St. Bernard. Having a dog boat ramp can help you avoid breaking your back while lifting your big furry friend.
Alternative uses: The design of a dog boat ramp makes it a versatile option. Whenever you're not out in the sea, you can simply incorporate the ramp within an array of uses say – getting into the car or to climb a high bed.
How to Maintain Dog Boat Ramps?
There are several types of dog boat ramps available in the market and it is possible for their maintenance and cleaning procedures to vary.
However, there are a couple of steps common to taking care of the dog boat ramps irrespective of the material, or size. These care techniques include:
Using a pet-friendly detergent to wash off any dirt or debris once you're back home
Wipe off any water or soap residue dry and store the ramp in a clean space
Keep the dog ramp out of reach of both children and the dogs himself to avoid any damage
FAQs for Dog Boat Ramps
How do I get my dog to walk up a ramp?
Be patient with your puppy and let him or her explore. Try as much to associate the process as a positive experience.

You can try to encourage your dog to walk up the ramp at a lower level through praise and treats, while gradually inclining it. Once they learn, going on boats with your canine is going to be so much easier.
How to install a dog boat ramp?
The installation process depends on the set-up guide provided by the manufacturer or seller. While some ramps are foldable, some come with ropes, while others come with a rather intricate set-up guide.

This is why you need to pay attention to the ease of installation feature before getting yourself a dog boat ramp.
What should be the size of the ramp?
Choose a size and correlates to the weight and built of your furry pooch. A wrong size can not only overburden the ramp and possibly cause damage, but it can also pose a threat to your dog's safety.

Different ramps have different capacities, you must find a ramp that can hold your canine effortlessly.
How much does a dog boat ramp cost?
A sturdy and durable dog bot ramp will cost you anywhere from 40 USD to 150 USD. The varying cost depends on the material, holding capacity, and brand of the product. You can easily find a decent dog boat ramp at an average cost of 100 USD.
What is the best dog boat ramp?
According to our findings, a dog boat ramp is one that is long-lasting, easy to transport, and able to hold your dog's weight over and over again without suffering damage.

Based on these features, the Great Day LP500 Pet Platform is the best dog boat ramp as it fulfills all the pre-requisites.
Conclusion
Whenever your pooch comes up after a swim in the water, their weight becomes denser. More so, if your pooch is a large breed. This aspect needs to be paid attention to when making the final purchase.
If your canine is not much of a swimmer, you can use the ramps to help him or her enter the boat.
Whichever your uses are, make sure to pay attention to the material, size, capacity of the product and land yourself the best dog boat ramp! Happy sailing to you and your fluffy pooch.
References:
PetMD Editorial. (2019b, September 23). Dog Safety Tips for Taking Your Best Friend Boating. PetMD. Retrieved August 4, 2022, from https://www.petmd.com/dog/dog-safety-tips-taking-your-best-friend-boating\
The dos and donâ ts of dog water safety. (n.d.-e). Vca. Retrieved August 25, 2022, from https://vcahospitals.com/shop/articles/the-dos-and-don-ts-of-dog-water-safety
(2020, May 14). Does Your Dog Need Dog Stairs or a Ramp? American Kennel Club. https://www.akc.org/expert-advice/health/dog-stairs-and-ramps/
INEXPENSIVE DOG STEP ( DOG STEPS ) FOR AGING DOGS (Cheap Alternative to Ramp). (n.d.). Retrieved November 24, 2022, from http://spuds.agron.ksu.edu/dogstep.htm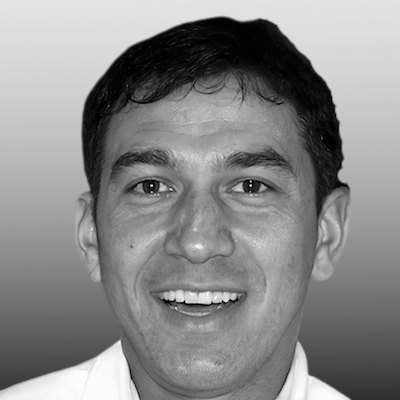 Martha Taylor is chief editor at DogLovesBest. He has been writing for over 5 years; writing articles, product write-ups, blogs, and more for pet-related websites. Although he has experience with many kinds of pets, large and small, dogs are his true love, and he particularly enjoys writing about canine care and behavior.
Before joining DogLovesBest, Martha used to work for other pet publications. But, he started his career as a store in-charge for a pet store. Due to this, he has a wide knowledge in pet related products.