We have tested and reviewed 100+ dog beds along with our furry-friends and pet-loving experts, to bring you the 7 best dog beds for older dogs in 2023.
When dogs start aging, they enter the most vulnerable stage in their lives. Old age can bring about many hormonal and physical changes that can disrupt our big guys' nighttime sleep.
An age-appropriate dog bed can play a huge role in comforting and soothing our dogs while withstanding whatever it is that our dogs release on them involuntarily.
There are many types of dog beds available on the market that can alleviate the misery of our old guys and give them happier sleep and rest.
A Quick Comparison of Our Favorites in 2023
The 7 Best Dog Beds for Older Dogs
1. Best Friends by Sheri OrthoComfort Deep Dish Cuddler — Best Overall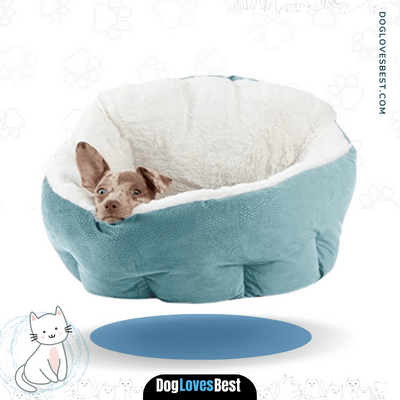 The Best Friends by Sheri standard-sized cuddler is the perfect example of comfort-meets-care. There are many features in the product which catch the eye of an average dog-lover.
This senior dog bed has been filled with superior virgin AirLOFT fibers which are absolutely non-toxic to your pooch making it feel like a bed of roses.
Caters to small-sized dog breeds with weight up to 25 pounds
Cozy bed with high walls for added comfort and feelings of safety
Accommodates to your dog's unique and changing sleeping positions
Comes with a water-proof bottom making it suitable for incontinence in dogs
Our rating: 4.9/5
The product is ideal for small-sized dogs up to 25 pounds and works really well in easing the anxiety and feelings of apprehension in older dogs who suffer from night tremors.
One of the added features to the product is the non-slip and water-proof water which maintains a stronghold to the ground when the small oldie sleeps his or her night away.
This is not suitable for giant dog breeds. However, for small and medium-sized dogs, it is the most comfortable dog bed on our list.
To conclude, we think this is the overall best dog beds for older dogs.
2. KOPEKS High-Grade Orthopedic Dog Bed for Older Dogs — Premium Choice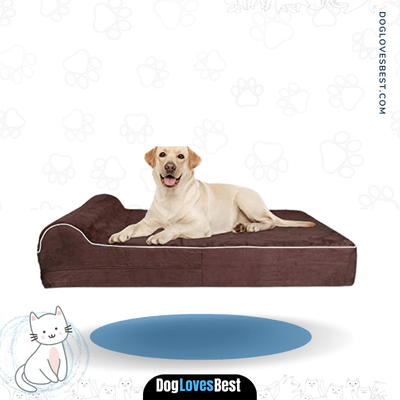 KOPEKS High-Grade Orthopedic Dog Bed for Older Dogs takes our premium product placement for the best Dog Bed For Older Dogs.
Dogs can really appreciate and enjoy their own space for sleeping and lounging that is safe and comfortable. KOPEKS understands this need and more with this high-grade orthopedic memory foam dog bed.
Many dogs prefer having a lot of space while sleeping, therefore, this 50 inches long and 34 inches wide bed is something to truly dream for.
Works well for dogs with issues such as Arthritis or Muscle Pain
Side-sleeper and sprawlers can sleep peacefully
Water-proof fabric with its cover made with faux suede
Anti-slip bottom or surface for excellent grip on the ground
Our rating: 4.7/5
This foam dog bed effectively manages to add any and all features which can be beneficial for older dogs.
It is also one of the best waterproof dog beds due to its fabric cover that resists cases of incontinence, while the faux suede brushes against their skin like feathers.
You also get a bolstered neck rest that your dog will thank you for on difficult days. The anti-slip bottom is another feature that ensures your pooch stays away from harm's way.
In comparison with other products on the list, this one is rather expensive. However, the premium price also comes with premium and durable features which makes it absolutely worth it!
3. Sleep Zone Faux Suede Cuddle Cave Dog Bed — Best Affordable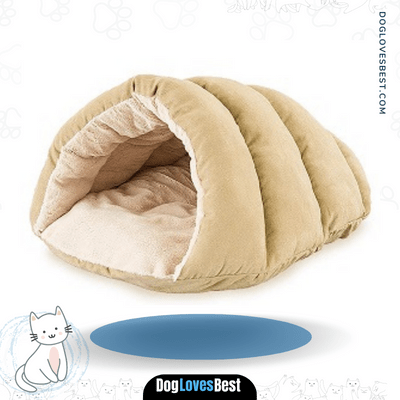 If you need a more affordable choice, the Sleep Zone Faux Suede Cuddle Cave Dog Bed is a great alternative to our top pick.
Looking for the best dog bed for your old dog on a budget is not a crime, and it is exactly what Sleep Zone by SPOT has brought you.
This is a cave-type dog bed for our lovely cuddlers and burrowers who prefer sleeping far from distractions and over-stimulation.
The product is made with Faux Suede which is stain repellent, smell-free, and extremely light on the pocket! All benefits in one!
Can be easily machine-washed without losing shape
Comfortable interior made with plush material for cozy nights
Ideal for extra-small and small dog breed sizes
Attractive and aesthetically pleasing suede exterior
Our rating: 4.6/5
This is one of the best affordable dog beds listed here. If you have an aging Pompom or Pug then they are simply going to have the time of their lives resting in this high-quality cuddler.
Aesthetically speaking, there is no place this dog bed is not going to add oomph in with its presence. Your dog's body ache is going to go away and bring back all the cozy nights.
Unfortunately, the product is available only for small-breeds as of now; no variant is made for medium or large-sized dogs.
Note:
If you are looking for an outdoor dog bed or you frequently go for vacation trips with your pooch then get them a
traveling dog bed
for their comfortable trip.
4. BarksBar Gray Orthopedic Dog Bed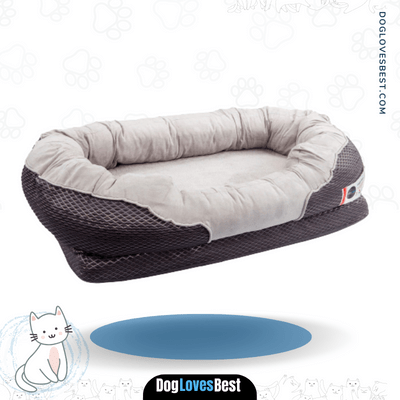 BarksBar brings you a soft, spongey, yet sturdy orthopedic dog bed that has been made with all things good for your old dog.
You will find a really elegant quilted mesh design on the dog bed which adds to the aesthetics of wherever you place it. The much-required aspect being you can clean it with a simple cycle in the machine and have it restored back to life.
Made with premium and ultra-soft materials to aid a luxurious feeling
Covered with an ultra-soft polyester cover which has a quilted design
Comfortable and cushioning extra-padded rim for your dog's neck support
Cover can be removed and machine washed on gentle cycle
Our rating: 4.4/5
One of the things the customers of this dog bed have truly loved about this product is the safety and security it brings for your pooches.
The pet parents of older dogs have appreciated the bolstered design which gives soft support to their canine's aging body.
Due to the cover being made with polyester material, you can rest assured about the product not holding onto any eliminated liquids, and maintaining a fresh look and feel.
Skip this item if your canine is a small-breed. The product is not available in small sizes as of now, therefore, it will be of no benefit to bring home and make space for such a big bed for your small pooch.
If you are looking for beds that are entirely made in the United States, then check out our list of
Best Dog Beds Made in the USA
for more options.
5. Petlo Orthopedic Pet Sofa Bed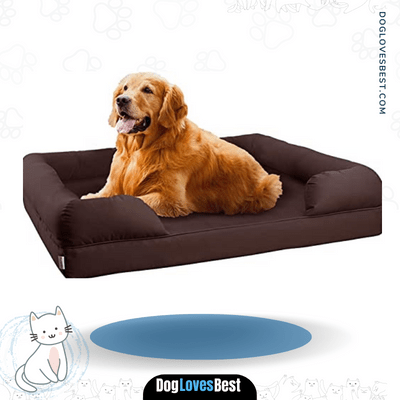 Avoid all the fake-orthopedic sofa dog beds that have harmful and toxic fillers which are not just dangerous but all irritate your dog's skin and aggravate joint pain.
This non-slip bed by Petlo is going to provide the perfect grip and support to your pooch with all the safe and high-quality materials.
You can select the product from a pool of three sizes and two colors. The one we're discussing here is a size large of 36 inches.
Without any fillers shredded foam, cotton batting, or cedar chips
The skid-free bottom which allows your pooch stability while lounging
Repels water and moisture; beneficial for dogs with incontinence
Currently available in three sizes and two colors
Our rating: 4.3/5
This product immensely improves the mobility of older and elder dogs who are tossing and turning the whole night due to back and joint aches. All you have to do is slide in the memory foam base into the cover and that's it!
That's all it takes to install it around your house. Every once in a while when you feel the product has dirtied, all you have to do is remove the cover and wash it on a gentle cycle in the machine.
The only downside of this product is that if your old dog tends to chew or be aggressive with their bed, then this may not be the perfect fit for them.
6. Furhaven Pet Dog Bed Orthopedic Round Cuddle Nest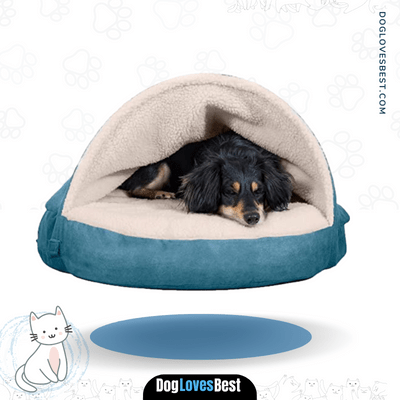 If you are looking for something to warm your old dog at night, then this orthopedic cuddler is going to be your favorite! The product has a very soft touch to it and is made with a smooth suede fabric which does not harm your pooch's skin.
Senior dogs can fall prey to cold easily as their body temperature plummets at night, this round dog bed comes with a blanket top so you can avoid a trip to vet clinics.
Cooling gel top mattress with microgel beads to keep your pet feeling cool
Relieves joint pressures and provides support with memory foam filling
Made with soft and comfortable suede fabric
Comes with a machine-washable cover
Our rating: 4.2/5
The cooling gel dog bed with the blanket top provides a ventilated, fresh, and regulated temperature which maintains your dog's bodily health. The product comes with a washable cover which you can toss in the machine weekly or after every accident.
This product is not suitable for old dogs who have aggressive chewing problems. It is not going to last a single day with heavy biting and gnawing.
But no worries! There are other products mentioned in this curation that are indestructible and chew-proof, you can also check out our special curated list of the best indestructible dog beds.
7. K&H Pet Products Original Pet Cot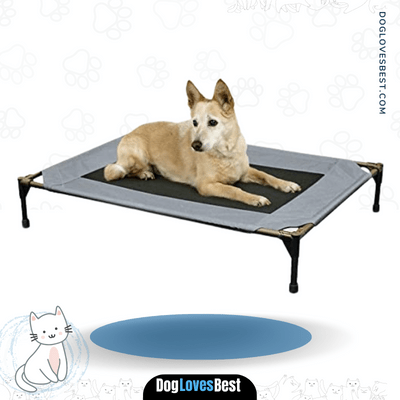 Elevated beds can increase ventilation and breathability by leaps and bounds. With this product by K&H, you get mesh material at the center which can effectively avoid causing heat-ups at night and disrupting your old dog's sleep.
This is important since body temperatures can majorly play around in declining years of dogs.
Elevated or raised dog bed that provides breathability to your pet
Comes with a mesh center to ward-off heating issue during sleep
One-year warranty for manufacturer defects by the brand
Has non-skid and non-slip rubber feet for better grip on the floor
Our rating: 4.2/5
This is a pretty decent product you can invest in for the long term health and happiness of your pooch. It is amazing how a very simple process can help you set up the product without any additional tools, manuals, or help.
This elevated dog bed can easily hold up to 150 pounds which cover most medium-sized and some large-sized dogs. You also get non-skid rubber feet which can allow your pooch to be free while sleeping.
Some customers have complained of some product quality inconsistencies in the past which is important to note here. Also, this is not at all suitable for older dogs who have arthritic issues.
You will be required to shop for the best memory foam dog beds and flatbeds for such cases. You can find some of the best options listed in this review curation itself.
Buyer's Guide: How to Choose the Best Dog Bed for Older Dogs?
Shopping for your older dogs require a little more research and attention to detail. Below is a simple and concise checklist which you can follow when sorting and picking the best dog bed for older dogs:
Size
Considering the size of your golden ager's dog bed should top priority. This is especially because older canines can often require larger spaces to contain their bodies.
It can also push your pooch into a lot of discomforts to be crammed in a small or compact dog bed which will restrict their mobility. Many joint and hip problems can potentially aggravate if satisfactory space is not available for older dogs to doze off.
Material
While older dogs who are going through arthritis or joint problems will benefit from orthopedic or memory foam filling, chewers might require a rather heavy-duty answer to that.
While choosing a dog bed for your older dog make sure to check their comfort, behavior, and use. Do not opt for materials or fabrics that can cause abrasion or irritation on your dog's skin, and rather opt for safe, environmentally-friendly options.
Condition
Older dogs fall prey to many diseases and conditions which can disturb their sleeping routines. One of the most common problems accounts for incontinence which can cause them to lose control over their bladder.
Therefore, some of the senior dog beds come with waterproof inner lining.
While anxiety and insomnia are also a very common and frequent complaints within our fluffy partners, for this – you can try a warming or heated bed, as well as ones with bolsters that can offer feelings of comfort and safety.
Why Do You Need a Specific Dog Bed for Older Dogs?
When dogs enter the golden age they can often start carrying symptoms like aches and pain in their bodies. Similar to humans, dog bones can start deteriorating and lose their density in older age.
This and other orthopedic problems require a solution that is specific to your dog. As they age, they also start developing aches due to arthritic joints, sore muscles, hip dysplasia.
There are other issues as well for instance – incontinence, for which materials that can repel moisture and water are the need of the hour.
Dogs can also fall cold and sickly more often in their declining years and might need warm beds to regulate their temperature as well.
Now you understand how our older canines need their own space which caters to their requirements.
The living room sofas or your king-size bed may not be enough to soothe your dog's condition, therefore, you need a specific dog bed for your older dog.
If you are looking for beds made for larger canines then check out our curated list of best dog beds for large dogs and best dog beds for labs.
Types of Dog Beds for Older Dogs
There are many types of dog beds available in the market, and they are not all suitable for or cater to older dogs.
A wrong type of dog bed can increase the discomfort your poor pooch is already feeling in the autumn of their lives. Here are some common types of dog beds that can look for that will benefit older dogs:
Old age can bring make dogs prone to many diseases as their immune system's ability to fight infections weakens. There are many types of cuddler and burrower dog beds available on the market which can provide a warm and cozy effect to your pooch.
These beds can help regulate the body temperature of your dog at night and ward off infections which can develop with cold weather.
This is especially important for canines who live in colder parts of the country. Warm beds can also provide a sense of security and comfort to your older dog which can ease him or her off anxious feelings.
Joint, hip, and muscle problems are far too common with our gramps! Because of this, the elevated beds which they enjoyed during their young adulthood can begin seeming too difficult to manage for them.
This is when you need to explore orthopedic dog beds on the market to soothe their arthritic discomfort.
You can find these types of beds with the filling of memory foam generally which offers equal support to your canine's body and lessens the strain and pressure.
Urine incontinence or loss of bladder control can start surfacing as a problem as your dog turns grey. The reason can vary from canine to canine, as there are many factors that contribute to this problem.
One of the common causes can be urine infections, hormonal imbalance, or even weakened bladder sphincter. This calls for you to shift to water-repellent or water-proof dog beds which do not require regular washing or cleaning.
Your dog's space will also be fresh and moisture-free all the time!
FAQs About Dog Beds for Older Dogs
Is memory foam suitable for senior dogs?
Yes. Memory foams beds and highly recommended for senior dogs. They can provide a balance between support and cushioning which is really important when purchasing a dog bed for older dogs.

Most of these beds come wither water-repellent covers which can keep the bed fresh and clean for longer hours. However, it is important to note that memory foam beds may not be suitable for heavy or aggressive chewers.
How often should you clean the dog bed?
As a thumb rule, you should wash and clean your dog's bed every once in a week. Some of the best washable dog beds are completely washable, while some arrive with removable and machine-washable covers.

Always use your common sense and clean the bed if it starts emitting a bad or foul smell. The idea is to keep your old guy's bed dry and fresh as much as possible.
How much does a bed for older dogs cost?
A decent dog bed for older dogs can cost you anywhere between 30 to 100 USD. There are many factors that influence the difference in price namely – size, material, brand, and reputation of the product in the market.
Which is the best bed for older dogs?
According to our experts, KOPEKS High-Grade Orthopedic Memory Foam Dog Bed is the best bed for older dogs.

It is a very simple and straightforward design that not only works for side-sleepers and sprawlers, but it is also a great orthopedic bed that can ease the joint and muscle pains our dogs may be suffering from.

The product comes with double-layer protection with a water-repellent interior and exterior.
Conclusion
Aging does not always come gracefully and it can bring many challenges for our dog. One of the best ways you can help them is by facilitating a good night's sleep for them with a dog bed that caters to their needs.
In our detailed reviews, we have enlisted the seven best dog beds for older dogs and rated them considering their size, durability, material quality, and other customer experiences.
While picking out the most suitable dog bed for your senior fido, make sure to narrow it down to something that gives them the utmost comfort and feelings of safety.
References:
PetMD Editorial. (2017, May 25). 15 Ways to Help Ease Your Dog into the Senior Years. PetMD. Retrieved August 5, 2022, from https://www.petmd.com/dog/15-ways-help-ease-your-dog-senior-years
Maslow, J. (2020, August 24). Five Reasons Why Your Dog Needs His Own Dog Bed. The Collegian. Retrieved August 5, 2022, from https://collegian.csufresno.edu/2020/08/why-your-dog-needs-his-own-bed/#.YuzI_HZBy3A
senior-dog-care-special-considerations-for-dogs | VCA Animal Hospital. (n.d.-b). Vca. Retrieved August 25, 2022, from https://vcahospitals.com/know-your-pet/senior-dog-care-special-considerations-for-dogs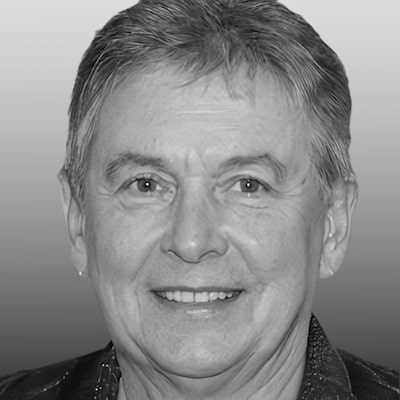 Ellis is a retired veterinary technician and full-time contributor at DogLovesBest. He likes writing about pet health care tips and reviews the products that are useful for fidos on a daily basis.
Ellis also guardians a Siberian husky, Nova, and a cat named Shilly. They all live happily with his wife Ammy, and both the dogs on a seaside apartment in Queens, NY.