After testing over 45 different dog beds, we shortlisted the Best Dog Beds Made in the USA which promise quality and comfort to your canine.
Your dog deserves all the pampering and comfort. That also includes choosing a cozy bed for them. But buying a comfortable bed for your pet is not as easy.
If you are looking to provide your pet with a good quality bed, then consider choosing the ones made in the USA and which pass the American quality standards.
And why are USA-Made-Dog-Beds so reliable in terms of quality and comfort? We answer that for you.
A Quick Comparison of Our Favorites in 2022
The 7 Best Dog Beds Made in the USA
1. Kuranda Elevated Dog Bed — Best Overall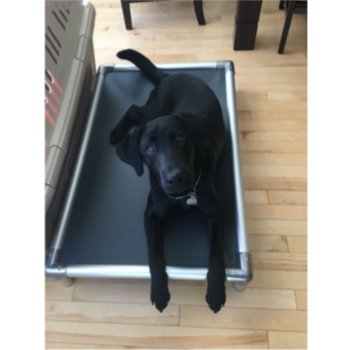 Kuranda Elevated Dog Bed is the perfect buy for your aggressive and digger doggy. Kuranda Dog Bed is one of the best durable dog beds for chewers you would find across town.
It is made of an aircraft-grade aluminum frame, which makes it hard but durable. It is slightly elevated and quite suited for orthopedic dogs, as it gives them a proper raised sleeping position.
The bed has Ballistic Nylon Fabric Clothing which is known to be durable, comfortable and resistant to any abrasion or damage.
There is no separate mattress or cushion provided but the sleeping area makes it a good fit for any mattress type. It can be used in any dog kennel or for outdoor use. It is light and easy to carry for picnics and trips with your pooch.
To conclude, we think this is the overall best  best dog beds made in the USA.
Features
Foam Thickness: Not provided
Size: Large (variants available)
Design: Smoke Colored, Aircraft grade Aluminium Dog Bed having Ballistic nylon fabric
Chewproof
Easy to clean
Indoor and Outdoor Use
Supports up to 250 lbs of weight
The Kuranda Elevated Dog Bed has a good capacity and can support medium to large-sized dogs. The sleeping area is quite comfortable and spacious and the elevated design is quite good for orthopedic dogs.
The Kuranda Dog Bed is made of high-grade aluminum and manufactured under USA grade standards, it has to be of premium quality and durable.
Make sure to get a size larger than your pet's usual size. The assembling can be a hassle for users and the poles are not uniformly made.
But all in all, the bed is a great investment for its price and is sure to last longer and longer for your hound to sleep better.
2. Big Barker Pillow Top Orthopaedic made in the USA Dog Bed — Premium Choice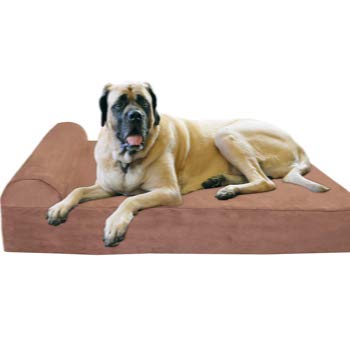 Big Barker Pillow Bed for Dogs has therapeutic medical grade American Made foam that is to last for generations.
It is durable and handmade by skilled craftsmen in the USA. It has been calibrated to suit hounds of any size and shape and there are variants available.
The microfiber cover is easy to clean and remove as well as machine washable.
The bolster at the head region is very soft and comforting and not only maintains your dog's posture but also gives them a relaxing and comfortable sitting and sleeping experience. The support mattress is quite thick and cushiony.
Features
Foam Thickness: 7 inches
Size: Extra Large (variants available)
Design: Khakhi Colored Therapeutic Foam Dog Bed
Removable and Washable Microfiber Cover
The Big Barker Bed is durable and provides a thick foam. Since it is made in America, there is no compromise on the manufacturing process and quality standards and is quite reliable for its quality.
The cover is easy to remove and machine washable that makes it easy to clean dog beds. The bolster at the corner provides a good headrest and sleeping posture making the bed quite comfortable for your pooch.
Problems can arise in terms of the durability and the quality of the 'cover'. Your pooch may end up tearing the cover and chewing the foam off.
If your dog's a digger variety, you may not want to choose this dog bed. Moreover, it is a bit heavily priced, but the quality and comfort it offers are worth every penny.
3. Dog Bed King Pet Beds Made In The USA — Best Value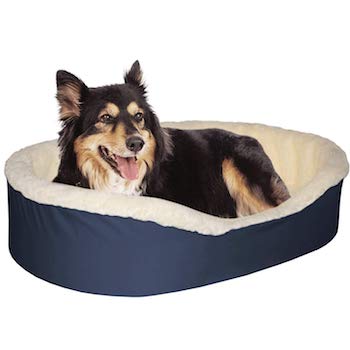 Dog Bed King is quite a renowned brand in the USA. Their products are given high attention in terms of quality and service, which makes it a reliable and trustworthy brand.
This Cuddler Bed by Dog Bed King promises to provide your dog with the pampering and comfort he deserves.
It comes in a unique curved design with bolster support at the end. Although, it is advisable to measure your pet's dimensions before ordering the product.
The bed is available in multiple sizes and color variants which is not only pleasing to your pet but looks great in any corner of the house.
It provides a curved solid foam collar that matches your pet's sleeping posture. The cover to the bed is removable and machine washable.
Features
Foam Thickness: Not mentioned
Size: Large (variants available)
Design: Navy Blue Colored Dog bed with Cream colored interiors and a solid curved foam
Removable and Washable Cover
Side Bolster for support
In terms of coziness and comfort, the bed is quite apt for your pooch. It looks cute and fits in any corner of your house with its plush fabric and attractive design.
The curved design with the bolster at the side helps maintain your hound's spinal and bone posture. Moreover, it is quite a reliable brand providing plush products for your pooch.
Users complain of the bed skidding across the floor. The bed is lightweight and not sturdy and may end up injuring small pets and puppies. Although the design is great, the quality of the product is at a compromise.
But the foam is very comfortable and cushiony, and the convenience of washing and maintaining it along with a budget price makes it worth the buy for your pooch.
Advice:
Dog beds for older dogs
are designed specifically for canines of old age to support them with joint pain and arthritis which they might get as they age. Getting them a bed more specific to their comfort is highly recommended.
4. Pet Support Systems Orthopedic Dog Beds Made in the USA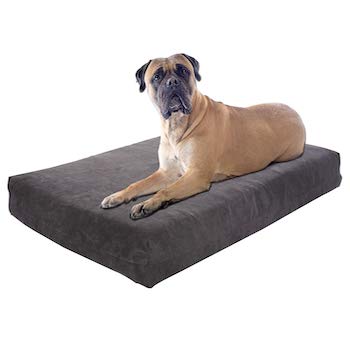 Pet Support Systems Orthopaedic Dog Bed promises to provide superior quality comfort and care. It is available in multiple sizes and color variants and has memory foam cushioning that helps relieve pressure and joint pain.
Not just that, the comfortable and softcover is resistant to even slight temperature changes and stays the same in warm and cold climates.
The mattress is Certi-Pur Certified and Environmentally Safe. The mattress is dust and mite resistant and made of medical-grade polyurethane foam. The cover is easy to remove and provides effortless cleaning.
Features
Foam Thickness: 4.5 inches
Size: Large
Design: High-Quality Charcoal Gray Colored Dense Memory Foam
Medical Grade Polyurethane Foam
Removable and washable cover
The USA Made Dog Bed by Pet Support Systems is very convenient for you and your pet. It provides a uniform temperature so it is suitable for use in all climates.
The surface is very soft and supports your dog's body well. It helps in relieving various joint and bone disorders like hip dysplasia, joint inflammation, and other ailments.
The bed is very durable so it won't go flat for a long time and remain firm to support your pet. It is made of dust-resistant medical-grade polyurethane foam which is safe and non-toxic to your pet.
The bed comes with a 3 years USA based manufacturer's warranty.
There could be an issue with the size as the mattress is not suitable for large-sized dogs as per the mentioned size. But the material, comfort provided, and quality is great and worth the price.
Tip:
Get
cooling beds for dogs
to keep your pooch protected from hot weather and to prevent them from getting hyperthermia due to the hot surrounding temperature.
5. Petmaker Orthopedic Memory Foam Dog Bed Mattress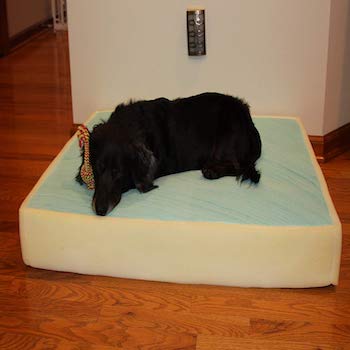 Petmaker Orthopedic Memory Foam Dog Bed Mattress bring you a bed mattress which is a combination of memory foam and gel fill. This helps in eliminating pressure points and enhances breathability. The gel layer also helps to keep your canine cool during warm temperatures.
Apart from being the USA manufactured, the bed is environmentally friendly and exceeds PURGreen certification standards.
The thickness provides good support and it is very durable. It does not come with a cover and can be purchased separately. Its huge size makes it one of the perfect dog beds for labs and other big breeds.
Features
Foam Thickness: 6 inches
Size: Large (variants available)
Design: White-colored, Memory Foam Dog Bed with Gel for cooling
Suitable for dogs with orthopedic conditions
Environmentally friendly
Suitable for Medium to Large Sized dogs
This orthopedic bed helps relieve joint pain while also keeping your pet cool with the gel cooling layer on the bed. It conforms to your dog's weight and is quite suitable for adult and aged pets to cure hip dysplasia and other achy disorders.
Users complain that the thickness of the mattress is not as mentioned, thereby not providing the expected level of comfort.
It looks just like a piece of a big mattress with no cover. The dog may end up chewing the bed and the product lacks durability. It serves fine as a basic dog bed and provides overall body support to your pet.
6. Brentwood Home Orthopedic Pet Bed Made in USA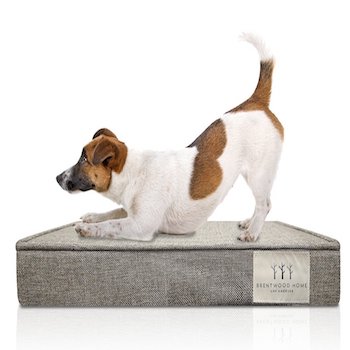 This Dog Bed by Brentwood Home has gel cooling which relieves your pet of joint and body aches while also keeping him cool during warm weathers.
The foam base is of good medical-grade quality, which is therapeutic and provides good body support to dogs suffering from orthopedic conditions.
The microfiber cover is waterproof and protects the mattress against water or any other spills or dirt. The soft cover is removable and also machine washable.
The cover material is resistant to dust or bacteria keeping your pooch healthy and protected while he sleeps.
Features
Foam Thickness: Not mentioned
Size: Medium (variants available)
Design: Checkered Grey Colored Memory Foam Mattress with gel cooling technology
Removable and washable cover
Dust and mold resistant
3 years manufacturer's warranty
The orthopedic mattress provides good base support to your pet and is a good relief from hip dysplasia, joint pain, and other related conditions.
The cover is totally waterproof and does not mess up easily even if your pet dirties it. The cover is very soft and gives your canine a plush sleeping experience.
Although, the cover to the bed is not durable and tears off easily. The bed provides a good level of comfort and support to your pet but the cover is almost useless as it does not last long, keeping the bed unprotected.
But the overall comfort and support provided are great.
7. Majestic Pet Villa Bagel Dog Bed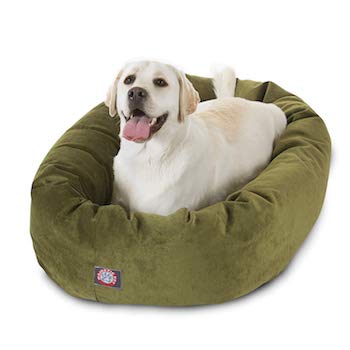 This cute and compact looking pet bed by Majestic Pet fits almost anywhere in your house and is very soft and snuggly for your small pet.
The bed is stuffed with high-quality Premium High Loft Polyester Fil. The bed is totally machine washable but make sure to wash it gently.
The water-resistant dog bed is protected from water or any other dirt or spillage by your pet. The bed also provides good spinal support and helps your hound maintain a good posture.
And since it is made in the USA there is no compromise on the quality of the product.
Foam thickness: Not mentioned
Size: 40 inches. Suitable for small to medium-sized pets (variants available)
Design: Fern colored Bolster design Waterproof Bagel Dog Bed (color variants available)
Waterproof 300/600 Denier Base
The cover is easy to wash and remove and the inner sitting base is waterproof to keep the mattress protected from unwanted spillage and dirt.
The dog bed is stuffed with premium quality soft polyester giving your canine soft seating. The bolsters at the sides are a great support to the spine.
Your dog can't use it as a bed as it provides space enough for sitting and relaxing while it supports your canine's spine. The colors are so attractive, it adds to the aesthetics of your house.
The problem is with the design of the bed. The zippers used to remove the covers are at the top, your pooch may end up spoiling it easily.
The thick foam is not durable and flattens easily with time. But the couch style bed is very snuggly and cozy for your pet to sit back and chill.
Buyer's Guide: How We Chose the Best Dog Beds Made in the USA?
Although these dog beds are made with surpassed standards, As a responsible pet parent, you should not forget the varieties and types of beds available.
Be it in terms of size, shape, your dog's breed and his requirements, choose a bed that best suits your pet.
To make your job easier, we help you with a list of features we considered for choosing premium quality 'USA Made Dog Beds'.
This totally depends on your pet's size, shape, and breed. If you have a pup or a breed that is generally small in size, you can choose to buy a small bed.
If you have a large breed, then having rectangular large dog beds that provides ample space for movement is advised.
The bed should have enough space for your pet to move and rotate on the bed. It should not end up falling from the bed. If the bed is too large in size, you'll see your dog rolling on it and it would only cause you an unnecessary space crunch.
Each type of bed serves a specific purpose. While regular dog beds are cozy and comfortable, you can choose from a range of foams. Memory foam dog mattresses are viscoelastic and support dogs with joint pain and arthritic conditions.
If your canine is aged and needs overall body support then Orthopedic Beds are the ideal investment. If your dog tends to mess around too much and may end up peeing and pooing on his bed, then the Waterproof Bed is best suited for your four-legged friend.
If your hound has a good height, then buying Elevated Dog Beds is a good idea. If your pet ends up eating almost anything he sees around him, including his own bed mattress, then you can also buy a Chew Proof Dog Bed for your pet.
Moreover, if you frequently go on vacations along with your pooch then get the best outdoor bed for dog.
Irrespective of the type of dog bed you get, if it is manufactured in the U.S.A., the bed would make sure to provide your pooch with the comfort it deserves and will serve the purpose, just right.
One of the prime features of American-based beds is long-lasted ness. And for which, you may find them to be highly-priced. Dogs being extremely active and agile pets may end up getting jumpy on their bed, for which the bed needs to be strong and tough.
Not just the bed and the mattress, but the quality of the fabric, coating the mattress should also be stitched with a tough micro-suede or vinyl material.
The stitch technique and pattern should be strong and should cover every edge of the mattress. It should not tear up easily if your pet clings his paws on it.
What's in a bed if it does not provide the comfort it is made for. As much as dogs love cuddling to you and hugging you, they also love to sneak in cozily behind blankets and sleep comfortably on a soft and snug surface.
A dog bed and the mattress should provide your pet with the optimum support it needs to feel relaxed.
Dog beds may get dirty quite often for which you may need removable and easily washable covers. There are beds that are fully machine washable and you can open the bolsters to remove the filling for washing the bed.
It is best if the covers are machine washable for hassle-free cleaning. The USA made beds not only offer comfort and durability but are easy to maintain and clean with little effort.
Why Choose Made-in-USA Dog Beds?
While choosing a premium quality bed for your four-legged friend, you may look out for features like size, comfort, durability, material, elevation, and suitability for a variety of dog breeds.
The best dog bed that is made in the USA offers a range of such features and a lot more.
Made in USA Dog Beds are durable and long-lasting. There is no compromise on the quality of the bed. You can blindly trust beds manufactured and sourced from the USA as they are to stay with you for generations.
Although these beds are heavy on the pocket, the standard of comfort is unbeatable and worth the price. Your pooch would have a cozy, snuggly sleep in his bed and it sure is a great investment.
Talking of other reasons to get a USA manufactured bed for your fur-friend, other countries follow loose regulations for checking and maintaining quality standards.
USA manufactured products, in comparison, are strict and vigilant in terms of quality regulatory standards.
When your dog bed passes through such stringent quality standards, it is bound to be the best.
There are certain safety standards issued by the Consumer Products Safety Commission on USA Crafted products which is not the case with other foreign products. This gives us a strong reason to buy American-based dog beds.
Moreover, the beds are made of eco-friendly material. USA based manufacturers offer a clear picture of the manufacturing process.
The detail you about the filling to the quality of foam used. As dogs can be sensitive to certain materials and foam types, maintaining transparency about the production process is important for your dog's health and safety.
For these beds sourced from the USA, it is not just about selling the beds to the dog owners but also providing valuable customer service to their buyers.
Customers should have a source to reach out to if they face any issues with their purchase or with the dog bed. Manufacturers which offer after-sales customer service are more reliable and USA based manufacturers surely are.
USA based Dog Beds are crafted with a lot of care and effort by skilled craftsmen and state of the art manufacturing standards. These manufacturers have small scale setups that take pride in offering quality and durable products.
For the craftsmen who are involved in manufacturing beds in countries apart from the USA, they are not protected by USA Labor Standards.
Hence investing your money in small scale projects who offer you quality gives you a sense of satisfaction and value for money. Moreover, the comfort to your pet is matchless and beyond compare.
FAQs
Are dog beds made in the USA good for joint pain?
There are various types of dog beds made in the USA of which Memory Foam Dog Beds are the best for joint pain. These dog beds are made of viscoelastic material that supports your dog's bones and joints.

These beds adjust according to your dog's shape when they are using it, and retain their original shape back once not in use.
Are dog beds made in the USA of better quality?
Dog Beds made in the USA are much better as compared to that of the other countries. The material and the fabric used to make the beds are of premium quality.

Moreover, the beds are durable, tough and strong and last for generations. The USA quality checks and standards are more stringent as compared to other countries and hence they assure premium, high-grade products.
How much does a dog bed made in the USA cost?
A Dog Bed made in the USA can cost anywhere between $30-$300. It all depends on the quality and the type of mattress used.

The Big Barker Pillow Top Dog Bed is good for Orthopaedic use and of premium quality costing anywhere between $250-$300.

If you are looking for a budget purchase, Dog Bed King Pet Beds Made In The USA is quite a reliable brand in terms of quality and similar dog beds available at low price between $40-$50.
Which is the best made-in-USA dog bed?
The Best Dog Bed Made-in-USA is undoubtedly the Kuranda Elevated Dog Bed. Durable, comfortable, spacious and not too heavy on the pocket, ranging anywhere between $130-$140.

If you are looking out for an orthopedic dog bed, then you can opt for the Big Barker Pillow Top Dog Bed, comfortable and of premium quality foam. It costs around $250-$300.

For the best Made in USA Dog Bed that is not too heavy on your pocket, you can choose the Dog Bed King Pet Beds, which is a very reliable brand and the bed is priced anywhere between $40-$50.
Final Note
Looking for comfort and quality, all in one product is a task. For which we have reviewed the 7 Best Dog Beds Made in the USA. USA-Made-Dog-Beds are manufactured under strict quality standards and give you more than what you expect in a dog bed.
While considering the source of manufacture, one also needs to keep their pet's likes and characters in mind to choose the best bed for their pet.
Moreover, you know your investment is not wasted with the bed handcrafted to perfection by skilled craftsmen belonging to the USA.
Give your canine the finest form of standard and comfort he deserves, with this range of USA Made Dog Beds.
References:
PetMD Editorial. (2021, September 27). Dog Beds for Pets Who Travel With Their People. PetMD. Retrieved August 4, 2022, from https://www.petmd.com/dog/pet-lover/dog-beds-pets-who-travel-their-people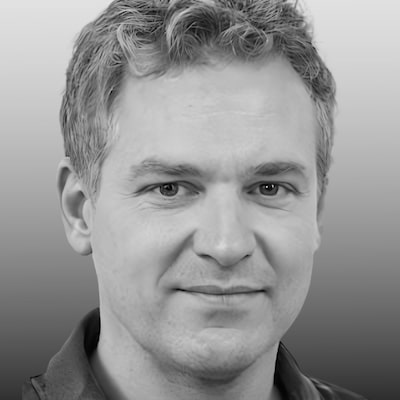 Mark is the co-founder of DogLovesBest, a great pet parent, and a good person. He manages the content published on this website and sees to it that everything is working smoothly with a motive behind helping pet parents.
He likes spending his time with Max, a Labrador, and Jack, a Great Dane. They usually hang out at nearby dog parks during weekends.