We have selected and reviewed the 7 best waterproof dog beds that are not only helpful for dogs with urinary incontinence but it'll also prevent the bed from getting wet due to accidental spillage.
Does your dog wet their bed often? Canines can wet their bed for a variety of reasons. Incontinence is a very common issue discussed within dog owners, and it could be caused by spaying, old age, urinary tract infections, and even anxiety.
Dealing with this problem can be really tough on you and your pooch. However, one of the ways you can deal with it is by incorporating a solid waterproof dog bed in your house and checking at least one worry out!
A Quick Comparison of Our Favorites in 2022
The 7 Best Waterproof Dog Beds of 2022
1. Dogbed4less Premium Memory Foam Dog Bed — Best Overall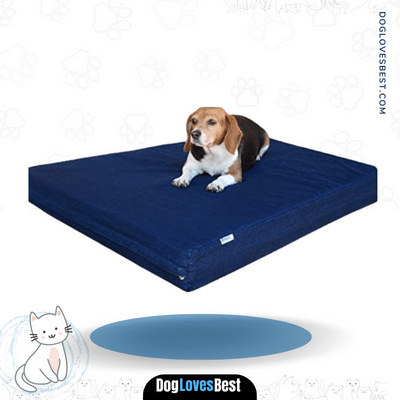 Our first choice is the Dogbed4less Premium Memory Foam Dog Bed.
This is a great bed overall and strikes a great balance between cost and quality. You get two zipper covers with the product, an internal and external one.
The internal cover is a waterproof cover that helps in protecting the memory foam from any outside contamination.
While the external cover is washable and it is made with Suede fabric which also resists water from above and keeps your pooch clean and fresh all day.
To conclude, we think this is the overall best waterproof dog beds.
Comes with a washable cover make with denim material
Mattress designed to provide therapeutic comfort to your dog
Currently available in six types of sizes and one color type
Made with premium orthopedic memory foam
Some of the most impressive qualities of the bed are its softness and the comfort of the material used in it.
If you are someone who worries abrasions are going to catch up on your dog, then the safe material in this product is surely going to make you happy.
The therapeutic capacities of the product have been well-established with the fact that dogs simply do not want to leave their warmth and cushioning.
This product is not available in more colors, so you're stuck with whatever they offer you. If this is something that does not bother you, then go ahead and make this product for yours to keep!
2. PLS Birdsong Fusion Orthopedic Dog Bed — Best Value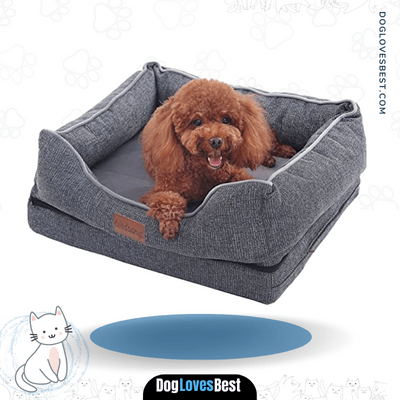 This product by PLS Birdsong has been made with high-quality & premium orthopedic memory foam material which is protected with a waterproof liner.
If you have a large dog back home, he or she is going to have a lot of space for themselves to relax on this mattress.
You get a medical-grade foam to support your dog's joints to soothe or reverse any signs of discomfort and orthopedic problems. The product can easily hold more than 60 pounds of dog weight.
Dog bed for large dogs
Comes with removable and machine washable covers
Medical grade foam for proper orthopedic support
Waterproof cover liner to protect against accidents
Comes with an anti-skid base to prevent sliding or slipping
Durable and heavy-duty material for longer use
Something that truly stuck out when we tested this bed is how easy it is to clean. No drooling, peeing, or vomit stains have the ability to stand against this dog bed's waterproof lining.
You will also be surprised by all the different things this dog bed does on its own. You get the qualities and characteristics of an elevated, orthopedic, and waterproof dog bed in one product.
The materials used in these products are extremely durable and are sure to stick around for a long time.
This is a dog bed with premium features, and premium cost too. However, there are low chances of you regretting putting your money on this once your dog falls in love with you!
After all, it is an investment for their happiness. The big size also makes it one of the perfect dog beds for large breeds.
3. Majestic Pet Poly-Cotton Sherpa Bagel Dog Bed — Best Affordable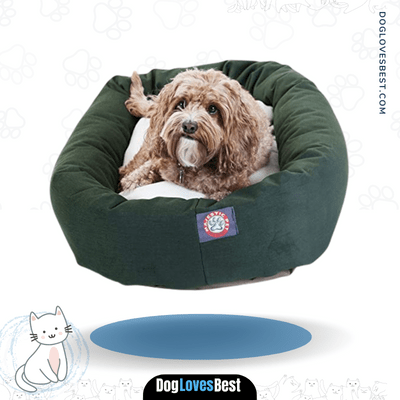 If you need a more affordable choice, the Majestic Pet Poly-Cotton Sherpa Bagel Dog Bed is a great alternative to our top pick.
This is one of the best cheap dog beds which is also waterproof that you will find on the market. Medium dogs are the best fit for this dog bed's capacity.
You get a waterproof cover made with 600 Denier material which is exceptionally good at not only tracking water down but also offering a comforting caress to your pooch. This made in USA dog bed is great for cuddlers.
Waterproof 600 Denier cover
Cuddle dog bed made with polyester and cotton blend
Completely machine washable and easy to clean
Made in the USA for high-quality built
Although this is a cuddler bed, you can surely expect a lot of space for your pooch to easily stretch out. This is the best aspect of this super-soft dog bed.
The presence of denier fabric in the waterproof lining effectively makes it resistant to moisture and water and keeps it from getting into the dog bed.
You will also be impressed with how easy it is to maintain this product due to the fabric it has been covered with. You definitely do not have to worry about the safety of the materials as it has been proudly made in the USA.
Unfortunately, this product does not come with a slip-on cover that you can toss into the washing machine and sit back. You will have to wash the entire thing.
Unless you are too particular about thoroughly washing your dog bed every week, then you will not be a big fan of this feature.
4. Brindle Waterproof Designer Memory Foam Pet Bed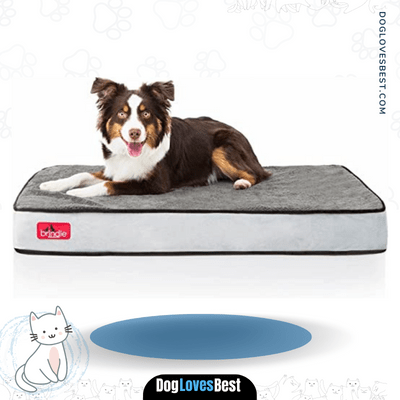 Memory Foam Pet Bed designed by Brindle is waterproof mattress heaven for your pooch. If your dog is a sprawler, he or she will have enough space to stretch themselves on and relax.
This waterproof dog bed contains 4 inches of foam out of which 2 inches is filled with memory foam and the other 2 inches with support foam.
This is a great piece for the overtly sensitive pooches who catch allergies faster than light due to its hypoallergenic top that resists dust mites.
Comes with 2 inches memory foam and 2 inches support foam
Distributes the pressure to accommodate the body
Resists dust mites and is naturally hypoallergenic
100% waterproof encasement beneath the cover
Comes with an anti-skid base
This bed is going to stand strong against all the tugging, pulling, and scratching your canine is going to bestow it with. While the product has excellent sturdiness and strength, it is also equally soft and cushioning.
The fusion of supportive and memory foam alleviates any joint or hip pressure that pooch might be feeling from running around the whole day, after surgery, or due to their aging life.
If your dog has a terrible habit of chewing on everything, especially their beds, then this is not a dog bed ideal for them. It is possible they will shred it on the same day you will get it home, in case you are dealing with an aggressive chewer.
However, there are some other options in this list that will work amazingly with your destructive darling.
Tip:
Dogs have tendencies to chew things especially when they are puppies if your dog has a notorious habit of chewing down anything and everything then get them the
best tough dog beds
that will not damage easily and last longer.
5. SportPet Designs Luxury Sofa Lounge Pet Bed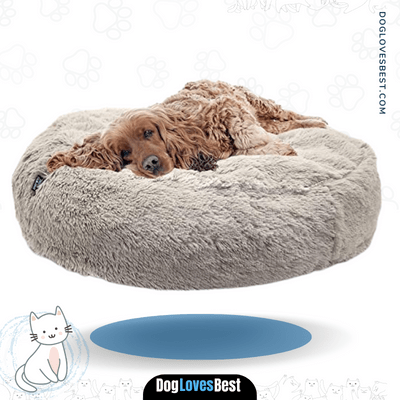 You will never have to worry about your pooch jumping onto your bed again as this sofa lounge is going to provide them with all the warmth and comfort they require.
SportPet Designs Luxury Sofa Lounge Pet Bed is malleable and shifts shapes according to your dog's body and pressure points. For dogs who are going to aching joints will find a lot of relaxation when they lay on this.
The dog bed has been filled with high-density shredded memory foam and waterproof lining for protection from accidental splashes.
Fully detachable and machine washable cover
Maximum supported provided by high density shredded foam
Available in two types of sizes with 23.6 & 36-inch diameter
Comes with a waterproof liner to protect against incontinence
This lounge bed is loved by many dog parents because of its aesthetically-pleasing look, and you too will be surprised by the way it gels with the decor of your house.
While the presentation of this waterproof dog bed works magic with so many of its buyers, other features as well confirm it is a great bed to have around.
The heavy-duty material, machine-washable cover confirms how simple and straightforward it is to wash off all the dirt and debris from this dog bed.
There are different types of sleepers, and if your pooch is a stretcher in their REM sleep then you are surely going to have half their body hanging out the next morning.
So, cuddlers are probably the best users for this product. Jump to the next product for our beloved sprawlers.
If you live at a place where a higher temperature is observed, then get a
dog cooling bed
that will help to maintain your canine's body temperature and protect from hot weather.
6. Laifug Orthopedic Memory Foam Large Sofa Pet Bed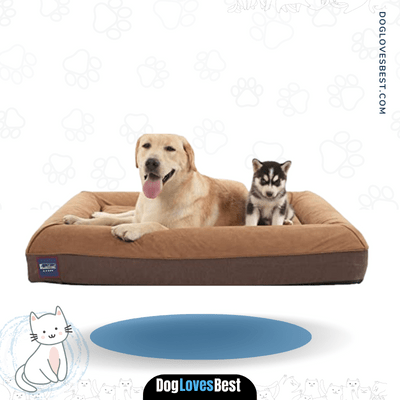 The Laifug Orthopedic Memory Foam Dog Bed comes with a four-bolster design that offers neck support to your pooch.
You can either utilize this product for a medium-sized dog or several small dogs who would love to embrace each other in the center with an elevated surrounding.
The Liafug foam used in this item is quite popular for retaining its shape for three days after daily use.
One-piece cut high-quality foam pillows have strong support
Reduce dog's arthritis pain and keep warm, especially older dogs
Central memory foam part can separate from the outside
Waterproof liner between the removable cover and memory foam
This is for you if your dog is going through his or her golden years and needs that extra support not just for their joints but also for their necks. It is also perfect to be used for large breeds who are gracefully aging into being lovable old dogs.
This water-resistant dog bed, along with the orthopedic foam and supportive foam also makes it the perfect dog bed for older dogs.
There are definitely some quality inconsistencies from the brand's side and they have been pointed out by some of the customers. However, it is still an overall great dog bed to shield against the bodily fluids of your pooch.
7. PetFusion BetterLounge Dog Bed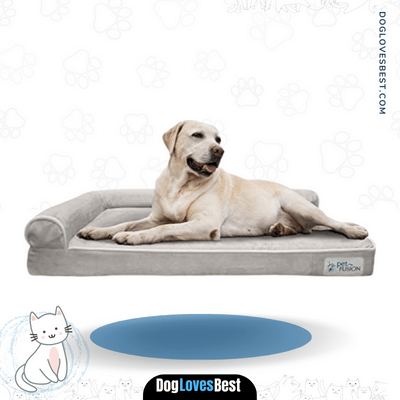 The water-resistant dog bed makes the absorption from any accidents very slow. You can easily wash off any liquids that have gathered on the dog bed.
The memory foam stuffing is protected with the removable layer that you can easily toss into the machine if it ever gets too dirty.
Ideal for large and medium-sized dog breeds
Removable cover is machine washable
Simple to spot clean & remove hair
The bottom material is anti-skid and prevents sliding or slipping
100% waterproof memory foam liner protects your investment
Two-sided bolsters make it comfortable for your pooch to sleep
PetFusion BetterLounge Dog Bed easily holds up to 80 pounds of dog weight without squishing or flattening down. Apart from the water-proofing qualities, there are other traits such as durability and softness that rank at considerable levels for this dog bed.
If sometimes you are do not have time to wash the bed then you can spot clean it. Any dog hair can be vacuumed and stains wiped off without washing the whole thing.
Although the materials used in this bed make it a great waterproof dog bed, it is still an easily destructible one. Our hunch is to not purchase this for a hardcore chewer.
If your pooch tends you nibble here and there then it won't be that big of a problem though. Moreover, with the XL bed of size 44 x 34 inches, it is spacious enough to be a perfect dog bed for labs and other large-sized canines.
Buyer's Guide: How to Choose the Perfect Waterproof Dog Bed for Your Canine?
We have mentioned below some of the important aspects you can keep an eye on while choosing the perfect waterproof dog bed for your canine.
This guideline will be able to help you pick the most suitable product from the curation we have provided:
You need to choose the perfect size of a waterproof dog bed, one that not only suffices to your canine but also does not block a lot of floor space.
You do not want any members of the family, or yourself, stumbling on your dog's bed and potentially creating a harmful environment.
Nor should you choose a tiny dog bed that is unable to even cover your pooch entirely. Always measure your dog (do it when they're asleep), before you pick the final size.
This is true for any dog bed you are going to choose. Make sure your dog's special requirements are met with any mattress you buy for them.
If your dog has orthopedic issues and needs a rather supportive environment, then you must go for best rated memory foam dog bed that can easily manipulate its shape according to the unique shape of your pooch.
Chewing issues are also fairly common with dogs who have incontinence, so you can opt for materials like Nylon or heavy-duty PVC that can stand their canine bites.
Advice:
An
outdoor dog bed
can be helpful for your pooch to stay cozy and comfortable while you are traveling outside along with him.
Dogs can sometimes start as a cuddler but end up with their head hanging out of the dog bed. Choose the bed that accommodates the changing or rigid sleeping patterns of your pooch.
For this, you are going to have to pay close attention to the patterns in which your canine dozes off. For dogs who like to embrace their bodies while sleeping, you can opt for cuddler beds.
While if your pooch is a stretch-and-sleep kind of a canine then you can opt for lengthy beds. Choose whichever works best.
Although you get what you paid for, it is important to be smart about it. You can still cut back on some costs by specifically looking for the kind of features your dog requires.
However, if you aren't too fussy about spending a little more than you had expected, then you can opt for rather premium featured products that you can put your trust in without worrying too much about it.
We made sure all the beds that made their cut into this list were durable enough to withstand the daily wear and tear. The durability of a pet product is one of the most important aspects according to us.
While a lasting nature can obviously mean that the product is going to be around for longer, it can also mean the materials used to build it are high-quality and safe for your pooch.
The product must do its job, and do it effectively. We did not depend on the brand to tell us their products were water-resistant but had our furry expert try it themselves to confirm this feature.
The material of a dog bed is largely conclusive of the water-repelling abilities it carries. We focused on materials that are easy to clean and can be maintained easily without it hogging too much of your time.
Your fluffy friend's dog bed is going to be the ultimate space for them to relax and lounge all day through and therefore it is required to support their bodies without causing any discomfort.
We made sure the beds we shortlisted were not only resistant to accidents and other bodily fluids but also braced your pup's body. Some of the stuffings we relied on for this are orthopedic and memory foam.
Breathable covers and materials can make sure that excess heat is not stored or deposited beneath the dog bed after constant contact with the floor.
We opted for many raised dog beds with mesh centers that maintain a good temperature equilibrium for your canine and do not cause any discomfort to them.
Why Do You Need a Waterproof Dog Bed?
You might need a waterproof dog bed for your canine if you have recently noticed them soil your or their bed involuntarily.
Waterproof pet beds have the primary function of not letting anything your releases on them which can save your energy from cleaning your pet's mattresses, again and again, to keep them fresh.
Incontinence can be an issue – especially if you have a female dog and she has been recently spayed, or a tired old dog who cannot fend after him or herself.
A waterproof dog bed generally has a water-resistant and stain-resistant cover or liner sewn-in that drive back liquids and keep the bed clean. Some of these beds are also available with an external waterproof cover.
They are also a great option for puppies who haven't been or are in the process of getting potty-trained.
These beds have a reputation of repelling vomit, blood, urine, and all other bodily fluids to ensure a safe sleeping and resting environment is maintained for your pooch.
FAQs
What is the difference between water-resistance and waterproof?
The basic difference between these two phenomenons is mainly that a water-proof bed generally comes with a fabric threaded over the bed to keep moisture from seeping in.

This fabric can be made of plastic or other materials that make a barrier between the bed and the dog. However, a water-resistant dog bed is covered with a layer of material that repels water and usually makes a lot of noise when moved.
How to maintain a waterproof dog bed?
Waterproof beds are probably some of the easiest mattresses to maintain. Many of these dog beds will come with a washable cover that can be washed in a machine easily.

Other easily washable beds have the capacity to be crunched entirely in the machine and are fully washable in the washing machine. You can also spot-clean these types of beds regularly instead of washing their covers often.


How much do waterproof dog beds cost?
These beds can cost you anywhere between a range of 40 USD to over 100 USD. The cost you will be paying depends on the size, material, type, and brand of the product you are buying.

For e.g. an average-sized dog bed for a medium-sized dog breed will land anywhere between a 50 to 70 USD price range. Choose wisely and safely for your pooch.


Which is the best waterproof dog bed?
Hands down, the best waterproof dog bed is the PLS Birdsong Fusion Orthopedic Memory Foam Dog Bed due to its distinctive yet simple features.

This bed does the job of multiple beds together by providing your pooch comfort, support, breathability, durability, and waterproofing all in one!

If the thoughts of getting the perfect dog bed for your pooch troubles you, all you have to do is get your hands on this and bid adieu to the worries.
Conclusion
If you are tired of your dog wetting your or their mattress due to medical or training reasons, then get them a good waterproof dog bed that is easier to spot clean and maintain.
When picking out the product there are several factors you will be supposed to take into account. If your pooch shows signs of a loss of bladder control suddenly then also make it a priority to go see a vet. Wishing health and happiness to your canine!
References:
PetMD Editorial. (2019b, January 9). The Guide to Washing a Dog Bed. PetMD. Retrieved August 5, 2022, from https://www.petmd.com/dog/care/evr_dg_guide-to-washing-dog-bed
Sleeping with Dogs | Cummings School of Veterinary Medicine. (2021, August 19). https://vet.tufts.edu/news-events/news/sleeping-dogs
Werner, B. T. (1997, September 1). Bed-form dynamics: Does the tail wag the dog? | Geology | GeoScienceWorld. https://pubs.geoscienceworld.org/gsa/geology/article-abstract/25/9/771/206695/Bed-form-dynamics-Does-the-tail-wag-the-dog?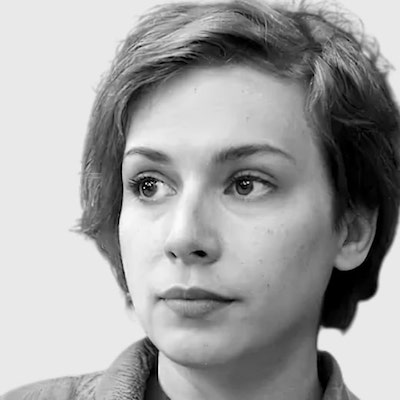 Clara Lou is Co-founder of DogLovesBest along with Mark. They both have one thing in common i.e. to share the best of the pet-related knowledge to the audience who happen to own a pet or are planning to own one.
Clara shares her expertise and knowledge related to all the pets by contributing to another website named Pet Loves Best. Yet being a dog-person she believes in having a dedicated place for the dog parents.