Should you choose Dr. Marty's ProPower Plus probiotic supplement for your dog, or a different blend from another manufacturer?
This Dr. Marty ProPower Plus Review has all the essential details discussed.
When it comes to feeding your dog, we always choose the highest quality dog food available.
However, what if your dog is not able to absorb the nutrition it needs from its food?
All your efforts would go down the drains.
Several months ago, I was worried and concerned for my 6-year-old Retriever, Cooper, after being asked about the same issue by my colleagues.
Some extensive research and curiosity led me to Dr. Marty ProPower Plus Dog Digestive Supplement.
The dog supplement has 14 health boosters and 2 billion CFU's (Colony Forming Units) of dog-friendly probiotics. It is meant to boost your dog's digestive system and maintain its overall health. I tried the ProPower Plus for 3 weeks and it has worked wonders for my pet Coop.
Read on to know what makes ProPower Plus a "miracle supplement" for your four-legged mate!
Dr. Marty ProPower Plus Review of 2022
Dr. Marty ProPower Plus claims to be a unique and groundbreaking formula containing 14 different digestive supplements to optimize and boost your dog's health. The supplement promises to improve your dog's quality of life and is suitable for all ages and breeds.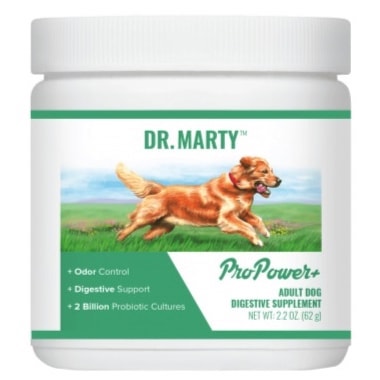 The unique blend is a mix of probiotics and enzymes including Protease, Lipase, Papain, Lactobacillus acidophilus, Bacillus coagulans, etc. These digestive enzymes are added to improve your dog's gut health and aid in better digestion.[1]
Read | Have you checked out Dr. Marty Nature's Blend Reviews (A high-quality freeze-dried Dog Food)
With a vast range and a unique mix of Probiotics and Enzymes along with superfoods like Mushroom Extracts and Kelp Powder, ProPower Plus improves your dog's digestion, guaranteed, and makes your pet feeling rejuvenated and full of life.
What's more, is that it has Champignon Mushroom Extract and Kelp Thallus Powder which are known to detoxify dogs and keep allergies and inflammations at bay. I am at much ease and so is my fido Cooper since I know he's getting all the benefits from his raw food with improved digestion and absorption of nutrients with ProPower Plus.
So, what benefits does Dr. Marty ProPower Plus offer?
Better digestion and smaller, firmer, manageable doggy poops
No bad breath and stronger, healthier teeth
Increased energy levels
Less anxiety
Better nutrient absorption providing visible results and longevity
Stronger immune system
The ProPower Plus digestive supplement by Dr. Marty knows 'exactly' what your dog needs for improved digestion and better absorption of nutrients from its food. With this unique blend of enzymes and probiotics, you either see visible results or get your money back!
Ingredients and Nutrition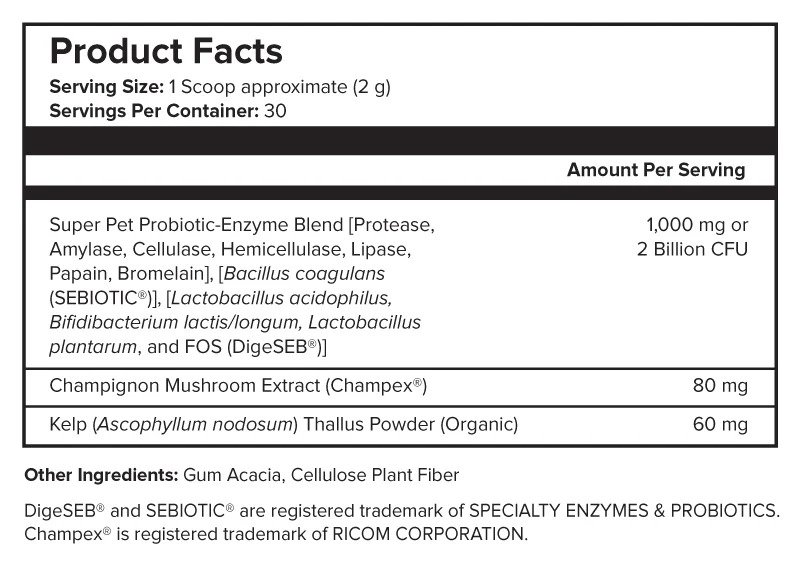 The dog digestive supplement has a unique probiotic and enzyme blend that's listed on the product label. They are:
Super Pet Probiotic-Enzyme Blend (1,000 mg or 2 billion CFU) – Protease, Amylase, Cellulase, Hemicellulase, Lipase, Papain, Bromelain, Bacillus coagulans (SEBIOTIC®), Lactobacillus acidophilus, Bifidobacterium lactis/longum, Lactobacillus Plantarum, and Fructooligosaccharides (DigebSEB®)
Champignon mushroom extract 80 mg
Kelp (Ascophyllum nodosum) thallus powder (Organic) 60 mg
Gum Acacia
Cellulose Plant Fiber
Ingredient Benefits
The enzymes are known to help break down complex food ingredients and ingest food into simpler forms for easier digestion and enhanced nutrient absorption.[2]
The probiotic blend works wonders especially when you feed your dog raw food as the microbiome helps in digesting the insoluble fiber and maintaining gut health. The Champignon Mushroom Extract is a unique ingredient that works in reducing oral and fecal odor and promotes freshness and good gut health.
Kelp comes across as Seaweed and has a dense amount of nutrients that improve immune function, prevent cancer, and enhance your dog's coat color. Gum acacia and Cellulose Fiber aid in maintaining a nutritional balance and support gut bacteria.
Nutritional Analysis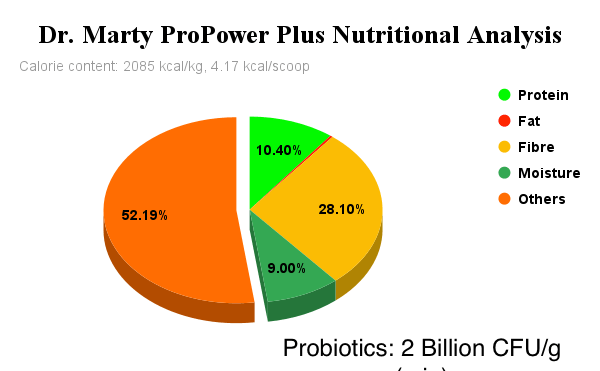 The nutritional analysis goes as:
Crude Protein: 10.4% (min)
Crude Fat: 0.31% (min)
Crude Fiber: 28.1% (max)
Moisture: 9% (max)
Probiotics: 2 Billion CFU/g (min)
Calorie content: 2085 kcal/kg, 4.17 kcal/scoop
Feeding Directions
The Dr. Marty ProPower Plus Blend has loads of vitality and health-boosting ingredients in easy to feed powder form.It works for dogs of all ages, sizes, and breeds.
Use about 1-2 scoops depending on your dog's weight and sprinkle on his favorite food or snack to see the supplement work wonders on your dog.
You can follow these feeding recommendations below suggested by Dr. Marty himself:
| | |
| --- | --- |
| Weight | Amount |
| 1-10 lbs | ½ scoop |
| 11-35 lbs | 1 scoop |
| 36-55 lbs | 1½ scoops |
| 56 lbs or more | 2 scoops |
What are Probiotics?
Probiotics are beneficial bacteria that live in the digestive tract of dogs and humans. They include Lactobacillus, Bifidobacterium, Streptococcus, and Enterococcus. In the case of dogs, most of the bacteria reside in their colon and share a symbiotic relationship with your canine's digestive system.
Probiotics are known to aid in digestion and modulate the immune system. They produce short-chain fatty acids that inhibit the growth of harmful infection-causing bacteria like E. coli, Salmonella, and Clostridium perfringens. They also provide other benefits like
Treat diarrhea
Reduced allergies and inflammation
Better absorption of nutrients
Easy breakdown of complex ingredients
Maintain a dog's gut environment
Probiotics can be generally given between meals or can be supplemented along with meals for visible health benefits.
So, Does My Dog Need Dr. Marty ProPower Plus?
The best thing about Dr. Marty ProPower Plus is the blend of enzymes and probiotics that are dog-friendly and best suited for any dog breed irrespective of size and age. The enzymes help in the easy breakdown of food whereas the probiotics enhance and aid digestion.
Improved digestive health leads to better absorption of nutrients thereby giving your dog visible health benefits like a shinier coat, better non-scratchy skin, improved energy levels and vitality and better, odorless, manageable stools.[3]
Answering the question above and with the range of benefits the probiotic and enzyme blend offers, it is definitely worth giving your dog the Dr. Marty ProPower Plus Digestive Supplement.
Money-Back Guarantee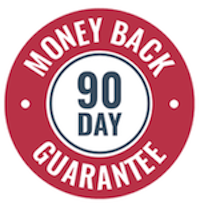 The digestive supplement offered by Dr. Marty stands by the fact that either your Dog is Healthier or you get your Money Back, Guaranteed! Meaning, Dr. Marty offers a 100% money-back guarantee if you do not see visible results in your pet within 90 days and it totally works.
Reach them through their website if you have any queries or concerns and they cater to your needs.
Dr. Marty's Range of Products
Dr. Marty's Products are a one-stop shop for all your dog's and cat's needs. The limited yet carefully curated list of pet products includes digestive supplements, dog and cat food, supplements for joint health, treats, etc.
These products include a unique blend of ingredients, selected and formulated by the Celebrity Veterinarian Dr. Martin Goldstein fondly known as Dr. Marty. His holistic yet scientific approach combined with ancient and modern-day medicinal knowledge has led him to create these tasty and nutritive blends for canines and felines.
The range of products, be it food, supplements, or treats cover all aspects of pet health and has been liked by many pet parents across the U.S.A.
FAQs
1. Is it necessary to provide supplements with my dog's food?
Your dog may not receive the best nutrition from the food you provide. Therefore, it is necessary to provide digestive supplements like Dr. Marty ProPower Plus that make it easier for your dog to absorb the nutrients from its food.
They usually contain a blend of probiotics and enzymes that enhance digestion and improve your dog's gut health.
2. Is Dr. Marty ProPower Plus good for dogs?
Yes, Dr. Marty ProPower Plus is absolutely good and quite recommended for dogs of all sizes, ages, and breeds. It has a unique blend of 14 health-boosting supplements along with Kelp Thallus Powder and Champignon Mushrooms that make it an all-around digestive supplement and must-have for dogs.
3. Is Dr. Marty ProPower Plus available on Amazon?
No, Dr. Marty ProPower Plus is not available on Amazon.
4. Where to buy Dr. Marty's ProPower Plus?
Dr. Marty ProPower Plus is available on the product's official website.
5. Who is Dr. Marty?
Dr. Martin Goldstein, fondly known as Dr. Marty is an American celebrity veterinarian and the author of the famous book The Nature of Animal Healing. For over 4 decades, Dr. Marty has combined his extensive knowledge of Western Medicine and Nutritional Therapy to formulate pet food products for improved health and longevity.
Final Note
With my thorough research on the digestive supplement and after seeing visible benefits on my Retriever, Cooper, I would definitely recommend Dr. Marty ProPower Plus Adult Dog Digestive Supplement for all dog owners to enhance their pet's nutrition and health. Although, if it does not give you suitable results, you can always get 100% Money Back, Guaranteed.
On a final note, with all the surplus benefits that the ProPower plus has to offer, why not add it to your dog's list of food ingredients and let him get the best of his meals?
References:
Hamlin, J. (2011). The use of probiotics as dietary supplements in dogs.
Villaverde, C., Manzanilla, E. G., Molina, J., & Larsen, J. A. (2017). Effect of enzyme supplements on macronutrient digestibility by healthy adult dogs. Journal of nutritional science, 6.
Wernimont SM, Radosevich J, Jackson MI, Ephraim E, Badri DV, MacLeay JM, Jewell DE, Suchodolski JS. The Effects of Nutrition on the Gastrointestinal Microbiome of Cats and Dogs: Impact on Health and Disease. Front Microbiol. 2020 Jun 25;11:1266. doi: 10.3389/fmicb.2020.01266. PMID: 32670224; PMCID: PMC7329990.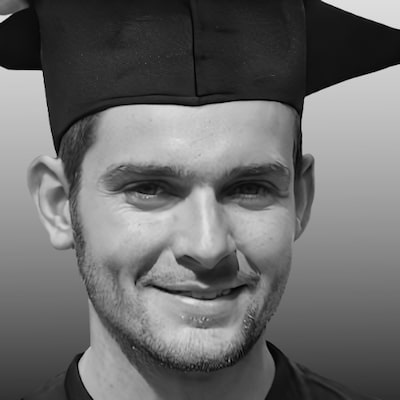 Peter Thielen has studied veterinary medicine and is a veterinary advisor at DogLovesBest. All the articles on this website that has to do something with the dog's health go under his scrutiny before getting published. He also writes some of the featured articles on dog foods, treats, or other products, along with tips and tricks for canines for healthy living.