Do think about getting the best dog ramp for large breeds as it is not a luxury, but a necessity especially for large size breed dogs. Repetitive jumping can lead to muscle strain and ligament injuries.
If you have ever tried to lift up a big-sized dog in order to get him into a vehicle, then you would be aware of how awkward it is. Moreover, not every pet owner is capable of lifting up their healthy heavy pooch.
So considering your pet's comfort & healthy life and your convenience, it is important that you get your large breed canine a dog ramp.
A Quick Comparison of Our Favorites in 2023
The 7 Best Dog Ramp for Large Dogs
1. Pet Gear Free-Standing Ramp for Large Dog — Best Overall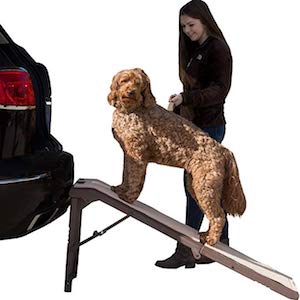 Our first choice is the Pet Gear Free-Standing Ramp for Large Dog.
The Pet Gear Dog Ramp is the best free-standing dog ramp that is ideal for large dogs at various places whether it is a vehicle, bed, or end table. The easy-fold design provides easy storage while the ramp is not in use.
Moreover, it is made from durable material that makes it suitable for pets up to 300 pounds and the lightweight design also increases its portability.
It's great for cars, SUVs, and trucks as well, but apart from this, it has great versatility as you can even use it as a bed ramp, sofa ramp, or on any other furniture.
The free-standing structure provides stability and the slip-resistant surface prevents your pet from slipping.
Key features
Pressure activated grip
14.55 pounds weights make it travel-friendly
Used For up to 300 lbs dog
After we tested out this product we found that it is highly durable and robust enough that make it long-lasting. It provides high stability and is the most secure free-stand ramp for large dogs.
Moreover, the Pet Gear Free-Standing Ramp is also among the list of The Best Dog Ramps For SUVs and The Best Dog Ramps of this year.
To conclude, we think this is the overall best dog ramp for large dogs.
Pros
Pressure activated grip provides proper grip
Easy-fold structure that is easy to store
Sturdy and durable
Cons
Wooden material makes it heavy than other options
Not suitable to be used in rains due to wooden material
2. PetSafe CozyUp Bed Ramp — Premium Choice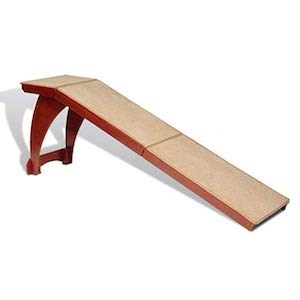 PetSafe CozyUp Bed Ramp takes our premium product placement for the best Dog Ramp for Large Dogs.
This dog ramp is the perfect solution for animals that are too anxious to use pet stairs or pets with physical limitations that make bed sidesteps difficult to use.
The height makes it easy to reach larger beds. The thick carpet provides the perfect amount of traction so while going up or down the slope, your dog will have a comfortable footing.
The PetSafe CozyUp Bed Ramp easily assembles in about 15 Min. Tough, strong wooden construction supports pets who weigh up to 120 pounds.
Cherry, wood finish adds a decorative element to any home. This is the perfect ramp for dogs to get on the bed because of the buildup quality and price.
Key features
Cherry, wood finish adds a decorative element
Used For up to 120-lbs dog
Heavy-duty carpet cover keeps your pet from sliding while using the ramp. Use the ramp to help your best friend to get up on the bed all by themselves to improve quality time together.
Pros
Highly durable
Slope angle is ideal for aged dogs
Wooden material and anti-slip carpet
Cons
Only used for indoor
Can not be folded
3. TOBBI 62" Bi-fold Portable Dog Ramp for Large Dogs — Best Value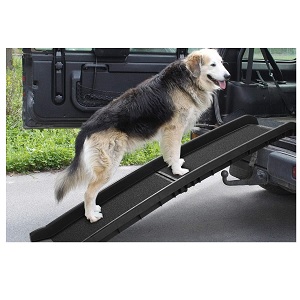 The best thing about TOBBI 62" Bi-fold Portable Ramp is its rubber grippers which keep the ramp secure and provide ultra-safety on slippery areas for your pets For easy transport and storage, the ramp can fold in half.
It's easy to pick and ship with 10 lbs of ultra-lightweight. It can hold up to 200 lbs of weight and provides safe walking ground.
This model looks a little heavier than some other designs on the best pet ramps for your car on this list. A high traction walking surface provides a textured surface to help prevent slips. It is easy to fold and transport and can be used in many ways.
Key features
12.8 pounds makes it easy to carry
Used For up to 200-lbs dog
It has a curve at the end which helps keep it in place. But many users with big dogs, state that they need to hold the end of the ramp while the dog walks up. Regardless of that, this ramp is very safe to use and most pocket-friendly.
Pros
Ideal for big cars like SUV
Curved at the edges
Anti-slip grip
Cons
Only suitable for Big cars
Not versatile enough
4. Pet Gear Tri-Fold Ramp For SUV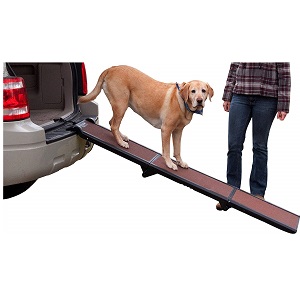 If you're looking for the best dog ramps for SUVs & Cars, this Pet Gear pet ramp will be perfect for you. Due to rubber grippers, the triple-fold pet ramp is sturdy.
It's compact and lightweight. Suitable for up to 200 pounds of small, medium, or X-large dogs. Folds quickly and easily and for easy travel only weighs 15 pounds.
For safe positioning, the ramp features rubberized bottom grippers and raised edges to help prevent sliding off the foot.
The manufacturer also included a safety tether that provides traction to protect the textured footing. The design of the Tri-Fold reduces storage space and has a handle for easy transport.
Key features
Slip-resistant surface
it is not flimsy as it weighs 17.6 pounds
Used For up to 200-lbs dog
Many happy users also say it's very durable, but many users faced difficulty with very active dogs, in putting ramp steady as they tend to move very fast.
Pros
Slip-resistant surface provides sure footing
Easy fold for compact storage
Built-in molded handle for portability
Cons
The surface is very rough
Expensive compared to other options
Only used in cars
5. Gen7Pets Natural Step Ramp for Pets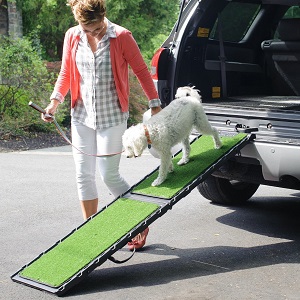 For pets, the Gen7Pets Natural Step Ramp understands that some dogs don't like trying new things.
This ramp has been fitted with a faux grass cover, which helps pets feel like they're walking on the grass surface. The grass is very healthy and easy to clean.
Also, the Gen7Pets Natural Step Ramp for Pets is a compact option that is easy to store between uses. It won't scratch or scuff the interior of your vehicle.
Key features
Offers one of the widest walking paths for a 72″ long ramp
17 pounds Ramp is lightweight
Used For up to 200 lbs Dogs
By using poly grass for a good grip and softer material, this product breaks mould. The idea here is that it looks like a nice and natural thing dogs will feel comfortable using and will not be afraid to try the ramp.
Pros
Ploy grass patter
Lightweight
Easy to carry due build in handle
Cons
Less durable compared to others
Not ideal for SUV
6. Heininger 3052 Portable PET Twistep Dog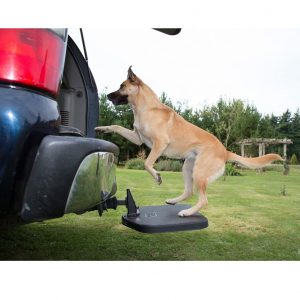 Solvit's innovative HitchSTEP is the perfect solution for pet parents who want an alternative to ramps to help access the vehicle's back to their heavy pups.
Twistep is the best way for your fur baby to step up into your vehicle. A simple, multi-use step that makes it easy for your dog to get in and out of your SUV.
It attaches to your vehicle's hitch receiver and stores under the bumper so you can fold it in when it is not used.
Key features
Allows for 6 inches of height adjustment
Used For up to 200 lbs Dogs
This ramp was designed for single-hand use, so you can have a leash in your hand, while you easily position the step into place. Twistep easily swivels out from under the vehicle in a few seconds just when you need it.
Pros
Consume no space
One hand use
Ideal for any size car
Cons
Fits permanently
Difficult to assemble
7. Pet Gear Tri-Fold Ramp 71 Inch Long Extra Wide Ramp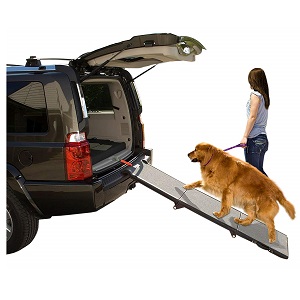 The soft climbing angle makes the PetSafe Wood Sofa Ramp the ideal option for animals who are unable to use stairs. Heavy-duty ribbed carpet offers a fluffy but secure-footed walking layer.
When required, the Pet gear Ramp easily assembles in minutes. A stainless steel polish and carpet cleaner can be used to wash the ramp.
The ramp is an appealing and convenient way to reach even the highest sofas or in the car for dogs. The gentle angle of climbing and the generously sized width ensure stability for dogs. Ideal for indoor use, it can be used as a sofa ramp or bed ramp.
Key features
Stainless steel construction
With carpet cover
Used For up to 100 lbs Dogs
The product's only downside is that it isn't as robust as others. It can't be used outside, as many options mentioned above can.
Although the users discussed many advantages of using this in their reviews and shared several instances where this product has helped them.
Pros
Easy assembly
Alternative of steps
Cons
Less durable compared to others
Buying a dog ramp for a large dog can be quite tricky as dog ramps come with several features that you will need to remember before you invest your hard-earned money.
For those who don't know anything about Dog ramp should consider many of the factors given below to find the right fit.
Buyer's Guide: How to Choose the Perfect Dog Ramp for Large Dog?
A dog ramp should be sufficiently stable to allow your dog to go up and down the ramp without any problems. Here is what to consider when selecting the best dog ramp for a large dog:
Structure and stability
One of the first things to look for is how durable it is for your size dog when it comes to a dog ramp. The material used to build the ramp should be strong and robust and be able to withstand daily use.
Ramps also come with various surface materials such as carpeted ramps, reusable and washable, and great for long-nailed dogs.
It means that they have an extra surface grip and the soft thread on the carpet fabric always feels comfortable on their paws providing extra protection to your dog.
Size and ability
While many ramps can support up to 200 pounds of dogs covering a wide range of breeds, ramps have different lengths and widths.
Your golden retriever of 75 pounds may need a wider walking path and maybe your furry friend who is about 14 years old and might be able to use a slope that comes with a longer ramp.
Walking tread
The tread used for the walking surface is another important feature to consider when buying a Ramp. If the paws of your dog can't grab the ground to walk up and down the ramp, it's not enough that the ramp is solid and the right size.
Where it is going to be used
Most of the ramps that we reviewed are perfect for just about any spot, but you still have to consider where the ramp will be positioned.
For outdoors, some ramps are better, while others are built for indoor use only. For the Large dog ramps, be sure you have sufficient space.
Portability and storage
Do consider how much it takes for the dog ramp to set up, take down, transport, and store. Most dog ramps are either telescopic, the two ends move together to create a shorter ramp–or fold in order to store more compactly.
Dog ramps weigh 7 to 20 pounds everywhere, so you might want to note how easy or difficult it is to lift or load into your vehicle.
Training
Same as any other Dog equipment many dogs, hesitate to use a ramp. Whether they're having trouble getting up or down the stairs, give a little practice and your pet will know in no time.
To guide your dog up and down the bridge, use constructive reward-based training.
What is Dog Ramp?
For your best canine companion, a dog ramp is a piece of therapeutic equipment. You can use the ramp to help your pet get in and out of your car, or maybe to help them get on and off a bed.
Like human beings, animals also feel the signs and symptoms of aging that can make it painful and difficult to jump. Dog ramps are lightweight pieces of furniture that help dogs safely move around and are ideal for indoor and outdoor uses.
Based on your dog's unique needs there are many styles of stairs. They can be store-bought or custom made.
The most popular models are Bi-Fold Ramps that fold in half, Trifold Ramps that you can fold twice, and Free-Standing Ramps, which do not need to be connected to a vehicle.
These are excellent choices for big dogs as they can support the extra weight without bending or wobbling too much.
Why Should You Buy Dog ramp for Large Dogs?
If you've got a large dog, a dog ramp can be a great investment tool. The pain caused by aged joints or arthritis will seriously restrict the ability of your dog to jump in and out of a car, big trucks, and SUVs.
You can consider the same factors to buy the best boat ramps for dogs if you are planning to get one.
The ramps can also be used to help pets on and off the bed or couch, using a ramp for vehicles and other heights.
Ramps will reduce the pressure on the joints of your dog, making them ideal to avoid breed-related problems as well as protecting older dogs who are more at risk of injury. Here are just a few of a dog ramp's advantages.
Easy for dogs
Normally, smaller dogs may have problems getting in and out of larger vehicles whereas larger dogs may just be reluctant.
A pet ramp will make life easier for all types of dogs, including puppies who may struggle with these heights or are afraid to make the jump as well as older dogs who may lose their confidence in making big steps.
Easier for you
Too much dog lifting can be dangerous to both you and the dog, particularly if it is a larger breed. For a fact, if your dog is injured and needs to be taken to the vet, you will notice the difference while using the ramp.
Instead of struggling to lift a poor dog, Use a pet ramp to help them into the car, you can make life much easier.
Help to reduce joint pain
A ramp's biggest advantage is when a dog deals with joint problems that can be both troublesome for the dog and costly for owners. This is vital for all dogs, but particularly those suffering as many breeds do from heredity joint problems.
Versatility
More than just vehicles, a pet ramp can be used in many ways. With the lightweight, compact ramp that you can use to support your dog almost anywhere. Whether it's four steps to get to a bed or even to the pool when you're out and or around the house.
Longevity
Ramps are useful from puppies to older dogs. By using the ramp early in your dog's life, help prevent accidents and joint problems and can be used for years and years of the dog world.
Note:
Let your pup enjoy the
best dog pool floats
this summer. It will keep them cool on a hot summer's day.
FAQs
How do you train a dog to use a ramp?
Practice during initial training by placing the ramp on a stable, flat area where it will not slide, like in the grass or on the carpet.

As you lure him across the flat ramp, teach your dog to follow a treat. Initially ask him to put a paw on the ramp Then allow him to place two paws on the ramp.
What angle should a dog ramp be?
Ramp width should be about 11-12 inches for small dogs and 22-24 inches for medium-sized breeds. The ramp's elevation will require an incline angle of approximately 18 to 25 degrees.

Small size dog requires 18-20 degrees and 22-25 degrees of a medium-sized dog.
What is the best large dog ramp for SUV?
Pet Gear Tri-Fold Ramp is ideal for SUV as Tri-Fold's model eliminates storage space and has an easy-to-carry handle.

Ramp uses rubberized bottom grippers and edges raised to help prevent slipping off the foot for comfortable positioning. A safety tether was also included by the manufacturer that provides traction to protect the textured base.
How much does a dog ramp for the large dog cost?
The price of a dog ramp for large dogs depends on many things such as the number of folds, weight, the width of the ramp and how long it is.

The main feature is durability and use. Also, large dog ramp is mostly used roughly and should stand weight without wobbling. An average dog ramp can cost from $50-$150.
Which is the best dog ramp for large dogs?
Petsafe Dog ramp is the best dog ramp for dogs large dogs. As the product's height and width stand out from the rest. The product's inclination angle is suitable even for senior dogs.

Natural wood construction makes it extra durable and the anti slipcover on the top provides grip to your dog.
Note: You can protect your dog's paws with
dog water shoes
from hot sand, shells, rocks, and any other harsh surfaces.
Conclusion
Upon testing all this stuff, The team of DogLovesBest picked the Pet Gear Dog ramp as our First choice because this freestanding dog is suitable for dogs of very large and medium scale.
The ramp is easy to bi-fold for portable storage and very suitable for pets up to 300-Pounds. The ramp is durable and made of non-slip material so your dog will is safe on that.
We did try to add the best varieties and all options which are available in the market which will be beneficial for you.
References:
Giving Your Dog a Thorough Home Check-up | VCA Animal Hospital. (n.d.). Vca. Retrieved August 4, 2022, from https://vcahospitals.com/know-your-pet/giving-your-dog-a-thorough-home-check-up
PetMD Editorial. (2018, May 18). Do You Need a Dog Ramp? PetMD. Retrieved August 4, 2022, from https://www.petmd.com/dog/care/do-you-need-dog-ramp
Kopec, N. L. (2018, January 1). Kinematic analysis of the thoracic limb of healthy dogs during descending stair and ramp exercises. AVMA. https://avmajournals.avma.org/view/journals/ajvr/79/1/ajvr.79.1.33.xml
Exercises in canine physical rehabilitation: range of motion of the forelimb during stair and ramp ascent. (2013, July 13). https://onlinelibrary.wiley.com/doi/10.1111/jsap.12111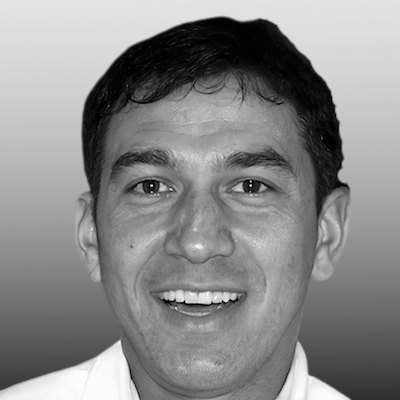 Martha Taylor is chief editor at DogLovesBest. He has been writing for over 5 years; writing articles, product write-ups, blogs, and more for pet-related websites. Although he has experience with many kinds of pets, large and small, dogs are his true love, and he particularly enjoys writing about canine care and behavior.
Before joining DogLovesBest, Martha used to work for other pet publications. But, he started his career as a store in-charge for a pet store. Due to this, he has a wide knowledge in pet related products.