You must get the best dog pool ramp if your pup loves water. As much as we love spending time with our pooch, our pets equally love spending time with us. Be it taking them for a swim or watching television.
But what if your dog cannot jump or enter the pool by itself? What if it tries to escape the water and cannot reach the surface?
That's when Dog Pool Ramps are a savior. A pool ramp is a platform adjusted at a particular angle in our swimming pools. These platforms provide ease in climbing and help our pooch get in and out of the pool safely.
Our four-legged friends can now tread into the pool without owners having to worry about carrying them. Pool ramps are also very helpful for adult and arthritic dogs.
We help you choose the Best Dog Pool Ramps for your pet to have a gala swim-time with you.
A Quick Comparison of Our Favorites in 2023
The 5 Best Dog Pool Ramps – Reviews
1. PetSTEP Original Folding Dog Pool Ramp — Best Overall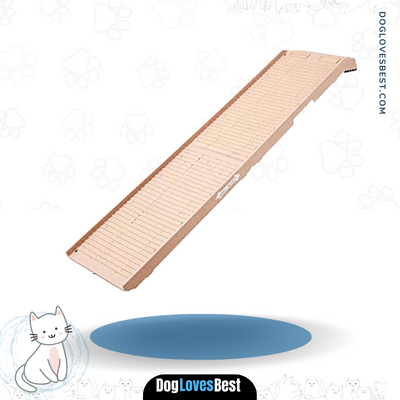 Made of a unique, soft, non-slip, rubberized walking surface, this pool ramp for dogs by Pet Step offers the convenience every dog owner is looking out for.
Pet Step Folding Pet Pool Ramp provides good traction in any weather condition, be it wet or dry. You can use it in swimming pools, vehicles, beds or any heightened surface.
This dog pool ramp requires no hardware for assembly and is available in two color variants. It can capacitate small to large-sized dogs and is very easy to clean.
The platform is very durable and does not corrode easily. Made of composite plastic, the convenience and features it offers are sure to offer your pet a comfortable experience to reach the pool.
There are handles on either side of the dog pool ramp for your dog's balance. The surface of the ramp has ridges, meaning your dog will not slip off and it will give them a tight grip.
To conclude, we think this is the overall best dog pool ramp.
Features:
Material: Made of light-weight and durable composite plastic
Capacity: Up to 200 lbs
Color: Khaki/Beige
Provides superior traction
Handles on both sides
Pros:
Easy to clean and assemble, no tools required
Can hold heavy pets
Anti-slip rubber surface provides good traction
Handles provide safety
Cons:
2. Skamper Dog Ramp for Swimming Pool — Best Value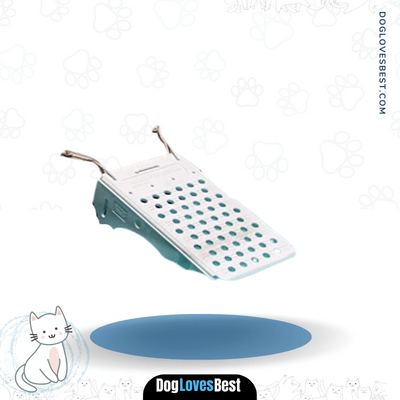 This Skamper Pool Ramp can prevent your pet from drowning. Your pet can just swim to the surface and climb on the ramp.
The pool ramp for dogs requires a basic level of assembly, consisting of the ramp itself, nylon rope, nuts, bolts, and wing strips. It also comes with a manual for assembly.
This dog pool ramp is best for in-ground pools and not for temporary swimming pools.
The best feature is that you can also tie your pet to the ramp with a leash so it stays secure in big sized pools. It is available in two size variants and can save your pooch from drowning and climbing up easily.
The ramp inclination angle is adjustable as per your pet's comfort. Once used, the ramp flips out of the water. Made of UV-resistant material, Skamper Ramp provides your pet with a safe and easy exit from the pool.
Features:
Size: Large
Material: UV-resistant, recyclable, box-corrugated, polypropylene
Capacity: Up to 25 lbs
Color: White (powder-coated)
Perforated surface
Not recommended for soft vinyl & non-permanent structures
Pros:
Easily folds at an angle suitable for your pet to climb
Easy to use
Cons:
Poor quality
Not suitable for large-sized dogs
3. Great Day Pet Pool Ramp — Premium Choice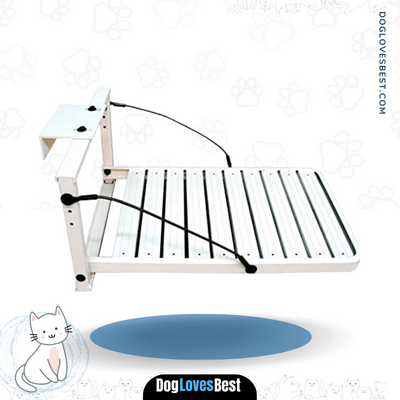 This compact and cute looking pet pool ramp by Great Day can be placed along a small poolside or a boat. You can hook the ramp to your poolside ladder.
The dog pool ramp does not require any manual support. Your pup can climb in and out of the pool at ease, at its own convenience.
The Load-a-Pup pool ramp is made of lightweight, aircraft aluminum. The pool ramp for dogs also has ridges on its surface to prevent your pup from slipping and provides a good solid grip. Even if he is wet, there are no chances of it slipping or falling.
This dog pool ramp can fit in any small to medium-sized pool ladder. The size works best for small to medium-sized dogs. The powder coat color finish suits any poolside. The entire package comes with security straps, installs easily and is portable and foldable.
Features:
Size: Small
Material: Durable and Lightweight Aircraft Aluminium
Capacity: Not Mentioned
Fits onto any board ladder
Can easily fit on any pool ladder
Powder-coated white color
Pros:
Compact, portable, and foldable
Ridges on the surface to prevent slipping
Easy to assemble across poolside
Cons:
Cannot accommodate small to medium-sized dogs
The pool ramp is not very sturdy
Advice: The
best dog pools
are a great way to keep your dog cool and entertained during the hot summer.
4. PetSafe Happy Ride Folding Dog Ramp — Best Affordable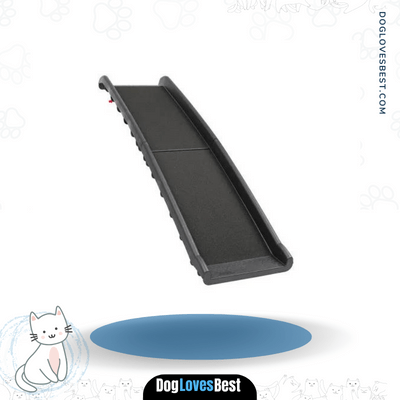 This portable and easy to place PetSafe Happy Ride Folding dog ramp can be used for poolsides, cars, beds, etc. The dog pool ramp has a narrow platform, hence cannot accommodate large-sized dogs.
It can support pets weighing up to 150 pounds. There are side-rails for support, and the superior traction prevents your dog from slipping while walking on the ramp.
The inclination angle of the water ramp is adjustable as per your dog's comfort. There are four rubber feet stands at the base for easy support.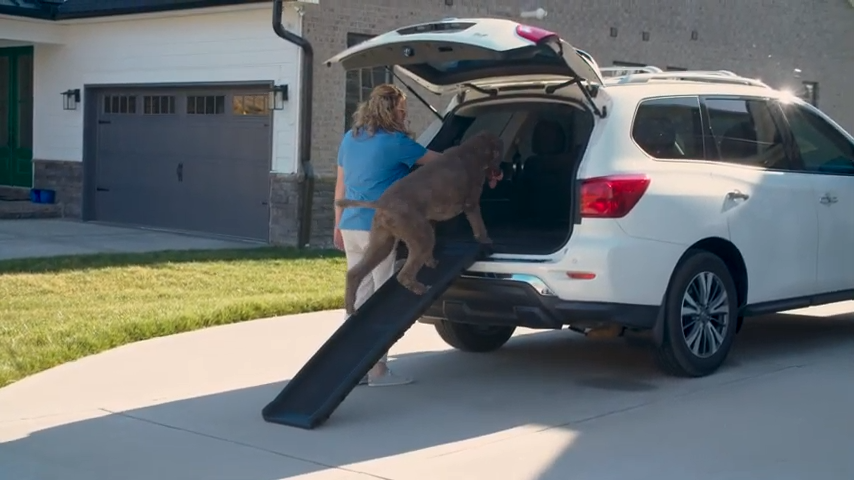 The dog ramp is easy to clean using a mild detergent. The material is of rugged plastic giving it a matte look and non-slippery finish.
PetSafe Happy Ride Folding Dog Ramp is considered one of the lightest, full-sized and economical ramps in the market.
Moreover, the pool ramp for dogs has multiple uses as a pet platform. Your pet can comfortably climb in and out of the pool. The platform protects your pet from joint or knee injuries. You can fold it in half for easy storage.
Features:
Size: Full Sized -Large
Material: Rugged Plastic Finish, anti-slip, and lightweight
Capacity: Up to 150lbs
High traction
Portable and foldable
Multipurpose use
Pros:
It is easy to carry and fold, convenient to use.
Provides a good non-slippery surface
Lightweight but has a good capacity
Cons:
The rubber base at the bottom is not very stable
The width is narrow to accommodate large, wide dogs
5. KHTS6310 Dog Pool Exit Ramp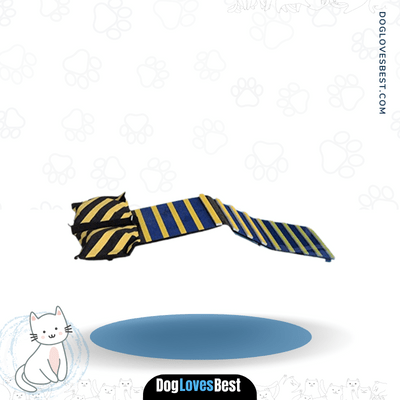 This attractive-looking KHTS6310 Dog Pool Exit Ramp is sure to be loved by you and your dog. The striped design gives your pool an aesthetic touch.
It is light but strong and sturdy, meaning it can hold heavy dogs pretty easily. It has ridges on its surface and is non-slippery, providing high traction.
The color of the pool ramp is strategically decided for ease of vision by the poolside and underwater. The base legs are so gripping, they fit perfect by the poolside. The legs have rubber-tipped struts for stability and to carry the load.
The dog pool ramp for water is flexible and the ramp angle can be adjusted according to your pool ridges. There are weight bags to provide additional support.
The weight bags are waterproof. You can fill sand inside them to add weight. There are instructions provided for assembly. One simply has to fill sand in the weight bags and snap the support struts open.
The dog pool ramp claims to support small to medium-sized pets. All in all, it serves good as a pool ramp with its attractive features and ergonomic design. It can prevent your pet from drowning or help them escape the pool in your absence.
Features:
Size: Medium
Material: Waterproof, PVC framework with Plastic sheets
Capacity: Up to 65 lbs
Color: Blue with Bright Yellow Stripes
Lightweight and portable
Waterproof weight bags provided
Pros:
Foldable and a portable platform provides the convenience of carrying anywhere
Flexible angle can adjust across poolside easily
Eye-catching color for dogs to spot easily underwater
Waterproof and non-slippery surface
Cons:
Not suited for heavy dogs
Note: Let your pup enjoy the
best dog pool float
this summer. It will keep them cool on a hot summer's day.
Buyer's Guide: How to choose the Best Dog Pool Ramp?
There are several factors worth considering while choosing a dog ramp. Speaking specifically of dog pool ramps, we help you enlist the features to consider for your pet to have a hassle-free swimming experience.
What would happen if your dog is large and the pool ramp is small or vice versa? It is always important to measure your dog's dimensions before getting the right-sized ramp.
There are large platforms available, but they may not fit in a pool. Large dogs don't prefer ramps. They are more comfortable with stairs, as water ramps may be too narrow for them.
Always check the dimensions of the ramp and compare them with your dog's dimensions before choosing a pool ramp for your pooch.
It is certain that when your fur-friend is out of a swim, it will be soaked, drenching in water. Due to this, there are chances that your pet might slip off the ramp. Therefore, poolside ramps are made of anti-slip material.
The grip on the platform is such, it will prevent your pet from falling. The surface may also have ridges or be made of textured material so your pet can get an easy grip while treading up the ramp without slipping.
A dog pool ramp should not allow water to stick onto its surface. As it is, your dog would soak and drench in the water while it is out of the pool. It is better if the water immediately drips of the ramp and does not stay for long.
These platforms usually have waterproof paints coated on them so the water can immediately drip off and not stay on the ramp surface.
Although these paint-coated ones may not last long, they serve the purpose of not allowing the water to stay making it non-slippery.
Note: You can protect your dog's paws with
best dog water shoes
from hot sand, shells, rocks, and any other harsh surfaces.
Some dog pool ramps are easy to install, while others may have a step-by-step assembly. Usually, portable and multipurpose types are compact and can be used in any pool.
Permanent pool ramps that fix at one place near the pool require effort to install. This may also depend on the pool. Portable and compact ramps are best suited for above-ground pools.
In-ground pools may require a proper, permanently installed water ramp for your pet.
Foldable platforms are easy to store and carry anywhere. They do not occupy space around your pool and can be used only when your dog wants to take a swim. It makes it easy to fit it in your car or vehicle.
If you and your dog are planning on a vacation with some water adventures included, you can easily carry the dog pool ramp. Your dog may not have to think twice before jumping into any pool with you.
What is a Dog Ramp?
A dog ramp is an inclined surface or platform that facilitates easy climbing for your pet. If your dog cannot reach a particular surface at height, or if your dog finds it difficult to jump being too small or too old, then having a dog ramp is an ideal investment.
Dog ramps help your dog reach places that they usually can't access. These ramps are anti-slip and provide a good grip for your pet.
Dog ramps are used for cars, beds, pools, etc. These are available in varied sizes to suit your pet. Dog ramps are a good climbing surface for arthritic dogs too, as it does not give much pressure on their joints.
It also balances your dog's body weight while giving them a smooth and easy climbing experience.
Why Should You Buy a Dog Pool Ramp?
If you and your dog enjoy going for a swim, it is unlikely that your dog would jump into the pool as easily as you would. For you to enjoy your swim time with your pet and help your dog enter the water easily, a dog water ramp can be helpful.
Dogs enjoy swimming, but entering the pool should not serve as a bad experience for them. Pool ramps for dogs are a great help for arthritic dogs who have joint pain or small pups who can get dangerously jumpy.
Swimming is a great exercise and pool ramps encourage and make it easy for them to enter the pool with you.
If your dog has accidentally fallen into the pool, dog water ramps are a great lifesaver. Your dog can swim up to the surface and easily climb up the platform, saving itself from drowning.
Your dog will not have to bear the efforts of jumping out of the water. It would be easy for them to escape and rescue themselves.
Such platforms also reduce human efforts to help pets enter and exit the pool every time. Especially with large dogs, they may jump into the water by themselves, but getting them out of the water can be a task.
Dog pool ramps are a great way to help your dog move in and out independently while you enjoy your swim time.
The most important reason for getting a dog pool ramp is safety. Your dog should not end up injuring itself or have a slip while accessing the water or swimming pool.
It is not always necessary to have a dog pool ramp if your dog is used to jumping in and out of the water but having a dog ramp for safety causes no harm to help your dog become independent and reduce your efforts.
FAQ's About Best Dog Pool Ramps
1. How do you train a dog to use a pool ramp?
Start by placing the ramp on a flat surface. You can gradually increase the inclination angle once your dog is accustomed to using the ramp. Initially, you may have to monitor your pet while it learns to climb the platform.

Be careful not to have anything slippery on the surface of the ramp. You can lure your dogs into playing or give them a treat if they climb the ramp properly. It requires a few weeks of practice.
2. What angle should a dog pool ramp be in?
The optimum angle for any dog ramp is between 10-30 degrees. An angle of 40-45 degrees is also fine but anything above 50 degrees can be dangerous.

While considering getting a ramp for your pet, the inclination should be such that your dog finds it comfortable to climb without slipping. It may not just cause your dog to slip but can also strain their joints while climbing.
3. Are dog stairs better than dog pool ramps?
Ramps are better than stairs, especially for old dogs and small pups. Adult pets may develop joint problems and find it difficult to climb or bend their knees.

It is also good for pups who may end up tripping from the stairs and not be able to balance themselves. Placing a ramp at a low inclination and allowing your dog to practice climbing for a few days can be helpful.

Dogs who know how to climb stairs can always prefer using dog stairs over ramps.

4. How much does a dog pool ramp cost?
A dog pool ramp can cost anywhere between $50-$150. This again depends on the quality, the sturdiness it offers, etc. The ideal dog pool ramp is the PetSTEP Original Folding Pet Pool Ram.p costing between $115-$120.

For a lesser budget, Skamper Dog Ramp for Swimming Pool is a good purchase priced anywhere between $50-$55. 
5. Which is the best dog pool ramp?
The Best Dog Pool Ramp according to us, is the PetSTEP Original Folding Pet Pool Ramp. For a low budget, easy on the pocket, pool ramp, one can opt for the Skamper Dog Ramp for Swimming Pool.

KHTS6310 Dog Pool Exit Ramp also has a unique and ergonomic design to offer.
Conclusion
Swimming is a great activity you and your dog can indulge in. But when your dog finds it difficult to enter or exit the pool, it can lead to hazards. Your dog may even drown if you are not around to pay attention.
That is when dog pool ramps help. Portable, convenient, easy to assemble and store, these pool ramps make sure your dog doesn't have the greatest slip or fall.
Dog pool ramps are made of anti-slip, waterproof material so your dog moves out of the pool without the fear of slipping back again.
It is best to buy a dog pool ramp after considering the above-mentioned features and a pool ramp that your doggy loves climbing onto and is comfortable with.
References:
PetMD Editorial. (2019, March 28). Dog Safety Guide for Near Drowning in Dogs. PetMD. Retrieved August 4, 2022, from https://www.petmd.com/dog/emergency/common-emergencies/e_dg_drowning
The dos and don'ts of dog water safety. (n.d.). Vca Hospitals. Retrieved August 4, 2022, from https://vcahospitals.com/shop/articles/the-dos-and-don-ts-of-dog-water-safety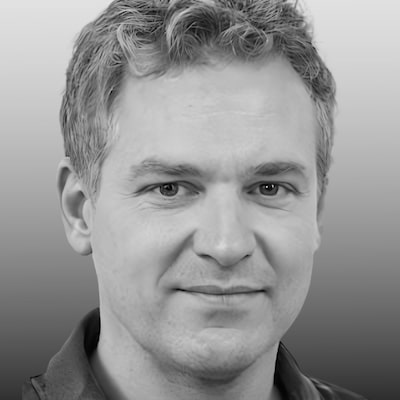 Mark is the co-founder of DogLovesBest, a great pet parent, and a good person. He manages the content published on this website and sees to it that everything is working smoothly with a motive behind helping pet parents.
He likes spending his time with Max, a Labrador, and Jack, a Great Dane. They usually hang out at nearby dog parks during weekends.