After testing over 60 products, we choose only 10 best plastic dog bowls that are not only lightweight & unbreakable but are also safe. Its affordable price as compared to dog bowls of other materials is an added advantage.
We can't deny that the plastic dog bowls are the most pocket-friendly and robust option on the market compared to the ceramic and steel bowls.
Unlike ceramics ones, when it is dropped, a plastic dog bowl will not crack. Plastic bowls are robust and perform well even being roughly handled. (P.S. Have you read our detailed Dr. Marty Nature's Blend Reviews?)
One benefit is that when the dog's tags or bump against it, plastic material will not make a noise. So say bye to metal voice while eating which is a common complaint of stainless steel dog bowls.
A Quick Comparison of Our Favorites in 2023
Best Overall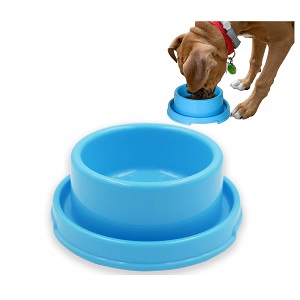 PetLike Dog Bowls Raised Pet Food Bowls
Non-slip rubber on the rim
Anti ant design
5 bright colors to choose from
Premium Choice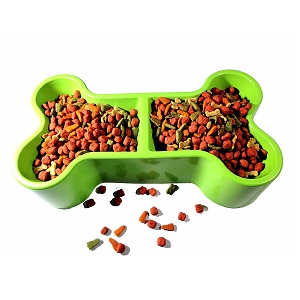 Big1one Plastic Dog Food Bowl
Two-compartment design
Two vibrant colors to choose from
Affordable price
Best Affordable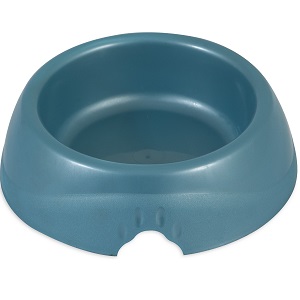 Petmate Ultra Pet Dish
Easy to lift for refilling and washing
Accessible side layer
suitable for extra small breeds, toy breeds, and medium breeds
The 10 Best Plastic Dog Bowls of 2023
1. PetLike Dog Bowls Raised Pet Food Bowls — Best Overall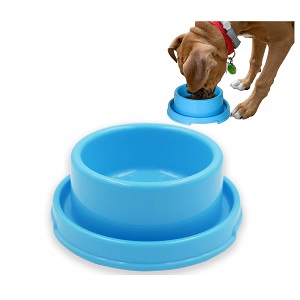 Our first choice is the PetLike Dog Bowls Raised Pet Food Bowls.
The very first thing that's positive about this product is that the pet food bowl is constructed from food-safe PP products and you can wash it by hand or machine.
This bowl features a non-slip rubber on the rim, so you won't have to stress about slipping.
There are 5 bright, blue, yellow, brown, pink rose and green colors to choose from. Dimensions of this bowl are 4.5″ diameter, exterior 5.3″ diameter, 2″ interior depth. Ideal for large and medium-sized dogs.
It is an anti ant design which means it provides an attached tray in which you can put water or mineral oil in the surrounding tray to protect dog food from ants.
From small dogs or larger dogs, the proportion of a dog bowl is appropriate portion size. The lightweight makes traveling or placing it at home comfortable. Give a healthy feeding to your dog and the bowl is safe for your pet.
To conclude, we think this is the overall best plastic dog bowls.
Also, Read | Dr. Marty ProPower Plus Review
2. Big1one Plastic Dog Food Bowl — Premium Choice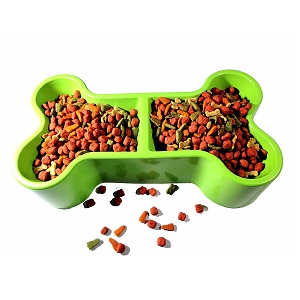 Big1one Plastic Dog Food Bowl takes our premium product placement for the best plastic dog bowl.
Health is our first and foremost priority and the bow. This is why this wide bowl is included in the list made of non-toxic, robust PP content, which can survive the everyday contact of paws and claws.
Big1one plastic food bowl is not only safe but this product's design makes it different from any other bowl on the market.
The bone-shaped dog bowl differentiates the dog bowl from others plus it acts as an attractant for your dog. The dimensions of this dog bowl are good enough to hold food for small to medium size dogs.
It provides a two-compartment design that allows you to serve water and food in the same bowl at the same moment.
The plastic dog bowl contains a non-toxic dye with two vibrant colors such as green and blue. The bowl will behold its quality and will serve you for a long time.
3. Petmate Ultra Pet Dish — Best Affordable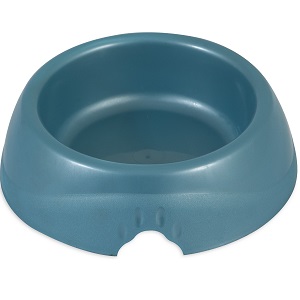 If you need a more affordable choice, the Petmate Ultra Pet Dish is a great alternative to our top pick.
Serve the superior meals that your dog deserves with Petmate's Ultra Pet Dish. It fits any decorative style with a thin, casual design and light colors and blends seamlessly into your dining space.
Now you won't have to compromise style over convenience. This is one of the cheapest and the best dog bowl in the market that is made up of plastic with so many functionalities.
It's easy to lift for refilling and washing with convenient side-notches plus, it's dishwasher-safe, making it even easier to clean and sanitize your furbaby's dish.
It's the perfect bowl for any home. It allows you to serve your pet's water and food in one, easy container.
The bowl is suitable for the dishwasher and is easier to clean and sanitize than ever before. Accessible side layers allow this bowl to be easily picked.
Light colors like gray and white are not as distracting as the shades, bowl carries 1 cup of water and is suitable for extra small breeds, toy breeds, and medium breeds.
Advice: Brachycephalic Dogs need
flat faced dog bowls
because of their smushed face for convenient feeding of food and water.
4. Translucent Crock Style Dish for Dogs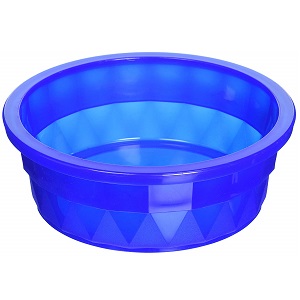 These bowls are great for dogs who are afraid of stainless steel bowls. Heavyweight translucent large crock dish can hold up to 52-ounce capacity which is the ideal size for large dogs.
Made from the United States Food and Drug Administration approved plastic that's safe for food and water contact.
This crock style food bowl and a dish would fit into the raised holder you already have. The bowls don't fit perfectly this is a big bowl ideal for large breed dogs they are sturdy enough and can hold active eaters.
It is dishwasher safe and the quality of the bowl is very appreciated by buyers. In the reviews, they do state that the crock style makes it look ceramic material and looks very expensive and the heavyweight helps it to stay in place.
There are many proofed articles where experts believe that it's not safe to use a plastic bowl. Even I will suggest you use it only while traveling or when you need an extra bowl for a pet.
5. Forest Guys Dog Bowls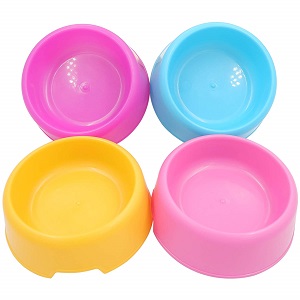 The best thing about Forest Guys Dog bowl is it comes in a pack of four and all in a different color, different colored bowls can be used for different types of food. For example, dry food yellow bowl, water blue bowl, wet food pink bowl, milk violet bowl or snacks.
This is very safe for dogs, because if different foods are used in the same bowl, it is very easy to breed bacteria, and will produce a bad smell which is dangerous for the health of humans and dogs.
These bowls are so bright and clear in a color that you can quickly spot them even if your dog hides them.
Made of plastic, and it is very easy to clean you can use them to serve portion sizes for medium-sized dogs and small dogs.
The bowl measures 5.3 inches long and 1.8 inches tall and can hold up to 7 oz of water or food. Perfect for puppies training as the stability of the bowl is remarkable.
6. Dogit Dog Bowl for Food and Water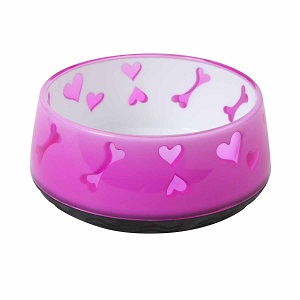 This attractive pink bowl by Dogit Home serves up food or water in style thanks to a cute design pattern featuring hearts and bones.
Include the non-skid bottom so food and water will not spill out the bowl and makes the bottom sturdy enough to avoid any accidental leakages.
The finish is scratch-resistant, which ensures that the bowl is going to last longer than many other options.
Just stick it in the dishwasher when you want to rinse it. Several reviews from Amazon focused on how pleased they were with both these bowl's consistency and their generous size.
The bowl is in trendy pink design with hearts and bones at the border make it different. Made of BPA-free plastic for safe and lasting use it is dishwasher safe and holds 10.1 fluid ounces.
7. Loving Pets Dolce Luminoso Dog Bowl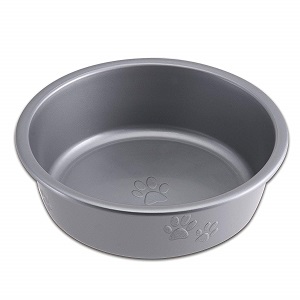 A level above the usual plastic bowl is the Dolce Luminoso dog bowl Built of plastic heavy gage "crock design," Dolce Luminoso has a built-in non-skid base that avoids slips and spills.
Thanks to its low center of gravity, the unique bowl shape makes it less likely to spill.
Dolce Luminoso Dog Bowls also have embossed paws on the inside and outside of the bowl for an extra appeal. With all its characteristics, this bowl is literally luminous. Non-skid base avoids leaks and falls, covering the floor or carpet.
Its special design avoids flipping and is constructed of thick plastic that is BPA-free and pet-friendly in the "crock-style."
Embossed paw design offers versatility that indicates that the bowl belongs to your lovely dog. It is also available in three color options which will give you a break from a regular bowl.
Tip: If your dog has a habit of spilling his food or splashing water from the bowl, then get
no-spill dog bowls
for feeding them food and water to prevent from messing the floor.
8. JW Pet Skid Stop Basic Bowl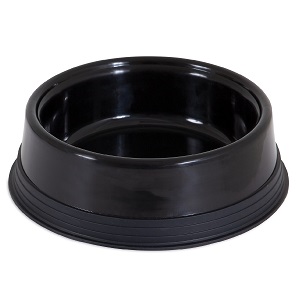 Make sure that the food or water of your furry friend stays where it should with the Basic Bowl JW Pet Skid Stop.
It features a rubber base skidding stop that prevents the bowl from moving around when your partner's nose is stuck in it. This bowl is constructed of stain-resistant plastic with a heavy-duty rubber rim of composite material.
It is also dishwasher safe and rust and bacteria resistant to easy cleaning. Prevent sticky spills until they arise with the Simple Bowl JW Pet Skid Stop. The bowl is stable compared with many other choices.
The only downside of this one is that it is quite costly even being a plastic bowl Even though this bowl's quality and beauty are worth spending on it.
9. ORE Pet Water Color Paws Dog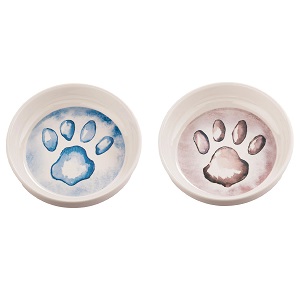 This stylish bowl set is from ORE pet's watercolor collection and features two charming hand-painted paw designs. One bowl has a blue paw print and the other bowl has a maroon colored paw print.
Each bowl holds one cup, and both are nicely packaged in a gift box made from recycled materials.
The material is too light to travel it is perfect for the pet owner who has two dogs at the same time you can distinguish the bowl or maybe you can use one bowl for water and the other for the food.
However, if you frequently go traveling outdoors, then get collapsible dog bowls for your pet.
Many reviews were positive about this product only a few of them complain about the size of the bowl which should not be a major issue for small to medium size dogs.
10. HEMT Pet Bowl Plastic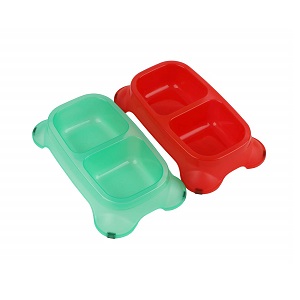 The curved bowl is not easily bitten by the dog, and the non-slip design food does not move, so it can be eaten with peace of mind. Food and water can be used at the same time, saving space.
Smooth surface, easy to clean, PP material is safe and reliable. The bowl has a groove design for easy picking. Beautiful color, not fragile so dogs won't able to chew it.
Compared to the traditional food bowl, HEMT Pet Bowl Plastic is offered in two different colors offering a unique design. It simply comes with double compartments that can be used for water and food for others so for that, you don't need to get two different bowls.
All that's cool about this product is its look is the only aspect left. Most reviews said the quality and size of the bowl is very good but they weren't too pleased with the look.
This shouldn't be a concern as the performance of the product would make you forget about the design.
Buyer's Guide: How to Choose a Plastic Dog Bowl?
Buying a plastic dog bowl from the dollar store can be dangerous for your dog. It is very important to buy a quality product as if you select regular plastic it can be dangerous cause chewy eaters can even eat bowls too.
For all this, DogLovesBest wants you to have a complete guide in which you know what is necessary so that the bowl is perfect and you do not have to spend more money than required.
You may think that a bowl for dogs is a bowl for dogs, but not all are the same. Here are a few parameters to look for before buying a plastic bowl that is affordable and safe for your dog.
Our duty as his owners is trying to satisfy them. The most important features that we should pay attention to when choosing the right dog bowl is the size of the dog, the shape of his mouth, the length of the bowl.
Size and Shape of a Dog Bowl
The size and shape of the dog bowl are very important because the size and shape of the bowl will depend on the breed and their mouth size and many other factors. Dog bowls will be big for the larger breed as their food portion size is also higher.
While these are the most commonly used bowl type, they are most suited for small to medium breed dogs, such as Chihuahuas and Pomeranians, or Beagles and Corgis, and puppies.
These allow smaller dogs to easily reach the whole way into the bowl without putting pressure on their sensitive throats because these dishes are shallow.
To dogs with large, slender snouts, such as Dachshunds, Greyhounds, and Collies, deep bowls are best suited because they enable the dog to eat their food more easily without chasing it around a shallow bowl.
These bowls are typically fairly deep, with a narrower opening at the top and sides that are angled inward.
Steep-sided dog bowls are the best choice for long-eared dogs, like Beagles, Basset Hounds, and Cocker Spaniels who would otherwise end up dragging their ears through their food and water.
Why Do You Need to Buy a Plastic Dog Bowl?
There is no doubt that dog bowls are the best and cheapest way to go for. But there are a lot many other benefits which only plastic material can provide you.
The plastic material is the lightest option available in the market for dog bowls. The ceramic dog bowls, steel bowls, and glass versions are very heavy to carry around.
It makes plastic bowls really travel-friendly, and it's only while you're traveling a good quality plastic dog bowl can also be used in the house. Due to it's lightweight that even your daughter will learn the responsibility to feed her dog.
The plastic dog bowl provides a variety of varieties. All colors size shapes name anything and it will be available in plastic bowls. Do you want a pink bowl for your little puppy? And you will find it.
Or you want something with a different shape? How about a bone-shaped dog bowl? That's it, there are so many options that will make you confused about what not to buy.
Plastic bowls are the only bowls that provide large of a large bowl for big dogs. It is available in so many sizes. Unless like ceramic and steel bowls which have very few sizes or only standard sizes.
The plastic dog is great for many uses as it is the cheapest bowl available. So there is no explanation why people go for that.
If you spend a few more dollars on great quality plastic bowls it will last you for long. Plus it is very durable compared to ceramic one as they even broke just after a drop.
Types of Plastics Used in a Plastic Dog Bowls
The most traditional and widely used medium for dog bowls is plastic. Yet, did you know that there are two forms of a plastic bowl?
Often we don't know which plastic pet bowls are healthy and which ones are dangerous until they are discontinued or entirely removed from the market.
BPA is a synthetic estrogen commonly used to crystallize polycarbonate plastics and epoxy resin. Furthermore, extensive studies have shown that it can cause severe and sometimes permanent health damage even at low levels to which people are commonly exposed.
Phthalates (BPA free plastic)
Such substances, also known as plasticizers, are a category of industrial chemicals used to make plastics more versatile or more durable, such as their use in polyvinyl chloride (PVC).
This plastic is comparatively safe to use as there are no notes side effects found yet. For a decade, this substance is considered by far the best on the market for your dog.
Not only is polypropylene healthier, but it is also less likely to contain other chemicals that may be toxic to dogs and cats.
FAQs About Plastic Dog Bowls
1. Are plastic bowls safe for dogs?
Plastic bowls are generally not recommended for many dogs. Bowls made of plastic can be easily chewed or scratched by your dog, leaving places for bacteria to build up.

Additionally, some dogs may develop an allergy to plastic. But the BPA free plastic is safe for dogs and can be used regularly for dogs.
2. Can dogs be allergic to plastic bowls?
Some pets are allergic to plastic, and what appears to be acne is actually an allergic reaction. Plastic allergies are often betrayed by outbreaks of rashes or raised, itchy patches on your cat's throat, neck, and chin where he touches his food and water bowls.

It only depends on the individual but still, dogs who are allergic to plastic should not be fed in a plastic bowl.
3. What is the cost of a plastic dog bowl?
The cost of the plastic bowl is from a range of $1 to $30. The plastic bowl is of different prices mostly the bowl cost is influenced by its quality and design.

There are items like Petmate Ultra Pet Dish that are inexpensive stylish and performs very well. And if you are looking for a more premium one durable enough to handle even heavy chewers go for the product PetLike Dog Bowls Raised Pet Food Bowls.
4. Which is the best plastic dog bowl?
The best plastic bowl is PetLike Dog Bowls the pet food bowl is made of food-safe PP products and can be washed by hand or by machine This bowl features non-slip rubber on the rim, so you don't have to stress slipping.

There are five shades to choose from: white, violet, purple, gray, pink rose and black. This bowl's lengths are 4.5 "in height, 5.3" outer circumference, 2 "inner width. Which makes it ideal for a big dog as it is a large plastic bowl.
Conclusion
You may be concerned about plastic material, but don't worry and choose from our product list as these products are safe and ideal for dogs.
All products will provide you with great quality plus variety and will give you a break from those boring steel bowls and higher durability than a ceramic bowl. Cleaning is simple and user-friendly.
So you don't have to think about where you're going to feed your pet on your next holiday, as you can easily carry your beloved Plastic dish. The only thing is to have them regularly cleaned.
References:
PetMD Editorial. (2022f, April 6). Recent Study Shows Why It's so Important to Clean Dog Bowls. PetMD. Retrieved August 5, 2022, from https://www.petmd.com/news/care-safety/recent-study-shows-why-its-so-important-clean-dog-bowls-37586
Feeding the Mind and Body Interactive Feeders for Dogs and Cats | VCA Animal Hospital. (n.d.). Vca. Retrieved August 5, 2022, from https://vcahospitals.com/know-your-pet/feeding-the-mind-and-body-interactive-feeders-for-dogs-and-cats
Plastic Products Leach Chemicals That Induce In Vitro Toxicity under Realistic Use Conditions. (n.d.). Retrieved November 24, 2022, from https://pubs.acs.org/doi/10.1021/acs.est.1c01103
Comparison of the effects of different kibble shape on voluntary food intake and palatability of weight loss diets in pet dogs. (n.d.). Retrieved November 24, 2022, from https://www.sciencedirect.com/science/article/pii/S0034528819302280?via=ihub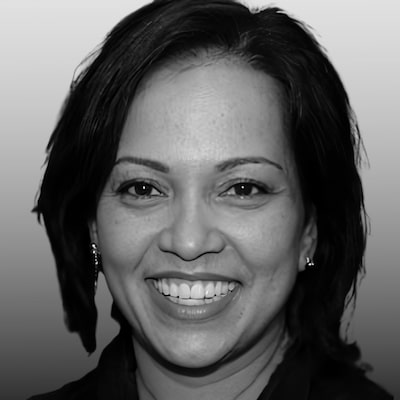 Anna Louis is a pet enthusiast and full-time contributor at DogLovesBest. Anna is profoundly interested in products and services that can help to improve the quality of life of pets while also strengthening the bonding they share with owners. She, along with her husband, is raising two Labradors and three Great Danes. Anna, her family, and the dogs live in the countryside, away from the hustle and bustle of urban Florida. Anna and her husband also love to spend time at the shelter for abandoned animals to care for the distressed animals.